Firstly, a HUGE thanks to our Patreon supporters. Your generosity touches me deeply. These supporters have become the single biggest contributing factor to the survival of DVDBeaver. Your assistance has become essential. We are always trying to expand Patron benefits... you get access to the Silent Auctions and over 5000 unpublished screen captures (in lossless PNG format, if that has appeal for you) listed HERE. Please consider helping with $3 or more each month so we can continue to do our best in giving you timely, thorough reviews, calendar updates and detailed comparisons. Thank you so much. We aren't going to exist without another 100 or so patrons.






| | |
| --- | --- |
| | S E A R C H D V D B e a v e r |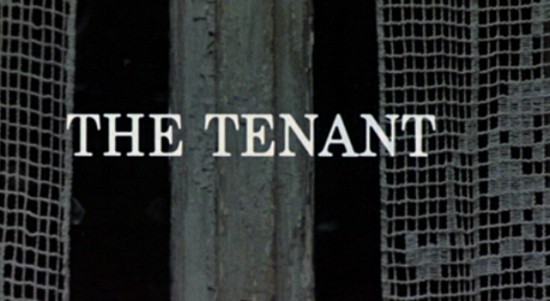 (aka "Le Locataire")

This DVD of The Tenant is compared to the
Blu-ray HERE

USA / France 1976
Director Roman Polanski casts himself in the lead of the psychological thriller The Tenant. Trelkovsky (Polanski) rents an apartment in a spooky old residential building, where his neighbors -- mostly old recluses -- eye him with suspicious contempt. Upon discovering that the apartment's previous tenant, a beautiful young woman, jumped from the window in a suicide attempt, Trelkovsky begins obsessing over the dead woman. Growing increasingly paranoid, Trelkovsky convinces himself that his neighbors plan to kill him. He even comes to the conclusion that Stella (Isabel Adjani), the woman he has fallen in love with, is in on the "plot." Ultimately, Polanski assumes the identity of the suicide victim -- and inherits her self-destructive urges. Some critics found the movie tedious and overdone; others compared it to Polanski's early breakthrough, Repulsion. The film was based on Le Locataire Chimerique, a novel by Roland Topor.
Poster
Theatrical Release : June 11th, 1976 - USA
Reviews More Reviews DVD Reviews
DVD Review: Paramount - Region 1 - NTSC
DVD Box Cover

CLICK to order from:

Distribution
Paramount - Region 1 - NTSC
Runtime
2:05:16
Video
1.78:1.00 Letterboxed WideScreen / anamorphic
Average Bitrate: 8.37 mb/s
NTSC 720x480 29.97 f/s
Bitrate:

Audio
English (Dolby Digital 2.0 Mono), French (Dolby Digital 2.0 Mono)
Subtitles
English, None
Features

Release Information:
Studio: Paramount Home Video

Aspect Ratio:
1.78: 1 Widescreen anamorphic



DVD Release Date: July 1, 2003
Keep Case
Chapters: 18

Edition Details:



• Trailer (1:01)
• Color, Closed-captioned, Widescreen
• Widescreen anamorphic format
Comments:

This DVD of The Tenant is compared to the Blu-ray HERE

Not stellar but I am not overly disappointed in the Paramount image. I had vision of this, a favorite film, being washed out and hazy. Although not Criterion-quality sharp, it is still acceptable and the colors are relatively vibrant. Skin tones seem okay. No Extras to speak of except the worlds shortest trailer.

As my expectations weren't too high, I have to say this is a well-priced DVD from Paramount. Thanks for not gouging us.
---
Recommended Reading in French Cinema (CLICK COVERS or TITLES for more information)
The Films in My Life
by Francois Truffaut, Leonard Mayhew

French Cinema: A Student's Guide
by Philip Powrie, Keith Reader
Agnes Varda by Alison Smith
Godard on Godard : Critical Writings by Jean-Luc Godard
Notes on the Cinematographer by Robert Bresson
Robert Bresson (Cinematheque Ontario Monographs, No. 2)
by James Quandt
The Art of Cinema by Jean Cocteau
French Cinema: From Its Beginnings to the Present
by Remi Fournier Lanzoni
Check out more in "The Library"
---
DVD Menus
---
Screen Captures