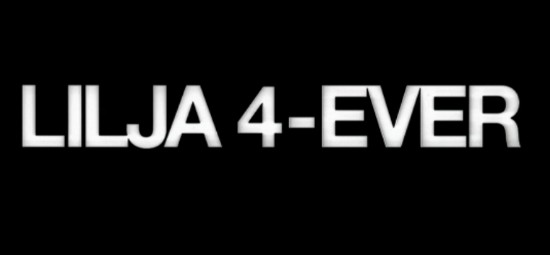 (aka "Lilja 4ever" or "Lilya 4-ever")

directed by Lukas Moodysson
Denmark/Sweden 2002
It is very hard to put into words Lilya 4-Ever's penetrating effect. Phrases containing "eviscerating" or "harrowing" seem somehow understated or out of place. I suppose a more accurate word would simply be "honest". In this film, much like his previous "Show Me Love" Lukas Moodysson pulls no punches on his viewers. Shot in a gritty, almost documentary style there appears to be very little patterned manipulation - no cinematic slight of hand... but of course, there is. Perhaps this is his greatest credit; creating a focused story with almost cascading suffering for the main character, and having it appear so uncontrived. I attempted to joke about this to myself in my first viewing, hoping, I suppose, to remove myself from the tragic circumstances on screen. I think instead it may have sensitized me further.
There are two separate scenes in the film where the major characters (Lilja and Volodya) are carving their names in a wooden bench, as if to remind someone in the world that they exist. In reflection it is heartbreaking. The greatest compliment I can give this film is that it reminded me of the work of two of my favorite filmmakers - The Dardenne brothers - Jean-Pierre and Luc. Like their films, there are obvious political undertones as Moodysson shows the rich attempting to buy their happiness and the poor forced to sell everything they have (excluding their souls). It exposed an injustice far away that never reaches the human interest stories of my newspapers. If I was to compare it to a film of the past I would say it was an updated version of Bresson's "Mouchette" - a story of a young teenager attempting to survive. Like the Dardenne's the casting seems to be of paramount importance and Oksana Akinshina was a perfect choice. Her attractive face is often underplayed to her innocent expressions.
I have only shed tears in the initial viewing of one film prior to this, but as the credits rolled away on Lukas Moodysson's "Lilya 4-Ever" I fought back the emotion as my eyes watered. I feel like I have a new director that I can include in my favorite's list of - Rohmer, Zhang, Tran, The Dardenne's and now Lucas Moodysson. I am so happy to have stumbled on him - it will be a pleasure to seek out his other films. I give Lilya 4-Ever an enthusiastic

out of

.
Poster
Theatrical Release: August 23rd, 2002 - Sweden
Reviews More Reviews DVD Reviews
DVD Comparison:
Sandrew Metronome - Region 2 - PAL vs. Metrodome (UK) - Region 2 - PAL
Big thanks to the collaboration of Nick Wrigley of Master of Cinema for the UK captures!
The Sandrew Metronome is on the TOP 100 List of DVDs.
(Sandrew Metronome (Sweden) - Region 2 - PAL - LEFT vs. Metrodome (UK) - Region 2 - PAL - RIGHT)
DVD Box Covers

Distribution

Sandrew Metronome (Sweden) Region 2 - PAL

Metrodome Dist. Ltd. (UK) Region 2 - PAL
Runtime
1:44:32
1:44:43
Video

1.78:1.00 Letterboxed WideScreen / 16X9 enhanced
Average Bitrate: 7.68 mb/s
PAL 720x576 25.00 f/s

1.78:1.00 Letterboxed WideScreen / 16X9 enhanced
Average Bitrate: ? mb/s
PAL 720x576 25.00 f/s

Audio
Russian (Dolby Digital 5.1)

Russian (Dolby Digital 5.1)

Subtitles
Swedish, Norwegian, Finnish, Danish, English, None
English, and none
Features
Release Information:
Studio: Sandre Metronome - Sweden

Aspect Ratio:
Anamorphic widescreen- 1.78:1

Edition Details:

Trailer (:20)

Photo Gallery of behind the scenes images

Text screens on cast and production. (in Scandinavian)

DVD Release Date: July 30, 2002
Keep Case
Chapters: 30

Release Information:
Studio: Metronome - UK

Aspect Ratio:
Anamorphic widescreen- 1.78:1

Edition Details:

Extras: 95 min interview with Moodysson from June 2003 at the NFT in London.

Moodysson trailer reel

Amnesty appeal promo

UNICEF film "More Precious Than Gold"

DVD Release Date: September 22nd, 2003
Keep Case
Chapters: 16
Comments:
This is a bit unusual. Although the name of the distributor is almost the same - they are two different companies. The 'Swedish' release has 5 different language and subtitle selections for the Russian audio. The "UK" version has only English (removable) subs. The difference in picture quality seems negligible but if I was forced to chose one over the other I would say the Swedish version is slightly brighter and sharper. The Extras on the 'UK' version are very strong with an 1.5 hour interview with the director Lukas Moodyson, trailers etc. One issue that is a bit troubling is the font used for the subtitles. It is superior on the Swedish release (see below) as a much clearer, thinner font. The Swedish edition has more chapter stops.

Over all because of the interview I think we will recommend the 'UK' edition, but as I already own the 'Swedish' and am so enamored with this film In will be getting the 'UK' as well - for the interview. This is another example where true fans may wish to get both versions.
---



DVD Menus
(Sandrew Metronome (Sweden) - Region 2 - PAL - LEFT vs. Metrodome (UK) - Region 2 - PAL - RIGHT)
---
Subtitle Sample
NOTE: I could not get the same frame because the subtitle was not displayed at the same time ?!? - could be delayed due to the DVD ROM method of obtaining captures.)
(Sandrew Metronome (Sweden)- Region 2 - PAL - TOP vs. Metrodome (UK) - Region 2 - PAL - BOTTOM)
Screen Captures
(Sandrew Metronome (Sweden) - Region 2 - PAL - TOP vs. Metrodome (UK) - Region 2 - PAL - BOTTOM)
---
(Sandrew Metronome (Sweden) - Region 2 - PAL - TOP vs. Metrodome (UK) - Region 2 - PAL - BOTTOM)
---
(Sandrew Metronome (Sweden) - Region 2 - PAL - TOP vs. Metrodome (UK) - Region 2 - PAL - BOTTOM)
---
(Sandrew Metronome (Sweden) - Region 2 - PAL - TOP vs. Metrodome (UK) - Region 2 - PAL - BOTTOM)

---
Report Card:
| | |
| --- | --- |
| Image: | Sandrew Metronome -Sweden |
| Sound: | - |
| Extras: | Metrodome - UK |
| Menu: | - |
| | | |
| --- | --- | --- |
| DVD Box Covers | | |
| Distribution | Sandrew Metronome (Sweden) Region 2 - PAL | Metrodome Dist. Ltd. (UK) Region 2 - PAL |