| | |
| --- | --- |
| | S E A R C H D V D B e a v e r |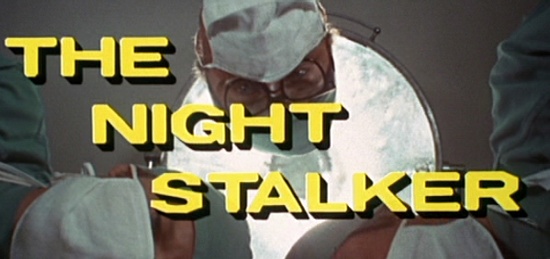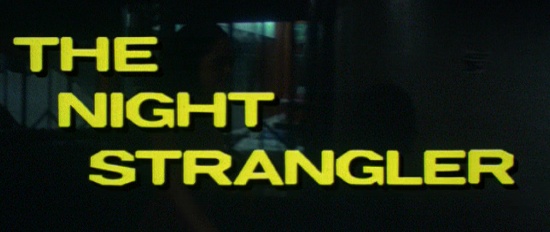 (The Night Stalker sometimes know as "The Kolchak Papers" or "The Kolchak Tapes")
(The Night Strangler (pilot) sometimes know as "The Time Killer")
directed by John Llewellyn Moxey and Dan Curtis
USA (TV) 1972/73
First came The Night Stalker - a TV movie penned by Richard Matheson (of Duel fame - and much more!). The character of Carl Kolchak (Darren McGavin), a lovable but wisecracking reporter who is investigating a string of grizzly murders in Las Vegas. The victims are drained of blood - which as we all know - means a vampire! Constantly confounded by the authorities, who are more interested in hushing the incidents than in finding the perpetrator, Kolchak goes on the trail himself!
Then we have the pilot for the eventual TV series - The Night Strangler. Now in Seattle, Washington, Carl is attempting to solve the mystery of serial killer strangulations that recur like clockwork every few decades. And why are the female victims all drained of blood?
This is classic television and has a cult following around the block. The later stories in the series are wonderfully exciting and Kolchak's character immensely endearing. Ahhh... my youth.

out of

Theatrical Release: Stalker - January 11th, 1972 / Strangler - January 16th, 1973
Reviews More Reviews DVD Reviews
DVD Comparison:
Anchor Bay Entertainment (oop) - Region 0 - NTSC vs. MGM - Region 1 - NTSC
NOTE: Both are DVD10's (single layer - 2 sides)
(Anchor Bay Entertainment - Region 0 - NTSC - LEFT vs. MGM - Region 1- NTSC- RIGHT)
DVD Box Covers

Distribution

Anchor Bay Entertainment

Region 0 - NTSC

MGM
Region 1 - NTSC
Runtime
Stalker- 1:14:32 + Strangler - 1:29:47
Stalker- 1:14:33 + Strangler - 1:30:00
Video

1.33:1 Original Aspect Ratio
Average Bitrate: ? mb/s
NTSC 704x480 29.97 f/s

1.33:1 Original Aspect Ratio
Average Bitrate: 5.32 / 4.58 mb/s
NTSC 704x480 29.97 f/s

NOTE: The Vertical axis represents the bits transferred per second. The Horizontal is the time in minutes.

Bitrates for Anchor Bay edition - both unavailable!
Bitrate:

MGM (Stalker)

Bitrate:

MGM (Strangler)

Audio
English (Dolby Digital 2.0)

English (Dolby Digital 2.0)

Subtitles
None
English, Spanish, French, and none
Features
Release Information:
Studio: Anchor Bay Entertainment

Aspect Ratio:
Original - 1.33:1

Edition Details:
• None

DVD Release Date: August 4th, 1998
Keep Case

Chapters: both films have 32 chapters each (inaccurately labeled on DVD Menus as only 12)


Release Information:
Studio: MGM Home Video

Aspect Ratio:
Original - 1.33:1

Edition Details:

• On Stalker - Dan Curtis interview (14:28)
• On Strangler - Dan Curtis directing (7:24)

DVD Release Date: August 24th, 2004
Keep Case
Chapters: Both have 16 each
Comments:
The image of the two "The Night Stalker" DVDs is exact, excepting it shows the Anchor Bay to be slightly cropped along the bottom edge - very negligible. On "The Night Strangler" - the MGM is quite darker, but may be slightly sharper. Both audio tracks match up similarly too. The image is not the deciding factors in picking up the MGM. Why one would choose the MGM is the Dan Curtis featurettes and the subtitles options - but above that - the price! It is only $12 at Amazon!. The original Anchor Bay is over $30 and Out-of-print. Kind of a no-brainer, but its nice to see, at least that the image was not any worse as we have seen with some 'new' releases. SEE HERE. Anyway, Kolchak fans will be in heaven... now where is the rest of the series ?!!

NIGHT STALKER/NIGHT STRANGLER - The Video Black is deeper on both and that tends to be better overall for both MGM prints, which are all new to their edition. NIGHT STALKER fares better for the most part on MGM's edition, while NIGHT STRANGLER is definitely better overall on MGM, with more picture area on all four sides. STALKER has more image on two sides on the MGM edition and the audio contains the female voice of Kolchak being paged at a Vegas hotel that is missing on the Anchor Bay editions. The color is better on MGM, except for a few brief details on the Anchor Bay STALKER. The sound on both is less hissy on the MGM DVD, but is a tad compressed. You can hear some more sound on the MGM, but even Robert Cobert's score was originally (and sadly) recorded in mono as the CD soundtrack recently issued shows. Especially with the brief extra interviews with Dan Curtis, the MGM is better. As for a pilot film, none of them were meant to be that way, especially as a third telefilm called THE NIGHT KILLERS (robots and/or aliens replacing key people in Hawaii) was nixed for the TV series, grossly overdue on DVD. Curtis wanted the vampire to somehow show up in New York in another telefilm. If anything, they almost did a series of telefilms ala COLUMBO. Universal took over and did the hour-long series for one season (1974 - 1975) with ABC and for 20 episodes, where the films were made solely by ABC. Barry Diller made the TV movie a permanent phenomenon for their ABC Movie Of The Week and these are two of the best ever made, even to this day. The original was the top rated TV movie for over a dozen years. Now that General Electric and NBC own Universal and have done a 180 to release all kinds of Universal TV series on DVD (versus former owners Vivendi refusing), we may finally see the series on real high quality DVDs, versus the bootleg DVD-Rs all overt the net from the VHS versions. Three TV episodes were written but not shot, with one was recently adapted (THE GET OF BELIAL) as a comic book in Moonstone Publishing's terrific and ongoing KOLCHAK: THE NIGHT STALKER comic series. Their first issue was THE NIGHT STALKER film. Kolchak lives!
---


DVD Menus
(Anchor Bay Entertainment - Region 0 - NTSC - LEFT vs. MGM - Region 1- NTSC- RIGHT)
| | |
| --- | --- |
| | |
| | |
| | |
| | |
| | |
| | |
| | |
| | |
---
The Night Stalker
Screen Captures
(Anchor Bay Entertainment - Region 0 - NTSC - TOP vs. MGM - Region 1- NTSC- BOTTOM)
---
(Anchor Bay Entertainment - Region 0 - NTSC - TOP vs. MGM - Region 1- NTSC- BOTTOM)
---
(Anchor Bay Entertainment - Region 0 - NTSC - TOP vs. MGM - Region 1- NTSC- BOTTOM)
---
The Night Strangler
(Anchor Bay Entertainment - Region 0 - NTSC - TOP vs. MGM - Region 1- NTSC- BOTTOM)
---
(Anchor Bay Entertainment - Region 0 - NTSC - TOP vs. MGM - Region 1- NTSC- BOTTOM)
---
(Anchor Bay Entertainment - Region 0 - NTSC - TOP vs. MGM - Region 1- NTSC- BOTTOM)
---
Subtitle sample from the new MGM discs
---
Report Card:
| | |
| --- | --- |
| Image: | very similar |
| Sound: | same |
| Extras: | MGM |
| Menu: | Anchor Bay (animated) |
DVD Box Covers

Distribution

Anchor Bay Entertainment

Region 0 - NTSC

MGM
Region 1 - NTSC