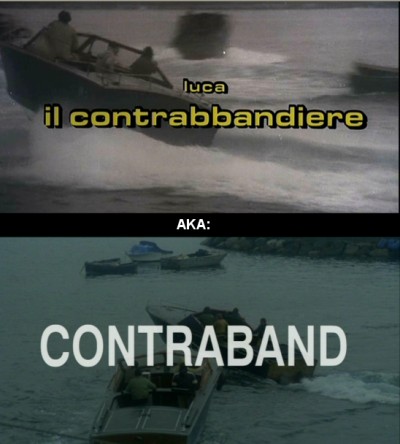 (aka "The Smuggler" or "The Naples Connections")
directed by Lucio Fulci
Italy 1980
The flick opens with a botched smuggling operation which leads to a boat chase between Luka's smuggling cronies and a somewhat disinterested police force. Using the old "Exploding Boat Filled with Rubber Dummies" gag, Luka escapes to smuggle another day.

But all is not well in the smuggling underworld. Sure, cigarettes are great, but why not smuggle something with a little more street value? Why risk it all for some packs of smokes? That seems to be the message from The Margliese (Marcel Bozzuffi), a shadowy underworld figure applying pressure to the heads of the various crime families.

When "pressure" fails, The Margliese starts offing the various crime family heads (and some family members) in graphic fashion, which is where Fulci shines - and the flick perks up. For violence buffs there's an uncomfortable sequence where a chick gets her head set on fire for trying to pass bad drugs, which is right up there with the GATES OF HELL drill-to-the-skull scene on the Itchy-Skitchy Meter.

It's up to the principled smugglers to strike back once the villainous drug pushers kidnap Luka's wife. The body count rises, double crosses ensue, surprise revelations are, um, revealed and Fulci paints the screen red and juicy in the gory finale.

Occasionally confusing and fairly entertaining, CONTRABAND is a decent thriller with enough action and gore from the master to keep viewers interested.
Poster
Theatrical Release: 8 August 1980 - Italy
Reviews More Reviews DVD Reviews
Recommended Books on Italian Cinema (CLICK COVERS or TITLES for more information)
DVD Comparison:
Blue Underground - Region 0 - NTSC vs. Italian Shock - Region 0 - PAL
Big thanks to Ole Kofoed for all the Screen Caps!
(Blue Underground - Region 0 - NTSC - LEFT vs. Italian Shock - Region 0 - PAL - RIGHT)
DVD Box Covers

Distribution

Blue Underground

Region 0 - NTSC

Italian Shock
Region 0 - PAL
Runtime
1:36:42
1:31:48 (4% PAL speedup)
Video

1.83:1 Original Aspect Ratio

16X9 enhanced
Average Bitrate: 5.72 mb/s
NTSC 704x480 29.97 f/s

1.85: 1Original Aspect Ratio
Average Bitrate: 5.90 mb/s
PAL 720x576 25.00 f/s

NOTE: The Vertical axis represents the bits transferred per second. The Horizontal is the time in minutes

Bitrate:

Blue Underground

.

Bitrate:

Italian Shock

Audio
English Dolby Digital 2.0 Mono

English Dolby Digital 2.0 Mono

Subtitles
None.
Dutch or None.
Features
Release Information:
Studio: Blue Underground

Aspect Ratio:
Widescreen anamorphic - 1.83:1

Edition Details:
• Talent Bios of Fulci and Testi.
• Theatrical Trailer.

DVD Release Date: March 11, 2003
Keep Case

Chapters 23

Release Information:
Studio: Italian Shock

Aspect Ratio:
Widescreen letterboxed - 1.85:1

Edition Details:
• Trailer for Nightmare City.



DVD Release Date: 2001
Keep Case

Chapters 12
Comments:

I have never seen this movie theatrical or on other media than these 2 DVD's so my comments is only based on my impression watching these. The Italian Shock has the Italian opening credits which is in a horrible quality with lot of print damage, but when the credits is over the amounts of white speckles is reduced, still some but "acceptable". The Blue Underground has English opening credits and only few speckles trough the movie. While the Blue Underground has a higher resolution and is anamorphic it's more soft and poorly detailed than the old Italian Shock release, and it also seems that the brightness is turned up a bit so nighttime scenes is turned to daytime, on the other hand the Italian Shock looks a bit to dark. The green tint on the Blue Underground captures isn't quite as noticeable viewing on a TV.

A lot of DVD reviews has mentioned that the Italian Shock is cut, I have simultaneously viewed the first hour of both releases and found 138 missing frames (5-6 seconds) in 7 scenes compared to the Blue Underground, why this I have no idea because the gore effect is the same, it's only extented clips, for example 2 seconds where we see Murolo's face when he find his wife dead. A "funny" thing is that the scene where Mickey has his brain blown out is longer on the Blue Underground DVD but is missing 1 frame compared to the Italian Shock (see last capture(s)).

With the longer running time, the lower amount of print damage, the anamorphic picture and the soon re-release with a low price I marginal recommend the Blue Underground release, but if you own the Italian Shock I don't see much in upgrading.
---

DVD Menus
(Blue Underground - Region 0 - NTSC - LEFT vs. Italian Shock - Region 0 - PAL - RIGHT)
---
Screen Captures
(Blue Underground - Region 0 - NTSC - TOP vs. Italian Shock - Region 0 - PAL - BOTTOM)
---
(Blue Underground - Region 0 - NTSC - TOP vs. Italian Shock - Region 0 - PAL - BOTTOM)
---
(Blue Underground - Region 0 - NTSC - TOP vs. Italian Shock - Region 0 - PAL - BOTTOM)
---
(Blue Underground - Region 0 - NTSC - TOP vs. Italian Shock - Region 0 - PAL - BOTTOM)
NATIVE RESOLUTION
---
(Blue Underground - Region 0 - NTSC - TOP vs. Italian Shock - Region 0 - PAL - BOTTOM)
---
(Blue Underground - Region 0 - NTSC - TOP vs. Italian Shock - Region 0 - PAL - BOTTOM)
---
(Blue Underground - Region 0 - NTSC - TOP vs. Italian Shock - Region 0 - PAL - BOTTOM)
(Blue Underground - Region 0 - NTSC - TOP vs. Italian Shock - Region 0 - PAL - BOTTOM)
---
(Blue Underground - Region 0 - NTSC - TOP vs. Italian Shock - Region 0 - PAL - BOTTOM)

Report Card:
| | |
| --- | --- |
| Image: | Italian Shock |
| Sound: | Tie |
| Extras: | Blue Underground |
| Menu: | Blue Underground |





---