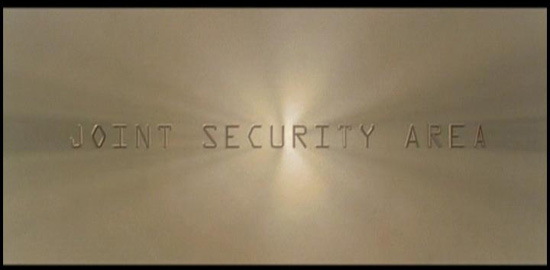 (aka "JSA" or "Gongdong gyeongbi guyeok")
directed by Park Chan-Wook
South Korea 2000
At 2:16am, October 28, in a recent year, a South Korean soldier is attempting to cross the bridge from the North. After an exchange of fire, the wounded soldier is rescued. In the military investigation that follows, three dead soldiers are found in the North Korea border post: One South Korean, Two North Korean. North Korea accuses him of being a spy, having attacking the post with a fellow soldier, South Korea accuses the North of having kidnapped the two soldiers and "interrogated" them. As if the political climate wasn't tense enough, this incident puts both sides on alert.

Two military investigators, a Swede and a Korean born Swiss, arrive at the border to investigate the incident. This is the set-up for "JSA", one of the best Korean films to date, directed by Park Chan-wook, who also made "Sympathy for Mr. Vengeance" and the critical acclaimed "Old Boy".

Park is a philosophy major, who during collage got fascinated with film and who went on to be assistant director on Gwak Jae-young' "A Sketch of a Rainy Day" (1988). He got his breakthrough with "JSA", after two poorly received films, which went on to be the highest grossing Korean film to date.

At the centre of Park's films are ordinary humans, who are driven to extremes, but also a social aware motif, of ordinary humans fighting against an irrational force. In "Sympathy for Mr. Vengeance" its need for 10 million won, in "Old Boy" it's the prisoner and in "JSA" it's the division of Korea.

But while "JSA" is very political, the characters are not. Where it begins as a politic thriller, it soon, by the investigation, turns into a story about four friends, caught up in the conflict between North and South Korea. None were spies, none were kidnapped and when we, towards the end of the film, are shown the actual events, its basically anticlimactic in its simplicity.

Throughout the film, Park underlines the two faces of the conflict: On one side, we have the political, military apparatus, on the other side, we have ordinary human beings, who can reason and who have a heart. This is beautifully stressed in the sequences, where two border patrols meet each other and the captains walk towards each other and have a cigarette together.
Posters
Theatrical Release: September 9, 2000
Reviews More Reviews DVD Reviews
DVD Comparison:
Modern Audio - Region 3 - NTSC vs. Tartan Asia Extreme - Region 2 - PAL
Big thanks to Henrik Sylow for all the Screen Caps!
(Modern Audio - Region 3 - NTSC - LEFT vs. Tartan Asia Extreme - Region 2 - PAL - RIGHT)
DVD Box Covers

Distribution

Modern Audio

Region 3 - NTSC

Tartan Asia Extreme
Region 2 - PAL
Runtime
1:48:57
1:49:06
Video

2.06:1 Aspect Ratio
Average Bitrate: 7.53 mb/s
NTSC 720x480 29.97 f/s

2.35:1 Original Aspect Ratio

16X9 enhanced
Average Bitrate: 8.72 mb/s
PAL 720x576 25.00 f/s

NOTE: The Vertical axis represents the bits transferred per second. The Horizontal is the time in minutes.

Bitrate:

Modern Audio

Bitrate:

Tartan Asia Extreme

Audio
2.0 Dolby Digital Korean, 5.1 Dolby Digital Korean, DTS Korean

2.0 Dolby Digital Korean, 5.1 Dolby Digital Korean, DTS Korean

Subtitles
Traditional, Simplified, English, None
English, None
Features
Release Information:
Studio: Modern Audio

Aspect Ratio:
Widescreen letterboxed - 2.06:1

Edition Details:
• Trailer (2:31 / 4:3)
• Music Video 'Song for a Private' (4:54 / 4:3)

DVD Release Date: March 26, 2002
Keep Case

Chapters 12


Release Information:
Studio: Tartan Asia Extreme

Aspect Ratio:
Widescreen anamorphic - 2.35:1

Edition Details:
• The JSA Story (36:47 / 4:3)
• Making the film (14:38 / 4:3)
• Behind the Scenes montage (3:59 / 4:3)
• A Letter from a private - music video (4:52 / 4:3)
• Profile Clips (6:39 / Text)
• Theatrical Trailer (2:13 / 4:3)
• Japanese Trailer (2:31 / 4:3)
• TV Spot (0:32 / 4:3)
• 4-page booklet with notes by Erika Franklin



DVD Release Date: May 23, 2005
Keep Case

Chapters 16
Comments
JSA is the first Korean film to be shot in Super35. The OAR is 2.35:1, as here presented by Tartan, contra the Modern Video DVD AR of 2.06:1.

There are several noticeable differences. Apart from the AR, Tartan is a non-progressive PAL to NTSC transfer, no PAL Speed-Up and problems with combing and ghosting. Besides this, the Tartan image is stunning. No compression artifacts visible, a very balanced color palette and great details in sharpness.

I really couldn't make out any differences in the sound. One must also take into account, that I had to change DVDs doing so. The DTS is superior to the 5.1 Dolby Digital, but overall very aggressive use of fronts and rears and the sub is sure to get dusted.

The additional material of Tartan is a bit disappointing.

"The JSA Story" takes you behind the story and the production, full of interviews and comments. A very informative and great feature. "Making the film" is however nothing more than your average home video behind the scenes. "Profiles" is basic information about Park and the actors.

Missing of essentials of the Korean SE is the audio commentary by Park and Cast&Crew interviews, and some few additional featurettes. Considering the additional material on the two other Tartan real eases of Park (Sympathy for Mr. Vengeance and Old Boy), 35 minutes of good material is not only a waste of a second disc, but also a huge letdown for fans.
---



DVD Menus
(Modern Audio - Region 3 - NTSC - LEFT vs. Tartan Asia Extreme - Region 2 - PAL - RIGHT)
| | |
| --- | --- |
| | |
| | |
| | |
| | |
| | |
| | |
---
Screen Captures
(Modern Audio - Region 3 - NTSC - TOP vs. Tartan Asia Extreme - Region 2 - PAL - BOTTOM)
Tartan Captures resized to 720px from 1016px
---
(Modern Audio - Region 3 - NTSC - TOP vs. Tartan Asia Extreme - Region 2 - PAL - BOTTOM)
---
(Modern Audio - Region 3 - NTSC - TOP vs. Tartan Asia Extreme - Region 2 - PAL - BOTTOM)
---
(Modern Audio - Region 3 - NTSC - TOP vs. Tartan Asia Extreme - Region 2 - PAL - BOTTOM)
---
(Modern Audio - Region 3 - NTSC - TOP vs. Tartan Asia Extreme - Region 2 - PAL - BOTTOM)
---
(Modern Audio - Region 3 - NTSC - TOP vs. Tartan Asia Extreme - Region 2 - PAL - BOTTOM)
---
(Modern Audio - Region 3 - NTSC - TOP vs. Tartan Asia Extreme - Region 2 - PAL - BOTTOM)

---
Report Card:
| | |
| --- | --- |
| Image: | Tartan |
| Sound: | tie |
| Extras: | Tartan |
| Menu: | Tartan |