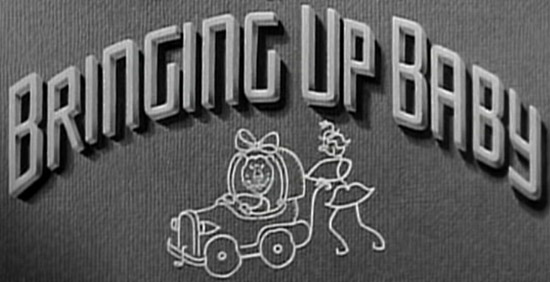 (aka "L'impossible Monsieur Bébé" )
directed by Howard Hawks
USA 1938
Though it's almost impossible, try to sit back sometime and enjoy this 1938 Howard Hawks masterpiece not only for its gags, but for the grace of its construction, the assurance of its style, and the richness of its themes. Cary Grant's adventures with Katharine Hepburn lead from day into night, tameness into wildness, order into chaos; needless to say, it's a deeply pessimistic film, though it draws its grim conclusions in a searingly bright and chipper way. Amazingly, the film was a failure when first released (during Hepburn's "box-office poison" period), but time has revealed its brilliance, as well as the apparent impossibility of its like ever being seen again (What's Up, Doc? notwithstanding).
Excerpt From Dave Kehrs Capsule on the Chicago Reader located HERE
Posters
Theatrical Release: 18 February 1938
Reviews More Reviews DVD Reviews
DVD Comparison:
Warner Home Video (2 DISC - SPECIAL EDITION) - Region 1,4 - NTSC vs. Editions Montparnasse (Collector's edition) - Region 2 - PAL
Big thanks to Vincent Lacomme for all the Screen Caps!
(Warner Home Video (2 DISC - SPECIAL EDITION) - Region 1,4 - NTSC - LEFT vs. Editions Montparnasse (Collector's edition) - Region 2 - PAL - RIGHT)
DVD Box Covers

Distribution

Warner Home Video

Region 1,4 - NTSC

Editions Montparnasse
Region 2 - PAL
Runtime
1:42:03
1:42:08
Video

1.33 Original Aspect Ratio
Average Bitrate: 8,60 mb/s
NTSC 720x480 29.97 f/s

1.33 Original Aspect Ratio
Average Bitrate: 6,97 mb/s
PAL 720x576 25.00 f/s

NOTE: The Vertical axis represents the bits transferred per second. The Horizontal is the time in minutes.

Bitrate:

Warner Home Video (2 DISC - SPECIAL EDITION)

Bitrate:

Editions Montparnasse (Collector's edition)

Audio
English 1.0 mono

English Dolby Digital 5.1, English 2.0 Mono, DUBs: French 5.1, French 2.0 Mono

Subtitles
English, French, Spanish, none
French, none
Features
Release Information:
Studio: Warner Home Video

Aspect Ratio:
Fullscreen - 1.33

Edition Details:
Disc 1:

•Digitally Remastered Movie with Commentary by Director/Writer Peter Bogdanovich
•Howard Hawks Movie Trailer Gallery

Disc 2:

•Two Revealing Documentaries About the Star and Director: Feature-Length Cary Grant: A Class Apart (86:58) and The Men Who Made the Movies: Howard Hawks
•Two Vintage Vault Treasures: The Comedy Short Campus Cinderella and the Cartoon A Star Is Hatched
•Limited-edition outer-sleeve packaging

DVD Release Date: March 1, 2005
Standard with Slipcover

Chapters 30

Release Information:
Studio: Editions Montparnasse

Aspect Ratio:
Fullscreen - 1.33

Edition Details:
• Disc 2:
• Profile of Howard Hawks by Richard Schickel (24:43) (English with French removable subtitles)
• Interview of Todd McCarthy (14:15) (English with french removable subtitles)
• Interview of Howard Hawks by Richard Schickel (4:13) (English with french removable subtitles)
• Audio Commentary by Luc Moullet of 4 scenes (French, no subtitles)
• Biography of Luc Moullet (French)
• Theatrical Trailers
• Credits


DVD Release Date: April 20, 2002
Digipack

Chapters 10
Comments

The PAL edition appears to have come from an NTSC source and is much hazier in motion sequences than the new Warner. The Montparnasse does have some interesting extras and pretty decent contrast and the Warner is a little cropped on the right edge, but overall for the "ghosting" flaw we go for the new Warner. The PAL does have an optional 5.1 audio channel as well as some French DUBs. It is quite a good DVD aside from its inherent flaw and there is some minor brightness boosting and edge enhancement in the Montparnasse.

Gary W. Tooze
---

DVD Menus
(Warner Home Video (2 DISC - SPECIAL EDITION) - Region 1,4 - NTSC - LEFT vs. Editions Montparnasse (Collector's edition) - Region 2 - PAL - RIGHT)
---
Screen Captures
(Warner Home Video (2 DISC - SPECIAL EDITION) - Region 1,4 - NTSC - TOP vs. Editions Montparnasse (Collector's edition) - Region 2 - PAL - BOTTOM)
Subtitle sample
---
(Warner Home Video (2 DISC - SPECIAL EDITION) - Region 1,4 - NTSC - TOP vs. Editions Montparnasse (Collector's edition) - Region 2 - PAL - BOTTOM)
---
(Warner Home Video (2 DISC - SPECIAL EDITION) - Region 1,4 - NTSC - TOP vs. Editions Montparnasse (Collector's edition) - Region 2 - PAL - BOTTOM)
NOTE: Look at shaking hands and see blurriness in the Montparnasse
---
(Warner Home Video (2 DISC - SPECIAL EDITION) - Region 1,4 - NTSC - TOP vs. Editions Montparnasse (Collector's edition) - Region 2 - PAL - BOTTOM)
---
(Warner Home Video (2 DISC - SPECIAL EDITION) - Region 1,4 - NTSC - TOP vs. Editions Montparnasse (Collector's edition) - Region 2 - PAL - BOTTOM)

---
Report Card: