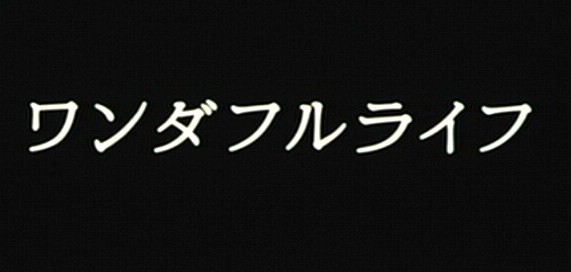 (aka 'Wandafuru raifu' or 'After Life' or 'Afterlife' or 'Wonderful Life')
directed by Hirokazu Koreeda
Japan 1998
The second feature from the maker of the exquisite Maborosi returns to the theme of the relationship between life and death, but reverses the perspective. It is set in a limbo that looks like a slightly shabby school, where counsellors help new arrivals choose their most precious memory which is then recreated on a film to accompany them to eternity. The movie is about how we look back and make sense of our lives. With a strong documentary feel (many of the cast are non-professionals evidently drawing on personal experience), the film succeeds partly as an amusing and richly affecting portrait of what constitutes happiness for a wide range of modern Japanese; it is also, in passing, a little tribute to the way cinema connects with our dreams. Most poignantly, however, as it charts a revelatory encounter between a counsellor and one of his charges, it offers a subtle tribute to the healing power of love.
Posters (Click far right poster to enlarge)
Theatrical Release: September 11th, 1998 - Toronto Film Festival
Reviews More Reviews DVD Reviews
DVD Comparison:
New Yorker - Region 1 - NTSC vs. Bandai - Region 2 - NTSC
Big thanks to Trond Trondsen of Masters of Cinema.org for the Bandai Screen Caps!
(New Yorker - Region 1 - NTSC - LEFT vs. Bandai - Region 2 - NTSC - RIGHT)
DVD Box Covers

Distribution

New Yorker

Region 1 - NTSC

Bandai (Japan)
Region 2 - NTSC
Runtime
1:58:28
1:58:40
Video

1.53:1 Cropped
Average Bitrate:4.68 mb/s
NTSC 704x480 29.97 f/s

1.66:1 Original Aspect Ratio

16X9 enhanced
Average Bitrate: 6.63
PAL 720x576 25.00 f/s

NOTE: The Vertical axis represents the bits transferred per second. The Horizontal is the time in minutes.

Bitrate:

New Yorker

Bitrate:

Bandai

Audio
Japanese (Dolby Digital 2.0)

Japanese (Dolby Digital 2.0)

Subtitles
Yellow - English (non-removable)
English, Japanese and none
Features
Release Information:
Studio: New Yorker Films

Aspect Ratio:
Widescreen letterbox 1.53:1

Edition Details:
• Color
• Production notes
• Theatrical trailer (Japanese and American)
• Widescreen letterbox format


DVD Release Date: August 29, 2000
Keep Case

Chapters 8


Release Information:
Studio: Bandai (Japan)

Aspect Ratio:
Widescreen anamorphic - 1.66:1



Edition Details:
• Theatrical Trailer
• Deleted Scenes
• Photo Gallery


DVD Release Date: March 28th, 2003
Keep Case

Chapters 8
Comments:
The New Yorker disc is quite cropped on the left edge and is not as sharp as the Bandai release. I also see some contrast boosting in the Region 1 and quite a lot of film grain the anamorphic Region 2. The New Yorker disc has burned in yellow subtitles. DVDBeaver recommends the Region 2 Bandai release which is an easy winner over the New Yorker.

The film was shot on 16 mm(*), and it shows (and it should show). In an attempt to clean up the associated graininess, New Yorker has apparently run the film through a digital low-pass (smoothing) filter, causing a general blurring of the image and a lower required bitrate. To compensate for this decrease in sharpness, New Yorker then applied edge enhancement, which only serves to cause further ugliness (see for example the "halo" around the back of the chair in the first screenshot below).

(*) The final sequence of the film, when the memories are projected, are presented in vivid 35 mm, in contrast to the intentional "cinema verite" feel of the 16 mm used for the bulk of the film.
---
Recommended Reading for Asian Film Fans (CLICK COVERS or TITLES for more information)
The Japan Journals : 1947-2004,

by Donald Richie

The Midnight Eye Guide to New Japanese Film
by Tom Mes and Jasper Sharp

Kon Ichikawa (Cinematheque Ontario Monographs)

by James Quandt, Cinematheque Ontario

Shohei Imamura (Cinematheque Ontario Monographs, No. 1)
by James Quandt
Eros Plus Massacre: An Introduction to the Japanese New Wave Cinema (Midland Book, Mb 469)
by David Desser
The Films of Akira Kurosawa by Donald Ritchie

by Yasujiro Ozu, Kogo Noda, Donald Richie, Eric Klestadt

Ozu by Donald Ritchie

A Hundred Years of Japanese Film by Donald Richie
Check out more in "The Library"


DVD Menus
(New Yorker - Region 1 - NTSC - LEFT vs. Bandai - Region 2 - NTSC - RIGHT)
---
Screen Captures
(New Yorker - Region 1 - NTSC - LEFT vs. Bandai - Region 2 - NTSC - RIGHT)
---
(New Yorker - Region 1 - NTSC - TOP vs. Bandai - Region 2 - NTSC - BOTTOM)
---
(New Yorker - Region 1 - NTSC - TOP vs. Bandai - Region 2 - NTSC - BOTTOM)
---
(New Yorker - Region 1 - NTSC - TOP vs. Bandai - Region 2 - NTSC - BOTTOM)
---
(New Yorker - Region 1 - NTSC - TOP vs. Bandai - Region 2 - NTSC - BOTTOM)
---
Report Card:
| | |
| --- | --- |
| Image: | Bandai |
| Sound: | - |
| Extras: | - |
| Menu: | Bandai |
DVD Box Covers

Distribution

New Yorker

Region 1 - NTSC

Bandai (Japan)
Region 2 - NTSC