NOTE: The below Blu-ray captures were taken directly from the Blu-ray disc.

ADDITION: Imprint (AU) Blu-ray (December 2020): Imprint have also transferred Mario Bava's Danger: Diabolik to Blu-ray. Short story: Looks to be the same source - a notch below with the lower bitrate and this is in the bastardized 1.78:1 aspect ratio. I suggest that most won't be able to distinguish differences in the HD presentation. It still doesn't appear, glowing, glossy nor film-level restored - there are marks (the same marks as on the previous digital editions.)

Audio, now in liner PCM dual-mono (24-bit) may gain marginally in the high-end, but overall not a significant enough superiority to promote a discernable change. The Imprint offers optional English (SDH) subtitles and there Blu-ray is region FREE - playable worldwide.

So, it's exclusively about the supplements. We are excited to write that this Imprint Blu-ray offers a new (2020) commentary from Tim Lucas, biographer of Director Mario Bava - this is in addition to his original one with

John Phillip Law. In the new commentary, he brings up the term "Traveling matte" in regards to the opening scene - used to enable greater freedom of composition and movement, but they are also more difficult to accomplish. He talks about Maria Cristina "Christy" Brancucci singing the "Deep Deep Down" theme and the pioneering (in the West anyway) use of an Indian Sitar played by Alessandro Alessandroni, as well as the overall score by score by Ennio Morricone (the gold standard for Italian cinema) and it's only collaboration between Bava and Morricone. It is one of my favorite film scores. Lucas discusses the film's uncredited animation resembling the Belgian artist Guy Peellaert, or the Italian cartoonist Guido Crepax. Lucas talks about the career of his previous commentarist partner John Phillip Law being approachable and a very nice man - who sadly passed away in 2008 at 70. This is another in the collection of excellent Tim Lucas commentaries - not to be missed by fans of Bava and/or Danger: Diabolik. We also get a new (2020) video essay by Kat Ellinger, author and editor-in-chief of Diabolique Magazine running over 26-minutes to stills and glossies from the film. She talks about how important 1968 was in cinema - breaking away from the censorship limitations of the Hayes Code - with sexier and more violent than ever before with graphic and erotic territory norms being broken. She discusses the Italian comic series Diabolik by Angela and Luciana Giussani, the tactile qualities of the film, the fashion, the ultimate 'anti-hero'.... and much more to do with the world of cinema - when Mario Bava's Danger: Diabolik was being made and released. Repeated (from DVD and Shout! Blu-ray) are the 20-minute Danger: Diabolik – From Fumetti To Film piece with Steve Bissette, Adam Yauch, John Phillip Law, Dino De Laurentiis, Ennio Morricone, Roman Coppola etc. and the Beastie Boys music video Body Movin' with optional commentary by Yauch, plus there is a trailer for the film. The package has a limited edition slipcase.

What may be important for many about Imprint's Danger: Diabolik Blu-ray are the new, and thorough, Lucas commentary, new, and the enlightening, Ellinger video essay plus the fact that it is region FREE. Also the slipcase may be of value to some who appreciate that aesthetic. I happen to like the transparent case inside the slipcase: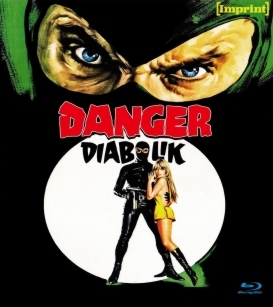 Depending on you 'wants' this may easily be considered the definitive Blu-ray edition although true fans of the film will want both.

***

ADDITION: Shout! Factory Blu-ray (May 2020): Shout! Factory have transferred Mario Bava's Danger: Diabolik to Blu-ray.

From our Facebook Group - Simon Diabolik says: "Very disappointed the transfer utilizes what appears to be an old master. If I'm not mistaken, the same one used for the previous DVD? This of all films deserved a fresh 4k scan. And yes I understand it's whatever Paramount had to hand but Il maestro's Diabolik, deserved better treatment."

I would tend to agree and would have hoped for more, but this is still a marked improvement over the 2005 SD transfer. Flesh tones improve (lose the orange-ness - see Mell's bosom below) as do other colors in terms of richness via the 1080P resolution but can still look faded in spots. It is in the proper 1.85:1 aspect ratio actually losing a sliver from the bottom of the frame from the opened-up 1.78:1 of the Paramount DVD. There isn't significant depth and the film always looks like it needs cleaning but aside from a full, film-level, restoration, superior source (Italian government body tightly holds the Italian-language print) or 4K scan - this is likely the best we will be getting.

NOTE: We have added 78 more large resolution Blu-ray captures (in lossless PNG format) for DVDBeaver Patrons HERE

On their Blu-ray, Shout! Factory use a DTS-HD Master 2.0 channel track (24-bit) in the English DUB'ed language. As stated in the new commentary this is preferable, original, DUB (of the two in existence.) It is another advancement in the film's audio and score by Ennio Morricone (Who Saw Her Die?, The Black Belly of the Tarantula, The Fifth Cord, Luna, A Bullet for the General, Tie Me Up! Tie Me Down!, Investigation of a Citizen Above Suspicion, U Turn, Stay As You Are etc. etc.) notably "Deep Down" theme in Danger: Diabolik. I loved the Edda Dell'orso background singing and Alessandro Alessandroni 'waa-waa'-ing in lossless. It is considered one of Morricone's best - in the older commentary Tim Lucas cites it as being listed at one time as the 3rd best commentary of all time by film fans. The DUB sync's aren't distracting, imo and there is some other music in the film - free-form organ and some funky psychedelic electronic vibes that sound 'lounge-y cool' in the upgraded audio. The overall lossless transfer improves the audio and film experience. Shout! Factory offer optional English subtitles on their Region 'A' Blu-ray.

The Shout! Factory Blu-ray include the previous commentary with star John Phillip Law hosted by Tim Lucas, biographer of Director Mario Bava. It still has immense value, Law as well, even with a few gaps - as do all revisitation of Lucas' commentaries, imo. There is also a new commentary by Troy Howarth (author of The Haunted World of Mario Bava) and Nathaniel Thompson (DVD Delirium series.). They discuss the difference between the English DUBs, the compromises of what Bava acquiesced and what Di Laurentiis wanted, how Danger: Diabolik wasn't a happy experience for Bava. They talk about his tease eroticism, Catherine Deneuve replaced for not wanting do nudity (rolling in money) scene as well as the Fumetti phenomenon in Italy and much more. It's great - a lot on Bava. Also repeated from the DVD are the 20-minute Danger: Diabolik – From Fumetti To Film piece with Steve Bissette, Adam Yauch, John Phillip Law, Dino De Laurentiis, Ennio Morricone, Roman Coppola etc. and the Beastie Boys music video Body Movin' with optional commentary by Yauch, plus there is a teaser and trailer for the film.

Negligibly underwhelming visually but the Shout! Factory Blu-ray of

Mario Bava's Danger: Diabolik has the film looking and sounding its best for home theatre consumption to date, 2 excellent commentaries and more. It's a film I am very pleased to own on Blu-ray. - wonderful to revisit. The film is strongly recommended!

Gary Tooze

ON THE DVD (2005): The image on this disc is nearly flawless. Sharp, clean, full of detail and vibrant colors, it's no surprise that this disc took the honors of "Best 'guilty pleasure' Release" in our DVD of the Year Poll 2005.

Paramount has put some care into the special features with a commentary, a short featurette on the film's comic book origins, and best of all, a hilarious music-video send up by the Beastie Boys. The only thing I could have wished for was an isolated film score option, but at less than $15 retail price, this is one disc that goes above and beyond what it needed to be.

out of