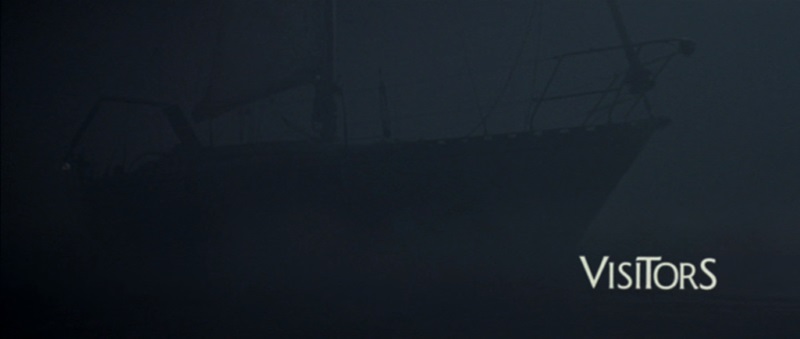 directed by Richard Franklin
Australia 2003
Daddy's girl Georgia Perry (Radha Mitchell, ROGUE) wants to join the few women to have circumnavigated the globe by boat to make her sick father (Ray Barrett, THE REPTILE) proud. Things are not quite what she intended from the start since her fiance Luke (PRISON BREAK's Dominic Purcell) has arranged sponsorship for the venture through Monée Cosmetics whose executive Casey (Tottie Goldsmith) has insisted on a name change for the boat from the more mythic Leander to Monée, which is regarded as bad luck, her mentally-ill mother (Susannah York, TOM JONES) commits suicide just before the start of the trip after Georgia committed her to a rest home, and her father is undergoing medical tests. The isolation starts to get to Georgia, especially once the boat gets caught in a lull in a thick fog with no wind to catch the sails (starting the engine is against the rules of the competition). She is already talking to her cat - whose presence on th boat is another superstition - who answers back, and she starts feeling as if she is not alone on the small yacht. Annoyed about Luke's concern during radio communication and believing that he is not as supportive as he seems because of his own failed yacht trip (and that he may be sleeping with Casey), Georgia stubbornly endures the intrusions of increasingly tactile apparitions of her mother blaming her for the childhood accident that split up their family and goading her towards suicide. Unfortunately, assuring herself that the apparitions of her mother and her fear of spiders are all in her head may be blinding her to the intrusive presence of others who might actually be real and deadly. Despite the presence of two of Ozploitation heyday regulars - director Richard Franklin (whose PATRICK landed him the job of directing PSYCHO II) and screenwriter Everett De Roche (LONG WEEKEND) - VISITORS is rather weak tea as a psychological thriller, comparing poorly to Australia's other yacht-set thriller DEAD CALM. The protagonist's emotional and psychological baggage is uninteresting so the question of whether she is crazy or not, and which attacks are real or imagined is not particularly compelling (and the hallucinations are no excuse for bad early digital effects). Performances are serviceable but unengaging, and one just feels sorry for what little York is given to do apart from the flashback in which she was actually alive compared to her later boogeyman pop-ups.
Poster
Theatrical Release: 27 November 2003 (Australia)
Reviews More Reviews DVD Reviews
DVD Comparison:
First Look - Region 1 - NTSC vs. Umbrella Entertainment - Region 0 - PAL
Big thanks to Eric Cotenas for all the Screen Caps!
(First Look - Region 1 - NTSC - LEFT vs. Umbrella Entertainment - Region 0 - PAL - RIGHT)
DVD Box Covers

Distribution

First Look

Region 1 - NTSC

Umbrella Entertainment
Region 0 - PAL
Runtime
1:29:57
1:26:24 (4% PAL speedup)
Video

1.33:1 Open Matte format
Average Bitrate: 4.77 mb/s
NTSC 720x480 29.97 f/s

2.34:1 Original Aspect Ratio

16X9 enhanced
Average Bitrate: 5.94 mb/s
PAL 720x576 25.00 f/s

NOTE: The Vertical axis represents the bits transferred per second. The Horizontal is the time in minutes.

Bitrate:

First Look

Bitrate:

Umbrella Entertainment

Audio
English Dolby Digital 2.0 Surround

English Dolby Digital 5.1; English Dolby Digital 2.0 Stereo

Subtitles
Spanish, none
none
Features
Release Information:
Studio: First Look

Aspect Ratio:
Fullscreen - 1.33:1

Edition Details:
� Trailer
� Bonus Trailers

DVD Release Date: 18 November 2003
Amaray

Chapters 12

Release Information:
Studio: Umbrella Entertainment

Aspect Ratio:
Widescreen anamorphic - 2.34:1

Edition Details:
� Cast & Crew Biographies (text)
� Photo Gallery (20 stills)
� Theatrical Trailer (1:58)
� Bonus Trailers


DVD Release Date: 1 March 2018
Amaray

Chapters 9
| | |
| --- | --- |
| Comments | A comparison between the fullscreen American disc and anamorphic widescreen Australian DVD (which probably utilizes the same master as the Fox DVD from last decade) reveals that the film was not shot in scope but in standard 35mm or Super 35mm to be matted to scope. The fullscreen version reveals more information on the bottom of the frame (as if the film was composed for the top half) but also zoomed in on the sides. The Australian disc also includes the original 5.1 mix while the domestic disc includes only a downmix. Neither offers much in the way of extras. |
---
DVD Menus
(First Look - Region 1 - NTSC - LEFT vs. Umbrella Entertainment - Region 0 - PAL - RIGHT)

| | |
| --- | --- |
| | |
| | |
| | |
| | |
| | |
---
Screen Captures
(First Look - Region 1 - NTSC - TOP vs. Umbrella Entertainment - Region 0 - PAL - BOTTOM)
---
(First Look - Region 1 - NTSC - TOP vs. Umbrella Entertainment - Region 0 - PAL - BOTTOM)
---
(First Look - Region 1 - NTSC - TOP vs. Umbrella Entertainment - Region 0 - PAL - BOTTOM)
---
(First Look - Region 1 - NTSC - TOP vs. Umbrella Entertainment - Region 0 - PAL - BOTTOM)
---
(First Look - Region 1 - NTSC - TOP vs. Umbrella Entertainment - Region 0 - PAL - BOTTOM)
---
(First Look - Region 1 - NTSC - TOP vs. Umbrella Entertainment - Region 0 - PAL - BOTTOM)