Review by Gary Tooze
Production:
Theatrical: Sixteen Films
Video: Criterion Collection Spine #906
Disc:
Region: 'A' (as verified by the Oppo Blu-ray player)
Runtime: 1:40:26.228
Disc Size: 49,292,098,226 bytes
Feature Size: 28,132,442,112 bytes
Video Bitrate: 32.04 Mbps
Chapters: 17
Case: Transparent Blu-ray case
Release date: January 16th, 2017
Video:
Aspect ratio: 1.85:1
Resolution: 1080p / 23.976 fps
Video codec: MPEG-4 AVC Video
Audio:
DTS-HD Master Audio English 3148 kbps 5.1 / 48 kHz / 3148 kbps / 24-bit (DTS Core: 5.1 / 48 kHz / 1509 kbps / 24-bit)
Commentary:
Dolby Digital Audio English 192 kbps 2.0 / 48 kHz / 192 kbps
Subtitles:
English (SDH), none
Extras:
• Audio commentary from 2016 featuring Loach and screenwriter Paul Laverty

•
How to Make a Ken Loach Film, a 2016 documentary on the production of I, Daniel Blake (38:07)

•
Versus: The Life and Films of Ken Loach, a 2016 documentary directed by Louise Osmond (1:33:45)

•
Deleted scenes (0:53, 0:25, 0:28, 1:23, 1:02, 0:33, 0:28, 0:38, 1:45)

•
Trailer (2:19)

•
PLUS: An essay by critic Girish Shambus
Bitrate:
Description: An urgent response to the political realities of con­­tem­porary Britain, this bracing drama from celebrated filmmaker Ken Loach takes a hard look at bureaucratic injustice and ineptitude through the eyes of an unassuming working-class hero. After a heart attack leaves him unable to hold a job, the widowed carpenter Daniel Blake (Dave Johns) begins a long, lonely journey through the Kafkaesque labyrinth of the local welfare state. Along the way, he strikes up a friendship with a single mother (Hayley Squires) and her two children, at the mercy of the same system after being evicted from their home. Imbued with gentle humor and quiet rage and conceived for maximum real-world impact, the Palme d'Or–winning I, Daniel Blake is a testament to Loach's tireless commitment to a cinema of social engagement.
The Film:
There's certainly a hefty political agenda woven into the script by Paul Laverty. Issues relating to council housing and the astronomical cost of southern property are brought to the forefront when Katie explains to Daniel that there was nothing for "her kind" in London. There are also references to zero-hour contracts as well as a hard look at the morality of prostitution. But that's part of the charm of I, Daniel Blake – it manages to be a touchingly funny film about contemporary issues without coming across as political propaganda.
While the ending does feel slightly rushed, and the big speech at the end does feel a touch overly sentimental, if I, Daniel Blake should be Loach's final film, then he truly has gone out punching.
Excerpt from WeGotThisCovered located HERE
The labyrinthine nightmare of the system seemed even more painful when I revisited the film this week: a system in which the claimants are told their fate will be settled by the horribly titled "Decision Maker": the modern-day beadle. It is a system that is almost deliberately planned to create just those desperate, futile shouting matches in the benefits office that lead to "sanctions" and punishments. When Daniel fails the initial test by just a few arbitrarily conceived points, you find yourself thinking, 'If only he wasn't so honest, if only he had the wit to trick the system, just a little bit.' But in so doing, he would become precisely that kind of TV stock figure, that Shameless or Benefits Street cheat whose presence in black comedy and reactionary political gossip justified the whole setup to begin with.

This film and its pairing of Hayley and Daniel makes me think of a line from Dickens's Bleak House: "What the poor are to the poor is little known, excepting to themselves and God." Loach wants to expand and ventilate that knowledge, and show us that poverty is not God's business but ours. We can understand it and do something about it.
Excerpt from TheGuardian located HERE

Image : NOTE: The below Blu-ray captures were taken directly from the Blu-ray disc.
I, Daniel Blake looks excellent on Blu-ray from Criterion and is cited as a "2K digital transfer, supervised by director Ken Loach". It's a recent film and there are no weaknesses with the dual-layered transfer supported with a very high bitrate. There is some depth, decent sharpness and looks film-like shot with the Arricam is a 35 mm camera. The Blu-ray 1080P presentation is consistent, has natural softness, and looks like a very strong replication of the original production. There are no flaws to address.
CLICK EACH BLU-RAY CAPTURE TO SEE ALL IMAGES IN FULL 1920X1080 RESOLUTION
Audio :
Criterion use a DTS-HD Master 5.1 surround track at 3148 kbps (24-bit). There is little need for separation - in a few street sequences - and it is mostly a dialogue-driven film. The score is by George Fenton (China Moon, The Crucible, The Fisher King, Planet Earth, Life) and supports the film gently. The Newcastle accents are extremely heavy and most North Americans may wish to utilize the optional English subtitles (see sample above) and my Oppo has identified it as being a region 'A' disc.
Extras :
There is an audio commentary from 2016 featuring Loach and screenwriter Paul Laverty from the Entertainment One UK Blu-ray from earlier this year. It exposes the evolution of the story and impetus behind the film as well as production details, the performers and much more including identifying some flaws and, of course, bashing the system and government. Versus: The Life and Films of Ken Loach, a 2016 documentary, directed by Louise Osmond, on the life and times of Ken Loach. His politics in British TV and Cinema and the chaos he has caused the establishment for 50 years. It has Loach and many others giving input from Jim Allen, Lesley Ashton, Gabriel Byrne, Dave Johns etc. and it runs over 1.5 hours. How to Make a Ken Loach Film, is a 38-minute, 2016 documentary on the production of I, Daniel Blake with behind-the-scenes shots. There are 9 short deleted scenes - mostly extension of the film's themes, plus a trailer. The package has a liner notes booklet with an essay by critic Girish Shambus.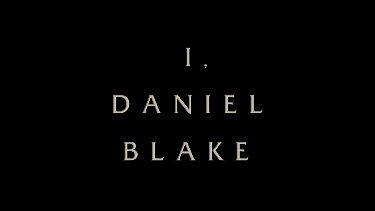 BOTTOM LINE:
I, Daniel Blake is, in my opinion, denouncing the system - with individuals attempting to wade through a miasma of bureaucratic welfare schemes and sub-schemes. It's very apparent that some people need assistance but the format of helping them is, obviously, flawed. I realize that Loach is identifying as opposed to offering large solutions (often my complaint of Kiarostami) - in his own brilliant, personal, storytelling style. I see the system as requiring a reset not tweaking and continuation. This Blu-ray package is a touching, melancholy, masterpiece by one of Britain's greatest, living, directors. With Criterion's extras - this package has immense value. Absolutely recommended!
Gary Tooze
December 12th, 2017