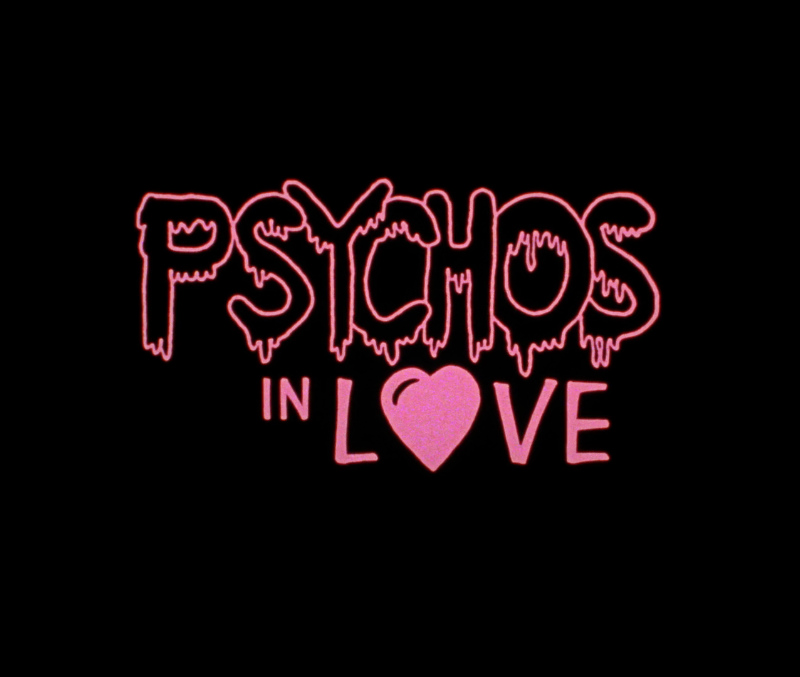 directed by Gorman Bechard
USA 1987
Joe (Carmine Capobianco) runs a strip club and Kate (Debi Thibeault) is an attractive young manicurist. After bonding over their mutual dislike of grapes, they discover another commonality: both of them are bloodthirsty serial killers. As they begin to balance their obsession with murder and each other, they meet Herman (Frank Stewart), a cannibal who, upon discovering their bloodlust, attempts to lure them into killing as a means to satisfy his craving for human flesh!

Bloody and hilarious, Gorman Bechard's PSYCHOS IN LOVE is an absurd, home grown horror-comedy, which alternates between gratuitous killing scenes and self-aware parody of romantic comedies. Vinegar Syndrome presents this lurid classic in a fresh 2k restoration from its 16mm original camera negative.

Posters/DVD cover
Theatrical Release: May 1st, 1987
Reviews More Reviews DVD Reviews
Comparison:
Shriek Show/Media Blasters - Region 0 - NTSC vs. Vinegar Syndrome - Region FREE - Blu-ray
Big thanks to Eric Cotenas for the Shriek Show/Media Blasters Screen Caps!
(Shriek Show/Media Blasters - Region 0 - NTSC - LEFT vs. Vinegar Syndrome - Region FREE - Blu-ray - RIGHT)
Box Covers

Distribution

Shriek Show/Media Blasters

Region 0 - NTSC

Vinegar Syndrome
Region FREE - Blu-ray
Runtime
1:26:03
1:26:26.222
Video

1.33:1 Original Aspect Ratio
Average Bitrate: 5.41 mb/s
NTSC 720x480 29.97 f/s

1080P Dual-layered Blu-ray

Disc Size:

42,002,139,248 bytes

Feature:

25,021,048,896 bytes

Codec: MPEG-4 AVC Video

Total Video Bitrate: 34.81 Mbps

NOTE: The Vertical axis represents the bits transferred per second. The Horizontal is the time in minutes.

Bitrate:

Shriek Show/Media Blasters

Bitrate:

Vinegar Syndrome Blu-ray

Audio
English Dolby Digital 2.0 mono

DTS-HD Master Audio English 1615 kbps 1.0 / 96 kHz / 1615 kbps / 24-bit (DTS Core: 1.0 / 48 kHz / 768 kbps / 24-bit)
Commentaries:
Dolby Digital Audio English 96 kbps 1.0 / 48 kHz / 96 kbps / DN -4dB
Dolby Digital Audio English 96 kbps 1.0 / 48 kHz / 96 kbps / DN -4dB

Subtitles
none
English, none
Features
Release Information:
Studio: Shriek Show/Media Blasters

Aspect Ratio:
Fullscreen - 1.33:1

Edition Details:
• Audio Commentary with Gorman Bechared
• Audio Commentary with Gorman Bechard & Carmine Capobianco
• Alternate Opening Credits (4:3; 1:12)
• Making Psychos in Love' featurette (4:3; 13:01)
• Slideshow (4:3; 10:39)
• Extended Scenes (4:3; 9:55)
• 'Psychos in Love: The Stage Play' excerpts (4:3; 13:45)
• More from Goreman Bechard:
• 'Bartholomew the Strangler' short (4:3; 6:33)
• 'The Only Take' short (4:3; 2:35)
• 'Objects in the Mirror Are Further Than They Appear' short (4:3; 14:59)
• You Are Alone' trailer (4:3; 3:07)
• 'Unwound' promo (4:3; 1:59)
• 'Friends (with Benefits)' trailer (4:3; 1:56)
• Original Video Trailer (4:3; 1:43) and Previews

DVD Release Date: 28 April 2009
Amaray

Chapters 12


Release Information:
Studio: Vinegar Syndrome

1080P Dual-layered Blu-ray

Disc Size:

42,002,139,248 bytes

Feature:

25,021,048,896 bytes

Codec: MPEG-4 AVC Video

Total Video Bitrate: 34.81 Mbps

Edition Details:
• Audio Commentary by Gorman Bechard
• Audio Commentary by Gorman Bechard and Carmine Capobianco
• Alternate opening credit sequence (1:12)
• Making Psychos' making-of featurette (13:02)
• Behind the scenes photo gallery
• Promotional image gallery
• Rough edit outtakes & extended scenes (9:55)
• Highlights from the stageplay (13:46)
• Four short films directed by Gorman Bechard (The Only Take - 2;30, Pairs (0:33), Bartholomew (6:33), Objects in the Mirror - 14:59)
• Directing the Psychos' interview with Gorman Bechard (11:11)
• 'Playing a Psycho' interview with Carmine Capobianco (15:26)
• 'Discussing Psychos' with Gorman Bechard & Carmine Capobianco (20:06)
• Director's Introduction (0:32)
• Carmine Capobianco Q&A from Cinema Wasteland 2016 (49:19)
• Original Trailer (1:44)


Blu-ray Release Date: September 26th, 2017
Transparent Blu-ray Case

Chapters 4

Comments

NOTE: The below Blu-ray captures were taken directly from the Blu-ray disc.

Vinegar Syndrome - Region FREE - Blu-ray - September 2017:

The new 1080P transfer is advertised as from a '2k restoration from its 16mm original camera negative'. It towers above the SD and shows more information in the frame - on all 4 sides - but the grain support and colors are the most notable improvement. It may have a slight green-leaning to the overall image. The visuals are brighter with more detail and the film's contrast has more layers in the higher resolution. It's still from 16mm - you can't change that - but the transfer is remarkable with a max'ed out bitrate.

Audio also gets an impressive bump with a DTS-HD Master mono track at 1615 kbps (24-bit) - it still has the limitations of the production but dialogue is clear - if occasionally scattered - and the limited effects have some minor depth. Carmine Capobianco is also credited with the score (as well as acting, writing and doing special effects for Psychos in Love) with the theme sung by Debi Thibeault and himself. Grassroots stuff but suits the film and there are optional English subtitles on the Region FREE Blu-ray disc.

Extras appear to duplicate most of the ones on the 2009 DVD with a few more - the two commentaries share information on the evolution of the project, production hurdles and some anecdotal laughs. Notable in the supplements is the 50-minute Carmine Capobianco Q&A from Cinema Wasteland 2016, the interviews and the four short films directed by Gorman Bechard (ex 'Pairs' is just 30 seconds of quick edit cuts of photos of female breasts.) There are also 14-minute of highlights from the "Psychos in Love" stage-play. The transparent case has reversible cover artwork and a liner notes booklet with essays by Art Ettinger & Matt Desiderio.

Funky stuff...funny, gross and has some wonderful low-budget charm. I suspect that Psychos in Love is a better, more humorous, film than you might expect. Vinegar Syndrome continue to impress with there complete packages of these wayward, less-exposed, home-grown efforts. If it sounds like it might be up your alley - you won't be disappointed in the Blu-ray package. Recommended to that niche!

-Gary and Eric
---
Menus
Shriek Show/Media Blasters - Region 0 - NTSC

| | |
| --- | --- |
| | |
| | |
Vinegar Syndrome - Region FREE - Blu-ray
---
CLICK EACH BLU-RAY CAPTURE TO SEE ALL IMAGES IN FULL 1920X1080 RESOLUTION

Screen Captures
(Shriek Show/Media Blasters - Region 0 - NTSC - TOP vs. Vinegar Syndrome - Region FREE - Blu-ray - BOTTOM)
---
(Shriek Show/Media Blasters - Region 0 - NTSC - TOP vs. Vinegar Syndrome - Region FREE - Blu-ray - BOTTOM)
---
(Shriek Show/Media Blasters - Region 0 - NTSC - TOP vs. Vinegar Syndrome - Region FREE - Blu-ray - BOTTOM)
---
(Shriek Show/Media Blasters - Region 0 - NTSC - TOP vs. Vinegar Syndrome - Region FREE - Blu-ray - BOTTOM)
---
(Shriek Show/Media Blasters - Region 0 - NTSC - TOP vs. Vinegar Syndrome - Region FREE - Blu-ray - BOTTOM)
---
(Shriek Show/Media Blasters - Region 0 - NTSC - TOP vs. Vinegar Syndrome - Region FREE - Blu-ray - BOTTOM)