Review by Gary Tooze
Production:
Theatrical: Alpha Cinematografica
Video:
88 Films
Disc:
Region: FREE (as verified by the Oppo Blu-ray player)
Runtime: 1:25:57.735
Disc Size: 23,914,237,187 bytes
Feature Size: 19,202,697,216 bytes
Video Bitrate: 24.89 Mbps
Chapters: 12
Case: Transparent Blu-ray case
Release date: August 7th, 2017
Video:
Aspect ratio: 1.33:1
Resolution: 1080p / 23.976 fps
Video codec: MPEG-4 AVC Video
Audio:
LPCM Audio English 1536 kbps 2.0 / 48 kHz / 1536 kbps / 16-bit
LPCM Audio Italian 1536 kbps 2.0 / 48 kHz / 1536 kbps / 16-bit
Subtitles:
English, none
Extras:
•
Reflections in a Broken Mirror - Working with Lucio Fulci and Making Touch of Death - featurette with contributions from Michele De Angelis and Marco Di Stefano
(21:43)
•
Reversible sleeve
Bitrate:
Description: The financially strained and increasingly desperate, Lester Parsons (50s matinee star Brett Halsey), concocts a brilliant get-rich-quick scheme; cruise the lonely hearts adds for rich women to fleece. Too bad then, that Lester's also a psychotic cannibal who enjoys mutilating these lovelorn souls, via his trusty chainsaw, and using their flesh for his dinner. When a copycat killer threatens to bring him down, Lester must do all he can to prevent this new killer's sloppy work from ruining them both.

From the Godfather of Gore, Lucio Fulci (Zombi 3), comes this darkly humorous gore-fest; which sits proudly as the crowning achievement in the late master's latter career. Re-discover the morbidly dark sense of humour of the beloved maestro of cruelty today, thanks to this stunning HD presentation from 88 Films!
The Film:
Lester is a well-to-do man with a love and affection for gambling on the races, he also has a love and affection for killing women and hacking them to bits before eating their bodies and feeding the remains to his hogs. So yeah, you could say he's a pretty adventurous kind of guy! Recently he has devised a plan to seduce rich old widows he finds in the newspapers, convince them to give him a load of money/jewelry and then slaughtering them off. A brilliant plan no doubt! With a little advice from his tape casette player which speaks and has conversations with him – he is off to nab some more widows! The only hitch in the plan though is that now after killing a few girls, it seems that someone else must be following the same plan. Every night on the news he is seeing killings that took place in the exact same fashion that his have, and with the exact same circumstances – but only this other killer is leaving behind evidence. When Lester kills and chops up a body, this other killer leaves it behind. When Lester kills the only witness to his crime, the other killer simply harms them and leaves them to testify that a tall man with a beard and rimmed glasses did it – just like Lester. Things really start to get to ol' Lester when he makes a bet that goes wrong and becomes $10,000 in debt to the mob – which he has just one week to pay off. Will Lester somehow get out of this predicament?
Excerpt from Varied Celluloid located HERE
Lester Parson (Brett Halsey) is a cannibal psychopath who regularly abducts and mutilates women, eating certain cuts and disposing the rest in his back yard to his horde of pigs. He converces schizophrenically with himself via tape recordings of his own voice. He is also being hounded by Randy (Al Cliver), a shady loan shark whom he owes money to after accruing bad gambling debts.

Though many fans are divided, generally "Touch of Death" is regarded as a better latter era Fulci film. The overdone black humor touches, unconvincing gore effects and baffling ending does turn off some fans
Excerpt from Wikipedia located HERE

Image : NOTE: The below Blu-ray captures were taken directly from the Blu-ray disc.
Touch of Death gets an impressive transfer to Blu-ray from 88 Films, cited as a "1080P presentation of the film sourced from the original negative." I've been told the previous DVDs produced a very poor image. Only video sources could be obtained for the SD as no original elements or prints were located. It was assumed that the original elements either no longer existed or were temporarily lost/unavailable. This Blu-ray is single-layered but looks quite good with visible grain. It's clean and tight - no significant damage. It offers both the English and Italian versions - seamless ( same transfer) in the 1.33:1 aspect ratio. The 1080P supports pleasing contrast with frequent depth. The grain textures are fine and consistent. This Blu-ray exports a surprisingly impressive HD presentation considering the state of the previous digital releases and sources.
CLICK EACH BLU-RAY CAPTURE TO SEE ALL IMAGES IN FULL 1920X1080 RESOLUTION
Audio :
Both English and Italian tracks on the
Blu-ray
of
Touch of Death
offer uncompressed liner PCM transfers (both 16-bit). The dialogue is imperfect in clarity and the DUB'ing weak - probably a notch
below
the video. The effects are modest. This has another score by Carlo Maria Cordio (
Body Puzzle, Aenigma
,
Pieces, Amok Train
) and, modestly, it adds to the film
. There is an English subtitled option for the Italian (see above) on the Region FREE
Blu-ray
playable word wide.
Extras :
Supplements include a 22-minute featurette entitled Reflections in a Broken Mirror - Working with Lucio Fulci and Making Touch of Death. It has contributions from Michele De Angelis, Assistant director on Touch of Death, and, actor, Marco Di Stefano - who played the Hobo in Touch of Death. It is in English and Italian with subtitles. The package has a reversible sleeve.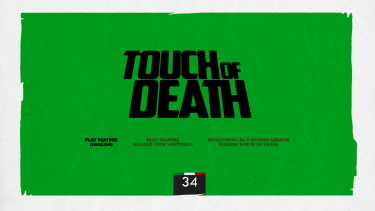 | | |
| --- | --- |
| | |
BOTTOM LINE:
Touch of Death is a gruesome film that, frankly, doesn't resemble the 88 Films cover much at all (which, I believe is taken from a poster for the film.) Fulci infuses a sly humor angle that dissipates the distasteful gore impact. It's less a scary film and more a keen character study well acted by Brett Halsey. It has a low budget feel. It's kind of an updated and gross version of Chaplin's Monsieur Verdoux. Zora Ulla Keslerová as the amusingly annoying suitor as played by Martha Raye (as the Annabella Bonheur character.) The 88 Films Blu-ray provides a surprisingly good presentation with value in the supplement. Touch of Death lacks the style of Giallo but makes for an interesting curiosity for Fulci fans. I have the feeling he didn't pull off his cinematic intentions but there is still value here.
Gary Tooze
July 31st, 2017