Review by Gary Tooze
Production:
Theatrical: Rigas Kinostudija
Video: Mondo Macabro
Disc:
Region: FREE! (as verified by the Oppo Blu-ray player)
Runtime: 1:38:49.757
Disc Size: 24,152,794,668 bytes
Feature Size: 21,989,370,240 bytes
Video Bitrate: 25.99 Mbps
Chapters: 10
Case: Standard Blu-ray case
Release date: September 12th, 2017
Video:
Aspect ratio: 1.33:1
Resolution: 1080p / 23.976 fps
Video codec: MPEG-4 AVC Video
Audio:
LPCM Audio Latvian 2304 kbps 2.0 / 48 kHz / 2304 kbps / 24-bit
Subtitles:
English, none
Extras:
• Interview with director (32:35)
• Rare on set TV Report footage (3:17)
• Cover art from Gilles Vranckx
• Mondo Macabro previews (11:11)
Bitrate:
Description: Vita, a beautiful teenage girl, is asked by a controversial artist to pose as the Virgin Mary for a painting. She visits his studio and finds herself swept up into the bizarre world of the artist and his bohemian friends. She seems to see his paintings come to life and is pursued by strange shadowy figures. Later she has nightmarish visions of the artist visiting her at night in the form of a huge spider. The next morning she finds marks on her body that look like the bites of a large insect. Vita's mother becomes worried about her and sends the girl off to stay with relatives in the countryside, believing that the change of environment will help her to recover. However, it seems the dark forces that threatened Vita in the city have followed her and an ancient evil is being awakened that feeds off Vita.

This Latvian shot, Russian language film was produced in the post Glasnost years of the former Soviet Union, when the barriers were down and previously unacceptable material was being explored for the first time. This is one of the very few horror films to come out of that period and still stands today as a daring and unique production, packed with elaborate and astonishing visual sequences.
The Film:
A very Freudian psycho-sexual drama following a young beauty Vita, modeling for a painting of Virgin Mary. At her first visit to the studio of the shady artist Albert, Vita is caught in the net of his sinister universe. In a visually stunning sequence personages of Albert's paintings come to life and attack Vita. The girl breaks away only to realize she's now in the toils of some dark forces. Albert senses the awakening of Vita's libido, and by night occurs in the form of a giant spider and sexually possesses her. The film builds up to the final battle between good and evil, played out against Vita's sexual self-exploration.
Excerpt from IMDb located HERE

The artist for his portrait of Mary Magdalene has chosen a young artist's model. After the start of sessions, she started having strange dreams mystical, opening a window into another world full of evil and wickedness. In them, the artist turns into a spider and trying to master it. Unconscious sexual impulses evoke a sense of fear and helplessness. The darkness absorbs and sucks. Only the light of true love dispels ghosts, saving her from a mystical web of networks.
Excerpt from WipFilms located HERE
Image : NOTE: The below Blu-ray captures were taken directly from the Blu-ray disc.
The Spider, aka "Zirneklis", arrives on Blu-ray from Mondo Macabro - largely, as a reflection of the source. It had some incontinency, occasionally looking soft, but was generally pleasing in the original 1.33:1 aspect ratio. There is texture apparent. The film is loaded with visual effects and the higher resolution can make them, a bit, transparent - appearing amateurish. There is infrequent depth. The camera spends as a lot of time on Aurelija Anuzhite's face. This Blu-ray exports a reasonable image - a notch superior than I would have expected from such a production, and probably the best the film will ever look.
CLICK EACH BLU-RAY CAPTURE TO SEE ALL IMAGES IN FULL 1920X1080 RESOLUTION
Audio :
The film's audio is transferred in linear PCM (24-bit) - in the original Latvian. There are meager effects and some pleasant, unidentified music used in Spider. There are optional English subtitles and m
y
Oppo
has identified it as being a region FREE disc playable on
Blu-ray
machines worldwide.
Extras :
Extras include a 1/2 hour interview with director Vasili Mass who discuss his career, mostly as a production designer - as well as his brothers (DoPs) in Russian with English subtitle. They found footage of a rare on set TV report footage running about 3-minutes plus the usual dozen minutes of Mondo Macabro previews. The cover art is credited to Gilles Vranckx.
| | |
| --- | --- |
| | |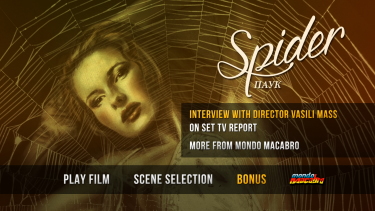 | | |
| --- | --- |
| | |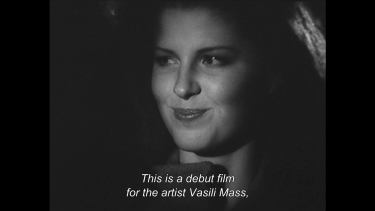 BOTTOM LINE:
Parts of The Spider reminded me Tarkovsky. It has expressive visuals with deliberate pacing. It can also look like a poor student film at times. Spider revolves around this striking gal, Vita, who agrees to pose for a mystical artist - causing her to start to have erotic nightmares of having sex with a giant arachnid, among other horrors - possibly representing her own awakening. Who knows - I don't. It's plenty weird but has something positive going for it. I just can't identify what. The Blu-ray, is a great way to enter into this curious, erotic-hinting, horror-thriller. Aurelija Anuzhite has an undeniable relationship with the camera. Adventurous cinephiles may wish to seek this out.
Gary Tooze
September 12th, 2017