Review by Gary Tooze
Production:
Theatrical: Film Science
Video: Criterion Collection Spine #893
Disc:
Region: 'A' (as verified by the Oppo Blu-ray player)
Runtime: 1:47:27.482
Disc Size: 43,992,864,166 bytes
Feature Size: 33,193,433,088 bytes
Video Bitrate: 35.89 Mbps
Chapters: 14
Case: Transparent Blu-ray case
Release date: September 19th, 2017
Video:
Aspect ratio: 1.85:1
Resolution: 1080p / 23.976 fps
Video codec: MPEG-4 AVC Video
Audio:
DTS-HD Master Audio English 3239 kbps 5.1 / 48 kHz / 3239 kbps / 24-bit (DTS Core: 5.1 / 48 kHz / 1509 kbps / 24-bit)
Subtitles:
English (SDH), none
Extras:
• New interviews with Reichardt (14:13) and executive producer Todd Haynes (14:35)

•
New interview with Maile Meloy, author of the stories on which the film is based (13:12)

•
Trailer (2:01)

•
PLUS: An essay by critic Ella Taylor
Bitrate:
Description: The expanses of the American West take center stage in this intimately observed triptych from Kelly Reichardt. Adapted from three short stories by Maile Meloy and unfolding in self-contained but interlocking episodes, Certain Women navigates the subtle shifts in personal desire and social expectation that unsettle the circumscribed lives of its characters: a lawyer (Laura Dern) forced to subdue a troubled client; a wife and mother (Michelle Williams) whose plans to construct her dream home reveal fissures in her marriage; and a night-school teacher (Kristen Stewart) who forms a tenuous bond with a lonely ranch hand (Lily Gladstone), whose longing for connection delivers an unexpected jolt of emotional immediacy. With unassuming craft, Reichardt captures the rhythms of daily life in small-town Montana through these fine-grained portraits of women trapped within the landscape's wide-open spaces.
The Film:
If Certain Women is quietly episodic, however, it is not without drama. Its first story concerns Laura (Laura Dern), a small-town lawyer who has to manoeuvre her way through a hostage-taking after a disgruntled client goes postal. Her client is lonely, misunderstood and frustrated … but then so is Laura and she's not reaching for her gun. Instead, in Dern's firm and sensitive portrayal, she is a sad but sensible figure apparently accepting both a job and a romance that can't fulfill her.

I say apparently because the motivations and back stories of Reichardt's characters are never revealed. The independent American filmmaker, previously recognized for Wendy and Lucy and Night Moves, has penned a provocative script in which there is barely a word of exposition.
Excerpt from TheGlobeandMail located HERE
With her sixth feature, Kelly Reichardt more than ever feels like a director who is using cinema in a way that is wonderfully at odds with our expectations for the medium. While mainstream cinema often feels like an assault, pinning us back in our seats, and her arthouse contemporaries tend to prefer showy gestures and directorial techniques that declaim themselves, Reichardt's low-key, intimate films draw us in. Her work is subtle, deliberately anti-dramatic. Her approach goes beyond naturalism and lands somewhere between painful introversion and acute empathy. As such, Certain Women won't appeal to everyone.

But for those who connect with Reichardt's approach – and I count myself among them – the film is a minor miracle. Based on the writing of Maile Meloy, it is loosely a triptych of stories in which nothing much happens, full of expressive moments in which nothing is said, but which somehow convey an ache of longing or a small stab of triumph.
Excerpt from The Guardian located HERE

Image : NOTE: The below Blu-ray captures were taken directly from the Blu-ray disc.
Certain Women looks excellent on Blu-ray from Criterion and is cited as a "New 2K digital transfer, supervised by director Kelly Reichardt and cinematographer Christopher Blauvelt". It is a dual-layered Blu-ray, transfer with max'ed out bitrate, reproduced a very accurate 1080P presentation from the ARRIFLEX 416-chosen production (a step up from Super16). The presence of grain texture in a modern film is so welcome nowadays. It's a dark film and looks intentionally more-grass-roots and primitive but still, dense and film-like. I can find no flaws with this rich, heavy, presentation. It seems it was meant to look exactly as the HD reproduces.
CLICK EACH BLU-RAY CAPTURE TO SEE ALL IMAGES IN FULL 1920X1080 RESOLUTION
Audio :
Criterion use a robust DTS-HD Master Audio 5.1 surround (24-bit) transfer that sounds flawless. There are few demonstrative effects but a contemplative score by Jeff Grace (who composed for Reichardt's Meek's Cutoff and Night Moves and Larry Fessenden's The Last Winter among other films.) The lossless supports the film well. There are optional English (SDH) subtitles and my Oppo has identified it as being a region 'A' disc.
Extras :
Criterion include new three separate interviews with director Kelly Reichardt, Maile Meloy, author of the three short stories on which the film is based who discusses her work and the film - plus a third with executive producer Todd Haynes (each 1/4 hour). The latter has long been a champion of his friend Kelly Reichardt's work, and has served as executive producer on several of her films, including Certain Women. In the interview Haynes discusses Reichardt's films and unique directorial style. There is a trailer and the package has a liner notes booklet with an essay by critic Ella Taylor.
| | |
| --- | --- |
| | |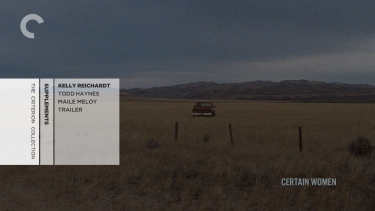 BOTTOM LINE:
Certain Women is brilliant filmmaking. I've become a huge Kelly Reichardt fan ever since I watched Meek's Cutoff (and strongly endorse The Kelly Reichardt Collection.) The film has elements of perseverance, small town lifestyles, desperation, isolation etc. I would agree that its measured pace is not for everyone but I was enveloped by its warm embraces totally. This Blu-ray package is an easy recommendation. Fans just being exposed to Reichardt or her growing fanbase will see this as a must-own. A very strong recommendation!
Gary Tooze
August 11th, 2017