Review by Gary Tooze
Production:
Theatrical: Impostor Pictures
Video: Distribution Select (Canada)
Disc:
Region: 'A'-locked (as verified by the Oppo Blu-ray player)
Runtime: 1:26:26.556
Disc Size: 24,518,198,888 bytes
Feature Size: 21,284,352,000 bytes
Video Bitrate: 26.01 Mbps
Chapters: 8
Case: Standard Blu-ray case
Release date: March 21st, 2017
Video:
Aspect ratio: 2.4:1
Resolution: 1080p / 23.976 fps
Video codec: MPEG-4 AVC Video
Audio:
DTS-HD Master Audio English 3987 kbps 5.1 / 48 kHz / 3987 kbps / 24-bit (DTS Core: 5.1 / 48 kHz / 1509 kbps / 24-bit)
Dolby Digital Audio English 640 kbps 5.1 / 48 kHz / 640 kbps
Dolby Digital Audio English 448 kbps 2.0 / 48 kHz / 448 kbps / DN -4dB / Dolby Surround
Subtitles:
English (SDH), none
Extras:
• TIFF Q + A (11:34)
• Q + A with Emile Hirsch (15:39)
• Short Film: The Tunnel (14:26)
• Trailer 1 (1:07)
• Trailer 2 (2:04)
Bitrate:
Description: It's just another night at the morgue for a father (Brian Cox) and son (Emile Hirsch) team of coroners, until an unidentified, highly unusual corpse comes in. Discovered buried in the basement of the home of a brutally murdered family, the young Jane Doe-eerily well preserved and with no visible signs of trauma-is shrouded in mystery. As they work into the night to piece together the cause of her death, the two men begin to uncover the disturbing secrets of her life. Soon, a series of terrifying events make it clear: this Jane Doe may not be dead.
The Film:
Anybody who saw 2010's Troll Hunter could tell that its director, André Øvredal, was a rare talent, but the longer one spends around the film industry, the more one sees such talents eclipsed by circumstance. A distinctive calling card is one thing; making a successful second film is quite another. So it is particularly pleasing to see Øvredal return with a film that not only lets his talent shine but is one of the best horror movies of the year.

Ultimately, films are about teamwork, and Øvredal is considerably aided in his endeavours here by the redoubtable Brian Cox. It's a joy to see Cox in such a meaty role as - with the exception of The Carer - he has spent too much time in recent years playing second fiddle to less talented youngsters. Here he plays widowed pathologist Tommy, working in the family morgue with son Austin (Emile Hirsch). Much of the film is played as a two-hander and neither actor crowds the other. Their natural chemistry, together with the rock music on the radio and the casual admixture of professional and personal conversation, encourages viewers to invest in them emotionally, and lulls us into a false sense of security.
Excerpt from EyeForFilm located HERE
The film's premise and action sound icky on paper, and they read as icky in practice. But for a movie where two men stare perplexed at a deceased woman's naked body, The Autopsy of Jane Doe is remarkably graceful, and even respectful of it eponymous character. Øvredal can't help that his gaze is male, so he takes great pains to deemphasize his film's inherent creep factor through use of the camera, often filming Kelly at angles that protect her rather than leave her perversely exposed, which has the effect of enhancing her superb performance.
Excerpt from PasteMagazine located HERE
Image : NOTE: The below Blu-ray captures were taken directly from the Blu-ray disc.
The Autopsy of Jane Doe gets its initial release on Blu-ray from Distribution Select out of Canada. The 1080P image is housed on a single-layered disc with a supportive bitrate - and the 1.5 hour film is transferred in the 2.40:1 aspect ratio. It looks consistent with high detail in close-ups, true colors and pleasing depth. The film has some very dark sequences but I noticed no noise or flaws although has some teal leaning. Contrast was strong and colors exported richness - notable in the more graphic scenes of the autopsies. This Blu-ray has a beautiful appearance in the widescreen and helps establish the film's suspense. Visually this was very pleasing.
CLICK EACH BLU-RAY CAPTURE TO SEE ALL IMAGES IN FULL 1920X1080 RESOLUTION
Audio :
I believe theatrically the film had ATMOS sound. But this Blu-ray offers a robust DTS-HD Master 5.1 surround transfer at a healthy 3987 kbps (24-bit). They include options for lossy 5.1 and 2.0 stereo. The lossless track exports measured intensity in the effects - which are relatively sparse as it relies heavily upon the atmosphere, buoyed by the original score from the team of Danny Bensi and Saunder Jurriaans (Simon Killer, Martha Marcy May Marlene, Denis Villeneuve's Enemy) which, brilliantly, augments the films slow burn attributes, sounding crisp and even at the same time. Let's not forget the effectively used Open Up Your Heart by the The Hamblens (never be the same to me again!). There are optional English (SDH) subtitles and m
y
Oppo
has identified it as being a region 'A'-locked.

Extras :
Distribution Select add some supplements. We get a dozen minutes of a post TIFF screening with a Q + A - cast and filmmakers, plus a 1/4 hour Q + A with Emile Hirsch about his character and the production etc. I enjoyed André Øvredal's, 16-minute, short film, The Tunnel - about a family's commute hampered by slow-moving traffic and their desires to simply make it home safely. It is in Norwegian with English subtitles. There are also two trailers for the film.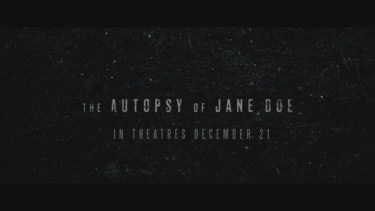 BOTTOM LINE:
The Autopsy of Jane Doe is one of the better horrors I've seen in the past few years. Øvredal crafts a creepy, claustrophobic, atmosphere with uncomfortable 'potentials' in every scene. Cox and Hirsch work well as a team and the horror elements develop slowly as the mystery of Jane Doe evolves. There are some graphic scenes but I wouldn't say they were grotesque - as the father and son treat them with a business-like, matter-of-fact-ness. This was wonderful to see on Blu-ray, and I have watched it twice already. I consider this a must-see for fans of the genre. Strongly recommended!
Gary Tooze
April 25th, 2017