Review by Gary Tooze
Production:
Theatrical: Shumba International Corporation
Video: Severin Films
Disc:
Region: FREE (as verified by the Oppo Blu-ray player)
Runtime: 1:31:48.503
Disc Size: 48,004,802,140 bytes
Feature Size: 25,275,088,896 bytes
Video Bitrate: 32.50 Mbps
Chapters: 10
Case: Standard Blu-ray case
Release date: February 7th, 2017
Video:
Aspect ratio: 1.66:1
Resolution: 1080p / 23.976 fps
Video codec: MPEG-4 AVC Video
Audio:
DUB:
DTS-HD Master Audio English 2116 kbps 2.0 / 48 kHz / 2116 kbps / 24-bit (DTS Core: 2.0 / 48 kHz / 1509 kbps / 24-bit)
Dolby Digital Audio Italian 192 kbps 2.0 / 48 kHz / 192 kbps
Subtitles:
English, none
Extras:
• Altered Beasts: Interview With Director Franco E. Prosperi (15:33)

•
Wild Tony: Interview With Actor Tony Di Leo (12:55)

•
Cut After Cut: Interview With Editor & Mondo Filmmaker Mario Morra (35:54)

•
The Circus is in Town: Interview With Animal Wrangler Roberto Tibeti's son, Carlo Tiberti (10:25)

•
House Of Wild Beasts: A Visit To The Home Of Franco E. Prosperi (12:42)

•
International Trailer (2:24)
Bitrate:
Description: For his final work, Godfather Of Mondo Franco E. Prosperi took on the Nature Strikes Back genre and delivered perhaps the most shocking movie of his controversial career: When PCP gets into the water supply of a city zoo, the drug-crazed beasts including tigers, lions, cheetahs, hyenas and elephants, as well as seeing eye dogs and sewer rats go berserk and rampage through the streets of Rome. What follows is a terrifying mix of actual animal attacks (supervised by professional circus trainers) and over-the-top 80s Italian gore that remains the greatest eco-revenge shocker in EuroCult history. Lorraine De Selle (CANNIBAL FEROX, HOUSE AT THE EDGE OF THE PARK) and Ugo Bologna (NIGHTMARE CITY) star in this disturbing urban bloodbath, now digitally remastered for the first time ever and bursting with all-new Special Features!
The Film:
When the water system of a big European city is contaminated with the drug PCP, the animals run amok and attacks people. Because of a small earthquake the exotic animals of a local zoo gets free as well which includes everything from tigers to elephants. We follow the animal expert Dr. Ruphert Berner and journalist Laura Schwarz throughout this mayhem.
I have a soft spot for killer animal movies, there's something enjoyable watching animals take revenge on all the wrong things we humans do to this world and to them. So a movie that shows a range of different animals that attacks people should be right up my alley.
Director Prosperi had experience working with animals prior to this movie from making a couple of infamous mondo movies including Goodbye Uncle Tom, Mondo Cane and Africa Addio. He creates a dark atmosphere and does a good job with this movie. Some of the animal attacks are good and I'm surprised at how much they where able to make the animals do since I'm sure they didn't have a lot of time to film this. Some scenes does get a bit ridiculous however. It's fun to see an elephant stomp on cars, but not quite as suspenseful to see it choke a person with his trunk.
Excerpt from CinemaTerror located HERE
Franco Prosperi's Wild Beasts is an odd duck in every way. Sure, it's just a normal killer animal-movie but it almost completely lacks a build-up, characters or any kind of engaging story – it's just a lot of spectacular scenes of different animals attacking and killing people! What I understand of the story and some of the info I read about the movie before, PCP is leaked into the water and makes all the animals go crazy, most of them coming from the zoo. This means that tigers, lions, a cheetah, bears, elephants, rats… yes, even COWS, start to attack the humans in a lot of bloody and sometimes even gory ways.
Excerpt from NinjaDixon located HERE
Image : NOTE: The below Blu-ray captures were taken directly from the Blu-ray disc.
Wild Beasts looks about as good as could be expected on Blu-ray from Severin. The softness is inherent and the image quality is actually quite pleasing - on a dual-layered disc with a very high bitrate. The 1080P visuals are indicative of the film's era and source - not especially crisp - somewhat waxy - and the exploitive gore is intentionally hazy. It's in the 1.66:1 aspect ratio - the detail tends to improve as the film runs along but it is what it is. I thought it looked reasonable in-motion with only a few frame-specific marks. No major complaints.
CLICK EACH BLU-RAY CAPTURE TO SEE ALL IMAGES IN FULL 1920X1080 RESOLUTION
Audio :
Severin give the option of a DTS-HD Master 2.0 channel at 2116 kbps (24-bit) in the English DUB or a lossy, original, Italian-language track.
Even the lossless DUB is flat and the sync disparity is obvious but the animal growls do have some depth.
The score is by Daniele Patucchi (credits include titles like Deaf Smith & Johnny Ears, Sex of the Witch and You Are a Traitor and I'll Kill You! - he actually composed more than 50 movie soundtracks) utilizing Digit Synthesizers adds some cool 80's flavor. There are optional English subtitles and m
y
Oppo
has identified it as being region FREE playable world-wide.
Extras :
Severin have impressive supplements; Altered Beasts is a 16-minute interview with Director Franco E. Prosperi (as all, in Italian with English subtitles - the participants reminiscing about the Wild Beasts production from their standpoint). Wild Tony is a 13-minute interview with actor Tony Di Leo, Cut After Cut is a lengthy 36-minute interview with editor & Mondo Filmmaker Mario Morra. The Circus is in Town spends over 10-minutes with 'Animal Wrangler' Roberto Tibeti's son, Carlo Tiberti and House Of Wild Beasts is a dozen-minute visit to the home of Prosperi. Lastly is an international trailer and my package had a 12X18 poster for the film.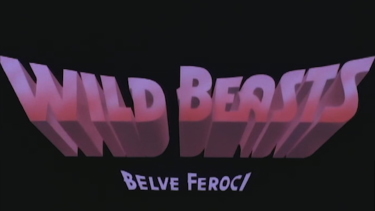 BOTTOM LINE:
Wild Beasts is one of those films you want to love - with its cool, 'Nature's revenge', concept - that you tend to forgive any of the, many, imperfections - like the poor acting, the, often, ineffectual animal footage (actually this isn't bad in spots) - elephants, polar bears and I liked the cheetah chasing a VW bug sequence. Ohh yeah. The weak DUB'ing adds further kitsch genre appeal. This Blu-ray package is for a targeted, exploitation, niche who love this period of, often clumsy, 80's Italian horror flics. I do. This one is pretty cool, and Severin do it up about as well as fans could have anticipated with the solid transfer and plentiful supplements. Not a masterpiece but those interested already know who they are and to them this is strongly recommended!
Gary Tooze
February 2nd, 2017