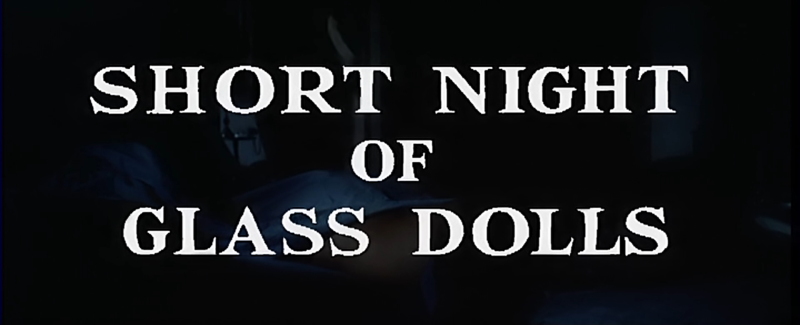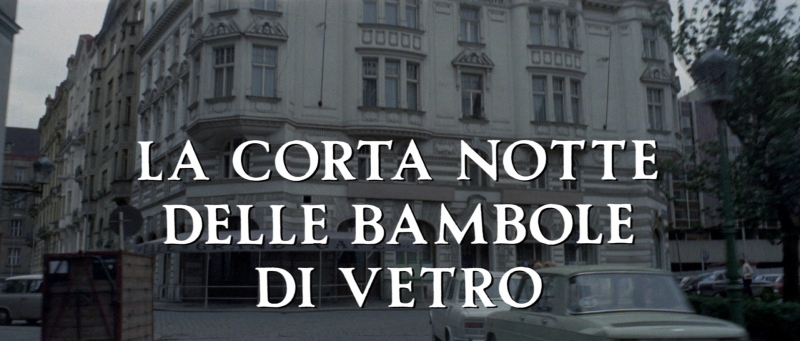 (aka "Short Night of Glass Dolls" or "La corta notte delle bambole di vetro" or "Malastrana" or "The Short Night of the Butterflies" or "Paralyzed" )
directed by Aldo Lado
Italy, West Germany, Yugoslavia 1971
The corpse of reporter Gregory Moore (Jean Sorel of "Lizard in a Woman's Skin") is found in a Prague plaza and brought to the local morgue. But Moore is actually alive, trapped inside his dead body and desperately recalling how the mysterious disappearance of his beautiful girlfriend (Barbara Bach of "The Unseen") led to a terrifying conspiracy of depravity. Can a reporter with no visible signs of life solve this perverse puzzle before he meets his ultimate deadline?

***

Aldo Ladoís remarkable film is an atmospheric delight that boasts an incredible score from the maestro himself, Ennio Morricone (The Good, The Bad & The Ugly), and more than deserves itís reputation as one of the finest examples of the Giallo genre. 88 Films are proud to present this stone cold classic of Italian cinema, in pristine HD, for the first time in the UK!
Posters
Theatrical Release: 28 October 1971(Italy)
Reviews More Reviews DVD Reviews

Comparison:
Anchor Bay (The Giallo Collection) - Region 0 - NTSC vs. 88 Films - Region 'B' - Blu-ray
Big thanks to Gregory Meshman for the Anchor Bay (The Giallo Collection) Screen Caps!
(Anchor Bay (The Giallo Collection) - Region 0 - NTSC - LEFT vs. 88 Films - Region 'B' - Blu-ray - RIGHT
)
Box Covers

Distribution

Anchor Bay

Region 0 - NTSC

88 Films
Region 'B' - Blu-ray
Runtime
1:36:45
1:36:52.223
Video

2.35:1 Original Aspect Ratio

16X9 enhanced
Average Bitrate: ? mb/s
NTSC 720x480 29.97 f/s

Disc Size: 30,234,778,437 bytes

Feature Size: 29,306,296,320 bytes

Total Bitrate:

34.99 Mbps

Dual-layered Blu-ray MPEG4 - AVC

NOTE: The Vertical axis represents the bits transferred per second. The Horizontal is the time in minutes.

Bitrate:

Anchor Bay (The Giallo Collection)

Bitrate:

88 Films Blu-ray

Audio
Dolby Digital Mono (English)

LPCM Audio English 1536 kbps 2.0 / 48 kHz / 1536 kbps / 16-bit
LPCM Audio Italian 1536 kbps 2.0 / 48 kHz / 1536 kbps / 16-bit

Subtitles
None
English, None
Features
Release Information:
Studio: Anchor Bay

Aspect Ratio:
Widescreen anamorphic - 2.35:1

Edition Details:
� Strange Days of the Short Night - interview with director Aldo Lado (11:31)
� Theatrical Trailer (3:05)
� Aldo Lado Filmography

DVD Release Date: June 25, 2002
Keep Case

Chapters 25

Release Information:
Studio: 88 Films

Disc Size: 30,234,778,437 bytes

Feature Size: 29,306,296,320 bytes

Total Bitrate:

34.99 Mbps

Dual-layered Blu-ray MPEG4 - AVC

Edition Details:
• English Theatrical Trailers (3:05)
• Italian Theatrical Trailers (3:05)


Blu-ray Release Date: November 21sr, 2016

Transparent Blu-ray case (thick - UK)

Chapters 12

Comments

NOTE: the Anchor Bay DVD is identical to the Blue Underground release HERE.

NOTE: The below Blu-ray captures were taken directly from the Blu-ray disc.

ADDITION: 88 Films - Region 'B' - Blu-ray - March 17':

You can see the vast improvement of the 1080P over the SD image in the comparison captures below. It is described as a "New 2K Restoration from the Original Camera Negative". Skin tones cool and become far more realistic, detail rises, there is more information in the frame etc. No contest. I appreciate the texture of the higher resolution transfer - it's lush and fairly consistent and gives the BD presentation a, very pleasing, film-like quality. It has both English and Italian seamlessly branched (same transfer.)

88 Films use linear PCM tracks at 1536 kbps (16-bit) for both English and Italian languages (both cited as 'Restored'). It's imperfect (obvious DUBs) with modest effects - competent if unremarkable - much along the lines of the production - but the score by the iconic Ennio Morricone (A Bullet for the General, Tie Me Up! Tie Me Down!, Investigation of a Citizen Above Suspicion, U Turn, Stay As You Are etc. etc.) adds a delicious atmosphere of mystery and suspense adding to the film experience. There are English subtitles for the Italian version and my Oppo has identified it as being Region 'B'-locked.

Only extras are a couple of trailers (English and Italian) but it's a wonderful Giallo with non-linear timelines. Well above-average, imo. I thoroughly enjoyed it. The 88 Films is the way to go to watch Short Night of Glass Dolls in your home theatre!


- Gary and Gregory
---
Menus
(Anchor Bay (The Giallo Collection) - Region 0 - NTSC - LEFT vs. 88 Films - Region 'B' - Blu-ray - RIGHT)

| | |
| --- | --- |
| | |
| | |
| | |
| | |
---
CLICK EACH BLU-RAY CAPTURE TO SEE ALL IMAGES IN FULL 1920X1080 RESOLUTION
Subtitle Sample - 88 Films - Region 'B' - Blu-ray
---
(Anchor Bay (The Giallo Collection) - Region 0 - NTSC - TOP vs. 88 Films - Region 'B' - Blu-ray - BOTTOM)
---
(Anchor Bay (The Giallo Collection) - Region 0 - NTSC - TOP vs. 88 Films - Region 'B' - Blu-ray - BOTTOM)
---
(Anchor Bay (The Giallo Collection) - Region 0 - NTSC - TOP vs. 88 Films - Region 'B' - Blu-ray - BOTTOM)
---
(Anchor Bay (The Giallo Collection) - Region 0 - NTSC - TOP vs. 88 Films - Region 'B' - Blu-ray - BOTTOM)
---
(Anchor Bay (The Giallo Collection) - Region 0 - NTSC - TOP vs. 88 Films - Region 'B' - Blu-ray - BOTTOM)
---
(Anchor Bay (The Giallo Collection) - Region 0 - NTSC - TOP vs. 88 Films - Region 'B' - Blu-ray - BOTTOM)
---
(Anchor Bay (The Giallo Collection) - Region 0 - NTSC - TOP vs. 88 Films - Region 'B' - Blu-ray - BOTTOM)
More Blu-ray Captures