Review by Gary Tooze
Production:
Theatrical: Twentieth Century Fox Film Corporation
Video: Twilight Time
Disc:
Region: FREE (as verified by the Oppo Blu-ray player)
Runtime: 2:37:00.452
Disc Size: 48,923,829,450 bytes
Feature Size: 44,956,397,568 bytes
Video Bitrate: 25.99 Mbps
Chapters: 24
Case: Transparent Blu-ray case
Release date: March, 2017
Video:
Aspect ratio: 2.35:1
Resolution: 1080p / 23.976 fps
Video codec: MPEG-4 AVC Video
Audio:
DTS-HD Master Audio English 3413 kbps 5.1 / 48 kHz / 3413 kbps / 24-bit (DTS Core: 5.1 / 48 kHz / 1509 kbps / 24-bit)
DTS-HD Master Audio English 2134 kbps 2.0 / 48 kHz / 2134 kbps / 24-bit (DTS Core: 2.0 / 48 kHz / 1509 kbps / 24-bit)
Commentaries:
DTS-HD Master Audio English 2039 kbps 2.0 / 48 kHz / 2039 kbps / 24-bit (DTS Core: 2.0 / 48 kHz / 1509 kbps / 24-bit)
DTS-HD Master Audio English 1993 kbps 2.0 / 48 kHz / 1993 kbps / 24-bit (DTS Core: 2.0 / 48 kHz / 1509 kbps / 24-bit)
Subtitles:
• English (SDH), None
Extras:
•
Audio Commentary with Filmmaker/Historian Willard Carroll

•
Audio Commentary with Actors Terry Moore and Russ Tamblyn

•
On Location in Peyton Place with optional Willard Carroll Audio Commentary (7:35)

•
AMC Backstory: Peyton Place (25:06)

•
Fox Movietone Newsreels (1:32, 0:58)

•
Original Theatrical Trailers (2:35, 0:41)
• Liner notes by Julie Kirgo
Limited to 3,000 Copies!
Bitrate:
Description: Grace Metalious' scandalous best-seller about the sordid life of a small New England town is given the high-gloss Hollywood treatment in Peyton Place (1957), a hugely successful melodrama produced by Jerry Wald and directed by Mark Robson, with John Michael Hayes providing the screenplay. A cast led by established star Lana Turner (then suffering her own real-life melodrama) is also studded with terrific performances from relative newcomers including Diane Varsi, Hope Lange, Lee Philips, and Russ Tamblyn, and further highlighted by an extraordinary score from Franz Waxman.
***
In this adaptation of Grace Metalious' popular novel, steamy goings-on abound in the small, prim New England community of Peyton Place. Newcomer Michael Rossi (Lee Philips) arrives in town on the eve of World War II and is soon involved with gorgeous but prudish shop owner Constance MacKenzie (Lana Turner), who keeps some secrets from her daughter, Allison. Amidst engagements and school graduations, Michael discovers seething, dark undercurrents that include rape, suicide -- and murder
.
The Film:
Tasteful adaptation of Grace Metalious' best-selling novel detailing the lives and loves of 'ordinary folk' in a small New England town. It comes with its full quota of sex, conspiracy and violence, but the story is told in such circumspect fashion that next to nobody was offended. Turner, whose own private life was one long soap opera, plays a widow with a teenage daughter. Nobody knows why she treats the lass quite so sternly. Nor can they understand why she doesn't want to marry the dashing new high school principal. Nominated for just about every Oscar going, the film spawned a dreary sequel and an immensely popular TV series.
Excerpt from TimeOut located HERE
Producer Jerry Wald was no stranger to transforming scandalous texts into culturally acceptable movies. As a producer at Warner Bros., he had maintained a file of stories blocked by the censors, some of which -- including Mildred Pierce (1945) and Johnny Belinda (1948) -- he actually managed to get on screen. With Peyton Place, he started by stripping the book of its foul language and some of the more sensationalistic subject matter. Young Norman Page (Russ Tamblyn) remained a mama's boy, but with no suggestion that he reveled in being whipped by his mother. Selena Cross (Hope Lange), pregnant after being raped by her stepfather, lost the child through a miscarriage rather than an abortion. And icy blonde Constance MacKenzie (Lana Turner) thawed to the advances of manly school principal Mike Rossi (Lee Philips) without the benefit of the novel's nude swim. In this, Wald was greatly helped by screenwriter John Michael Hayes, who had learned the fine art of subtlety writing scripts for such classic Hitchcock films as Rear Window (1954) and To Catch a Thief (1955).
Excerpt from TCM located HERE

Image : NOTE: The below Blu-ray captures were taken directly from the Blu-ray disc.
Peyton Place comes to Twilight Time Blu-ray in a dual-layered, 1080P transfer with their usual supportive bitrate. The most striking impression the 1080P exports are the scintillating, almost breathtaking, colors. They are as saturated and deep as I have witnessed on home video. Unfortunately, I also see some unusual, waxy, softness that does not resemble grain. It looks like DNR to me but not seeing the film theatrically, knowing the, possible digitization of the sources or even owning the older DVD, I can only scratch my head at the film's, occasional, appearance on Blu-ray. As I zoom in on the captures - it does not seem blanketed, but definitely exists in many instances. These questionable sequences are also abnormally flat. It, honesty, looks strange, at times, to me. I'll defer to others who may be more familiar with the film than I, but on both my systems this possible digitization was evident despite being joyously distracted by the incredible colors. I suspect that most will appreciate the film's appearance, especially the colors, in their home theater systems.
CLICK EACH BLU-RAY CAPTURE TO SEE ALL IMAGES IN FULL 1920X1080 RESOLUTION
Audio :
Peyton Place had a 4-Track Stereo (Westrex Recording System) theatrically and Twilight Time give the option of a DTS-HD Master 5.1 surround transfer at a powerful 3413 kbps (24-bit) or a similar encode in 2.0 channel stereo.
I did notice some separation although the film doesn't require much of it - of substantial depth easily handling t
he versatile Franz Waxman (
Dark Passage,
Rebecca, Bride of Frankenstein
,
Rear Window
,
Sunset Boulevard
) score that adds further to the small town serenity and undercurrent of emotion. It sounds impressive and Twilight Time do NOT add an isolated score for this release.
There are optional English subtitles (sample above) and m
y
Oppo
has identified it as being a region FREE.

Extras :
Twilight Time include the extras from the previous DVD - the audio commentary with actors Terry Moore and Russ Tamblyn, the 25-minute AMC Backstory: Peyton Place, 2 trailers and 2 Fox Movietone Newsreels plus they add a new audio commentary with filmmaker / historian Willard Carroll who is quite a film fan himself owning the largest privately held collection of Oz memorabilia in the world. His commentary is educational and very thorough covering a multitude of aspects on the film, stars, production details and much more. There is also an 8-minute piece; On Location in Peyton Place with an optional commentary from Carroll discussing the locales and specific scenes. Excellent. The package has liner notes by Julie Kirgo and is limited to 3,000 copies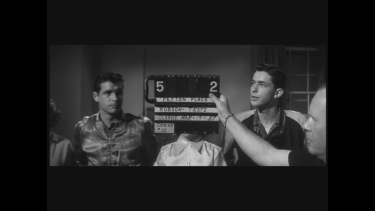 BOTTOM LINE:
Peyton Place is a above average romance drama filled with blossoming scandals, secrets and self-serving tension. Although not as filled with impropriety by today's standards it nevertheless carries a 50's upper-class tone of quality with art direction and wardrobe adding to the film's comfortable luxury. The performances are rich showcasing a Hollywood era that many still embrace nostalgically. The Twilight Time Blu-ray provides a luminous, if questionable, video transfer for the film and further value with the commentaries (especially the new one) and supplements including liner notes. It's a complete package of lauded and watchable film.
Gary Tooze
March 25th, 2017