Review by Gary Tooze
Production:
Theatrical: The Mirisch Corporation
Video: Twilight Time
Disc:
Region: FREE (as verified by the Oppo Blu-ray player)
Runtime: 2:01:25.278
Disc Size: 45,951,873,832 bytes
Feature Size: 36,902,559,744 bytes
Video Bitrate: 29.99 Mbps
Chapters: 24
Case: Transparent Blu-ray case
Release date: March, 2017
Video:
Aspect ratio: 2.35:1
Resolution: 1080p / 23.976 fps
Video codec: MPEG-4 AVC Video
Audio:
DTS-HD Master Audio English 3832 kbps 5.1 / 48 kHz / 3832 kbps / 24-bit (DTS Core: 5.1 / 48 kHz / 1509 kbps / 24-bit)
DTS-HD Master Audio English 2122 kbps 2.0 / 48 kHz / 2122 kbps / 24-bit (DTS Core: 2.0 / 48 kHz / 1509 kbps / 24-bit)
Isolated Score:
DTS-HD Master Audio English 2076 kbps 2.0 / 48 kHz / 2076 kbps / 24-bit (DTS Core: 2.0 / 48 kHz / 1509 kbps / 24-bit)
Subtitles:
• English (SDH), None
Extras:
•
This Book Is All That You Need: Robert Morse on J. Pierrepont Finch (19:01)

•
A Secretary Is Not a Toy: Michele Lee on Rosemary Pilkington (16:21)

•
Isolated Music Track (with some effects)

•
Original Theatrical Trailer (2:56)
• Liner notes by Julie Kirgo
Limited to 3,000 Copies!
Bitrate:
Description: J. Pierpont Finch (Robert Morse) is a lowly window cleaner with dreams of making it big in the business world. After finding a copy of the book "How to Succeed in Business Without Really Trying," Finch decides to apply the tactics in the book to his own life. Soon, he's working as a mail-room clerk at the World Wide Wicket Company and quickly fighting his way up the corporate ladder with relative ease in this quirky musical based on the hit Broadway production.
***
Broadway roles as a scary-ambitious window cleaner and a befuddled company president are Robert Morse and Rudy Vallee, joined here by Michele Lee, Anthony Teague, and Maureen Arthur in an entertainingly vicious take on big business.
The Film:
A blandly outrageous and occasionally sharp-toothed musical satirising big business, with a likeable score by Frank Loesser, which takes potshots at everything from coffee breaks to advertising campaigns. Morse, somehow contriving to be horrendous and endearing at one and the same time, repeats his stage role to brilliant effect as the all-American boy who employs scientific knowhow to rise like a meteor, licking asses and trampling heads every step of the way. Swift's direction is a little stiff and stagy, and there are dull patches; but with handsome camerawork from Burnett Guffey, witty Bob Fosse choreography, and the ineffable Vallee playing the compulsive-knitting, fussbudget boss, this was one of the livelist musicals of the '60s.
Excerpt from TimeOut located HERE
Written as a satiric guide to climbing the corporate ladder, How To Succeed in Business Without Really Trying (1967) proved to be publishing gold for its author, Shepherd Mead. Mead wrote the novel while working on Madison Avenue and watched as his story became a bestseller in 1952. Apparently an example of his own get-rich method, Mead retired from the work world at 41 and moved to the English countryside. There he would go on to write other how to books like, How to Succeed with Women Without Really Trying, How to Live Like a Lord Without Really Trying and How to Succeed in Tennis Without Really Trying.

Mead's story was first adapted for the stage in 1955 by playwright Willie Gilbert and Jack Weinstock, a neurosurgeon who wrote plays in his free time. Their version would be put to music by Frank Loesser, who wrote the songs, and Abe Burrows, who created the musical book. The play that emerged added an element of romance and even more social commentary to Mead's tale. The first person cast in the stage version of How to Succeed in Business Without Really Trying was Robert Morse as J. Pierpont Finch, the window washer who takes Mead's book to heart. Actor/bandleader Rudy Vallee soon joined Morse as his boss at the World Wide Wicket Company.
Excerpt from TCM located HERE

Image : NOTE: The below Blu-ray captures were taken directly from the Blu-ray disc.
How To Succeed in Business Without Really Trying comes to Twilight Time Blu-ray in a dual-layered, 1080P transfer with their usual high bitrate. The visuals look a shade dampened but some colors (yellows, maroons, pinks and purples) are quite exuberant and rich utilized extensively in the film. Contrast has some decent layering and detail is modest, not exceptionally crisp or glossy. A few scenes also may have some digitization softness. It looks quite reasonable in-motion with no damage or speckles. I see no evidence of manipulation or noise. This Blu-ray gives a good presentation in the original 2.35:1 aspect ratio.
CLICK EACH BLU-RAY CAPTURE TO SEE ALL IMAGES IN FULL 1920X1080 RESOLUTION
Lyrics also subtitled
Audio :
The track may be an important facet to the transfer and, I believe the film originally had a mono track, we are given a DTS-HD Master 5.1 option at 3832 kbps and a similar 2.0 channel stereo track at 2122 kbps. I sampled the surround but stuck with the leaner track and it did the job well. Nelson Riddle is credited with the adaptations - of course though the Frank Loesser written songs are another star of the film with numbers like "How To", "The Company Way", "A Secretary Is Not a Toy", "Been a Long Day", "I Believe in You", "Brotherhood of Man" and others performed, mostly, by Robert Morse, Michelle Lee, and Rudy Vallee. There are optional English subtitles (for lyrics as well as dialogue - samples above) and m
y
Oppo
has identified it as being a region FREE.

Extras :
Twilight Time add two great supplements. This Book Is All That You Need spends almost 20-minutes with Robert Morse discussing the film and the character of J. Pierrepont Finch. A Secretary Is Not a Toy has 16-minutes with Michele Lee remembering her portrayal of Rosemary Pilkington. We get the valuable isolated music track (with some effects), an original theatrical trailer and the package has liner notes by Julie Kirgo and is limited to 3,000 units.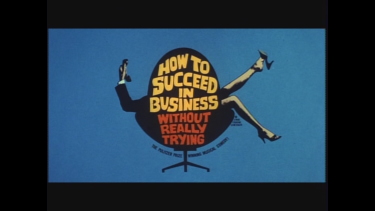 BOTTOM LINE:
How To Succeed in Business Without Really Trying is one of my favorite musicals - I even owned the Laser Disc. I'm so familiar with the songs and loved them in lossless. It remains extremely fun with the wholesome Morse and Lee mutual adoration, the, mostly failed, corporate deceptions and while satirizing corporate sexism. The Twilight Time Blu-ray provides as good an a/v transfer for the film as I've ever seen and to hear the musical numbers in lossless is a real treat. I also was keen to see the two interesting extras. One truly entertaining film that I will re-watch for the rest of my days. Strongly recommended!
Gary Tooze
March 25th, 2017