Review by Gary Tooze
Production:
Theatrical: Summer Brown Productions
Video: Vinegar Syndrome
Disc:
Region: FREE! (as verified by the Oppo Blu-ray player)
Runtime: 1:29:25.109
Disc Size: 24,448,815,920 bytes
Feature Size: 23,646,213,504 bytes
Video Bitrate: 32.47 Mbps
Chapters: 5
Case: Transparent Blu-ray case
Release date: March, 2017
Video:
Aspect ratio: 1.85:1
Resolution: 1080p / 23.976 fps
Video codec: MPEG-4 AVC Video
Audio:
DTS-HD Master Audio English 1084 kbps 1.0 / 48 kHz / 1084 kbps / 24-bit (DTS Core: 1.0 / 48 kHz / 768 kbps / 24-bit)
Subtitles:
None
Extras:
• Extensive audio interview with lead actress Annette Haven
• Original theatrical trailer (2:16)
• Reversible cover artwork
DVD included
Bitrate:
Description: The incredible Annette Haven stars as renowned biochemist, Teresa Hardgrave. Assigned to work with top government agent, David Chase (Tom Douglass), to infiltrate a sinister organization determined to rule the world through sexual dominance, Teresa soon finds herself kidnapped and held in in the clutches of evil mastermind, Madame Woo and her vicious boss, Y.C. Chan (James Hong) who doses her with 'love serum' and forces her to undergo a series of excruciating erotic punishments. Will David be able to save her before the serum drives her to the brink of sexual insanity?

Written and produced by Edwin and Summer Brown (A THOUSAND AND ONE EROTIC NIGHTS), and directed by Paul Aratow (DOCTOR DRACULA), CHINA GIRL is a slickly made, well acted and searingly erotic caper classic, taking nods from kung fu films to 60s spy thrillers. A critical success and blockbuster upon its original release, Vinegar Syndrome presents this drive-in movie inspired hit newly restored in 2k from its original camera negative!
The Film:
1975's CHINA GIRL is proof that Mr. Hong really has appeared in every type of movie as this is actually a hardcore, XXX-rated porn film. If you know anything about the actual history of adult films, though, you'll know that the mid-seventies was the era when raincoat porn mixed with genuinely artistic and well-made low budget independent films that just happened to have explicit sex in them.

This is actually one of the best of that type of picture. There's good direction, a well-done score, occasionally striking cinematography, some nice location shooting in San Francisco and a plot that actually makes it seem as though the sex scenes are getting in the way instead of the other way around.
Excerpt from BookStevesLibrary located HERE
Well China Girl is one of those rare films that truly does work "both ways" so to speak. In one sense, it is a sex filled hardcore romp and on the other hand, a rather mild B-movie style spy yarn.
Featuring the beautiful Annette Haven in her first major starring role, China Girl revolves around a silly storyline of a secret government science project to create a drug which makes people have to tell everything they know about some prompted topic, sort of like truth serum, I guess. Sound confusing? To be honest, the exact purpose of this drug is never made clear so forgive me. Anyway, Annette of course is one of the scientists developing this drug and of course there is an evil James Bond style agency trying to steal the formula (which, like in all James Bond style films seems to be located on a huge estate, in the country it wishes to destroy and the government of this country is still powerless to destroy it ;). All is fine until the other scientists star getting kidnapped by this sinister organization, named Dragon.
Annette is soon given a hunky young protector but inevitably she too is kidnapped by Dragon and it is up to Mr. Stud to save the day.
Excerpt from AdultDVDTalk located HERE
Image : NOTE: The below Blu-ray captures were taken directly from the Blu-ray disc.
China Girl comes to Blu-ray from Vinegar Syndrome. This odd hardcore/crime-drama hybrid starring the notable James Hong is "Scanned and restored in 2k from 16mm original camera negative". A few things - I believe it was originally 1.37:1 and in the 1.85:1 there are plenty of chopped heads - composition doesn't look appropriate - if anyone cares. From 16mm we see plenty of grain and modest detail. Colors have depth. It looks fairly consistent with little damage. This Blu-ray image probably a notch superior to what I though but, obviously, doesn't have the more beneficial visual qualities of 35mm.
NOTE: I have not included captures of any of the film's hardcore sex scenes.
CLICK EACH BLU-RAY CAPTURE TO SEE ALL IMAGES IN FULL 1920X1080 RESOLUTION
Audio :
The film's audio is transferred in a DTS-HD Master mono track at 1084 kbps (24-bit). It suffers from the original production with low quality for the dialogue. There is a score credited to Hadley Caliman. I found it quite annoying and occasionally scratchy. There are no subtitle options and m
y
Oppo
has identified it as being a region FREE disc playable on
Blu-ray
machines worldwide.
Extras :
Vinegar Syndrome include a lengthy audio interview with lead actress Annette Haven and she discusses her entry into porn, abuses and other details of her career. She comes across as very intelligent. I was impressed. There is also an original theatrical trailer - a pretty decent one too - and the package has a reversible cover artwork of the film's white poster. There is a second disc DVD included.
| | |
| --- | --- |
| | |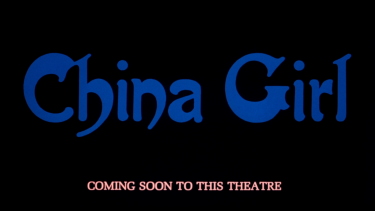 BOTTOM LINE:
I found China Girl... amusing. It actually has some superior production qualities and storyline but the marginal budget and extended hardcore sex scenes force it back into its distasteful adult genre. The sex scenes? well, they're from 1975 - so not erotic in the slightest - more curiosity-inducing than arousal. I will comment that Annette Haven is extremely attractive - the camera appreciates her beauty. But even her feminine appeal couldn't vault this into cinema respectability. The Vinegar Syndrome Blu-ray has nostalgic camp value. Great cover (from the film's impressive posters - see above.) There is an audience out there, fans of Miss Haven (value also in the interview supplement) and aficionados of 70's porn... I suppose some can applaud the attempt to escalate the production with the script and use of James Hong. Yes. To each his own.
Gary Tooze
March 18th, 2017