Review by Gary Tooze
Production:
Theatrical: Les Productions Agora
Video: Severin Films
Disc:
Region: FREE (as verified by the Oppo Blu-ray player)
Director's Cut Runtime: 1:30:44.021 / US Release Runtime: 1:21:49.362
Disc Size: 48,054,614,472 bytes
Director's Cut Feature Size: 21,231,685,632 bytes
US Release Feature Size: 19,293,278,208 bytes
Video Bitrate: 27.99 Mbps
Chapters: 8 / 8
Case: Transparent Blu-ray case
Release date: April 11th, 2017
Video:
Aspect ratio: 1.85:1
Resolution: 1080p / 23.976 fps
Video codec: MPEG-4 AVC Video
Audio:
DTS-HD Master Audio English 1575 kbps 2.0 / 48 kHz / 1575 kbps / 16-bit (DTS Core: 2.0 / 48 kHz / 1509 kbps / 16-bit)
Commentary (on US Cut only):
Dolby Digital Audio English 192 kbps 2.0 / 48 kHz / 192 kbps
Subtitles:
English (SDH), none
Extras:
• Audio Commentary on US Cut by BirthMoviesDeath Critic Brian Collins and Filmmaker Simon Barrett
• Introduction To Cinematic Void Screening At American Cinematheque By BirthMoviesDeath Critic Brian Collins (4:28)
• Alternate U.S. Release Cut

•
Tricks And Treats: Interview With Director Eddy Matalon (20:16)

•
Cathy & Mum: Interview with Actress Randi Allen and Costume Designer Joyce Allen (12:42)

•
Theatrical Trailer (2:36)
Bitrate:
(Director's Cut TOP / US Release BOTTOM)
Description: Forget what you've seen in blurry bootlegs and cruddy budget packs. This first-ever restoration of the depraved Canadian shocker is being hailed as the genre re-discovery of the year: In 1947, a young girl is roasted alive in a car accident. Thirty years later, her grown brother returns to their childhood home with his mentally unstable wife and sweet daughter Cathy. But when the dead aunt's vengeful spirit possesses the child, it will unleash an unnerving nightmare of creepy mediums, demonic dolls, and plenty of sick 70s foul-mouthed moppet mayhem.

Experience one of the strangest EXORCIST/OMEN/CARRIE-inspired grindhouse hits like never before, now transferred in 2k from recently-found film elements and featuring revealing new Extras with long-lost star Randi Allen and producer/director/co-writer Eddy Matalon.
The Film:
After her family relocates back into her father's childhood home, little Cathy finds a strange unkempt doll in the attic.

But soon, Cathy discovers she's now in possession of deadly powers...One by one, bloody 'accidents' befall all those who seek to separate Cathy from her favorite doll...the housemaid inexplicably falls from an open window to her death...the groundskeeper experiences a harrowing 'nightmare' with rats, spiders and snakes...
Excerpt from TheTerrorTrap located HERE
The film makers make no bones about the fact that Cathy is haunted by her long dead child aunt, but they can never seem to decide who is doing the haunting. Is the gruesome doll possessed? No, the doll is not always present when weird things happen. Why does the doll have her eyes sewn shut? Never explained. If the dead child's possessions were so odious and offensive, why were they not thrown out twenty years earlier after the daughter died? That would make too much sense for our illustrious director. Is the house haunted? Possibly, but by the dead daughter? There is no indication as to the daughter's possible evil. Maybe she is mad at the mind altering 1970's wallpaper treatments in her old home. I almost became possessed by Christopher Lowell just so I could pull the crappy decorating down. Is Cathy just having a spell of ESP and a case of major whoopass? She is able to make some characters "see" things such as rats, snakes, and leaches, but this little devilish power is never explored, either.
Excerpt from eFilmCritic located HERE

Image : NOTE: The below Blu-ray captures were taken directly from the Blu-ray disc.
Cathy's Curse arrives on Blu-ray from Severin and includes the, 9-minute shorter, 'alternate U.S. release cut' in a separate, but duplicated transfer looking virtually identical in the screen captures we compared with only a few pixel shifts difference. From past, sloppy, iterations of the film to digital - this looks surprisingly impressive with bright colors and consistent detail in the film's many close-ups. The image is very clean with only a few hints of frame-specific issues. The visuals showcase some depth providing a strong representation - and that is all we ask. This dual-layered Blu-ray, with high bitrate and 1080P transfer should be like night and day for viewers of the previous home theater presentations.
CLICK EACH BLU-RAY CAPTURE TO SEE ALL IMAGES IN FULL 1920X1080 RESOLUTION
(Director's Cut TOP / US Release BOTTOM)
Audio :
A reasonably robust DTS-HD Master 2.0 channel track at 1575 kbps (24-bit) in the original English language. It works for the film's modest effects adding some intensity. There is a score by Didier Vasseur that adds an unusual layer to the presentation, but it sounds quite clear and deep in lossless. There are optional English subtitles and my Oppo has identified it as being Region FREE playable worldwide.
Extras :
The Blu-ray has extras that explore the film, as completely as anyone could have anticipated or wanted. As already mentioned we get the complete alternate U.S. release cut of the film and there is an audio commentary, only, on that shorter version, by BirthMoviesDeath critic Brian Collins and filmmaker Simon Barrett bringing up some salient details regarding the production, filmmakers and cast. There is a 5 minute introduction to a Cinematic Void Screening at American Cinematheque by Collins which looks like they are having fun. Tricks And Treats is a 20-minute interview with director Eddy Matalon enjoying the conversation about the project plus we get Cathy & Mum - a 13-minute interview with actress Randi Allen and costume designer Joyce Allen as she shows some newspaper clips she retained of the film's release etc. plus a sit down chat. Lastly is a theatrical trailer.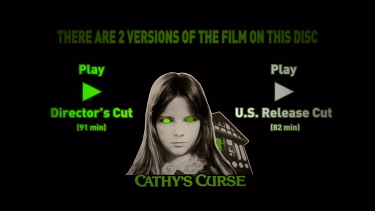 BOTTOM LINE:
Cited as an 'infamous "Canuxploitation" classic', Cathy's Curse is a pretty nasty piece of work. I can see the nostalgia appeal as it evokes, less-extravagant, Grindhouse. I watched it - occasionally with amusement - but, actually, the film's horror aspects are realized reasonably well, if ham-fisted with awkward dialogue. It goes into some uncomfortable territory on its journey. This Severin Blu-ray package is the best this film is going to look with substantial supplements that may further attract its niche following. Certainly not for everyone - nor is it adept filmmaking although it does achieve some effective layers. Fans of this genre and film itself should be extremely pleased.
Gary Tooze
April 4th, 2017