Review by Gary Tooze
Production:
Theatrical: Columbia Pictures Corporation
Video: Eureka Entertainment (UK)
Disc:
Region: 'B'-locked (as verified by the Oppo Blu-ray player)
Runtime: 1:50:15.442
Disc Size: 43,745,184,792 bytes
Feature Size: 34,222,731,264 bytes
Video Bitrate: 34.99 Mbps
Chapters: 11
Case: Standard Blu-ray case
Release date: December 5th, 2016
Video:
Aspect ratio: 1.85:1
Resolution: 1080p / 23.976 fps
Video codec: MPEG-4 AVC Video
Audio:
DTS-HD Master Audio English 1986 kbps 5.1 / 48 kHz / 1986 kbps / 16-bit (DTS Core: 5.1 / 48 kHz / 1509 kbps / 16-bit)
Commentary:
LPCM Audio English 2304 kbps 2.0 / 48 kHz / 2304 kbps / 24-bitt
Subtitles:
English (SDH), none
Extras:
• Uncensored director and cast commentary
• Introduction to Dogtown by Director Catherine Hardwicke (1:21)
• 7 featurettes about the making of the film (Making Of - 29:36, Dogged on Dogtown - 6:52, Bails and Spills - 1:10, Extended Pool Session - 1:37, Of Course We Want a Skateboarding Bulldog - 2:20, Making of Pacific Ocean Park - 4:36, The Ocean Washes My Hair - 2:23, Skateboard to Screen - 4:50)
• Deleted / Alternate scenes (19:09)
• Blooper/Gag reel (4:20)
• Music video Nervous Breakdown by Rise Again (2:13)
• Trailers (4:57)
DVD included
Bitrate:
Description:
Heath Ledger stars in the radical true story behind three teenage surfers, who took skateboarding to the extreme and changed the world of sports forever!
Director Catherine Hardwicke followed up her highly acclaimed debut
Thirteen
with this exhilarating drama about the origin of extreme sports culture, and the devastating effects it has on the lives of those who created it.
After a severe drought empties Southern California s swimming pools, Z-Boys Tony (Victor Rasuk), Stacy (John Robinson) and Jay (Emile Hirsch) move in with their boards and develop an entirely new style of skateboarding, heavily influenced by their surfing background. After winning numerous competitions, skateboarding and the Z-Boys both become a worldwide phenomenon, but this newfound success shreds their friendship.
Also starring Heath Ledger (
Brokeback Mountain
,
The Dark Knight
)
Lords of Dogtown
is one of the finest sports films of its generation, and Eureka Entertainment are proud to present the film for the first time in the UK in a special Dual-Format edition.
The Film:
This story of three kids from Venice, California -- Stacy Peralta (John Robinson), Tony Alva (Victor Rasuk), and Jay Adams (Emile Hirsch) -- who invented a new, aggressive form of skateboarding has been told before, in Peralta's own acclaimed 2001 documentary Dogtown and Z-Boys. I missed that one, but what attracted me to Lords of Dogtown was its gifted director, Catherine Hardwicke, a former production designer (she worked on two Linklater films as well as the brilliantly cluttered Tank Girl) who made her directorial debut in 2003 with the fiercely moving drama Thirteen. That film was about the anguish of teenage girls; this one, about teenage boys living their dreams, is much bouncier, paced like a bullet and wearing its '70s milieu lightly. Hardwicke understands that a director needn't focus on a Farrah Fawcett poster to evoke the era.
Excerpt from eFilmCritic.com (Rob Gonsalves) located HERE
The three leads are superb, with Hirsch probably the stand-out – he and Rasuk do particularly well to suggest more than the script's rather one-note characterisation allows. There's also great support work from Ledger and from Michael Angarano (from Sky High and Dear Wendy) as the boys' friend Sid, as well as Rebecca DeMornay as Jay's mum and Johnny Knoxville as local big-shot Topper Burks.

It's extremely well directed - the skating scenes have a genuine energy to them (helped by the fact that the leads all learned to skate like pros); and there's a terrific soundtrack that Hardwicke puts to good use. Highlights include: Jay's seduction of Stacy's girlfriend, while dancing to Hendrix; Skip making surfboards while singing Maggie May; the use of 'Wish You Were Here' over the skating championship sequence; Jay taking out a vicious bully with the judicious use of a skateboard to the side of the head; Sid's sex scene with "Thundermonkey" (America Ferrera), in which he asks her to "Tell me I'm a great skater"; and the moving final Dogbowl reunion.
Excerpt fromViewLondon (Matthew Turner) located HERE

Image : NOTE: The below Blu-ray captures were taken directly from the Blu-ray disc.
Lords of Dogtown is visually impressive on Blu-ray from Eureka in the UK. Colors are rich and full - grain textures, especially in the darker scenes, are wonderfully thick and textured. It's a beautiful film and the contrast is impeccably layered in 1080P. This is dual-layered with a max'ed out bitrate for the, almost, 2-hour film. The 1.85:1 aspect ratio looks extremely pleasing on my system. Lords of Dogtown is full of energy and the HD visuals fully support the film's emotions and expression. I thought it looked fabulous.
CLICK EACH BLU-RAY CAPTURE TO SEE ALL IMAGES IN FULL 1920X1080 RESOLUTION
Audio :
The audio is transferred via a strong DTS-HD Master 5.1 surround track at 1986 kbps (only 16-bit). It works very well in supporting the action and encompassing skate rides/rolling wheels, as well as waves at the beach etc. with some crisp separations. The film's music is notable with a credited score by Mark Mothersbaugh (Cloudy With A Chance of Meatballs, Wes Anderson films; The Life Aquatic with Steve Zissou, The Royal Tenenbaums, Rushmore) plus some impressive sampling of Cher, Ted Nugent, Neil Young, Nazareth, Foghat, Joe Walsh, Jimi Hendrix, Deep Purple, Iggy Pop, Black Sabbath, T. Rex, Peter Tosh, Alice Cooper, Blue Öyster Cult, Cream and even Richard Strauss' Also Sprach Zarathustra! It all sounds full of energy with appealing buoyancy and depth in the lossless. There are optional English (SDH) subtitles, in a small font (see sample above), and m
y
Oppo
has identified it as being a region 'B'-locked.

Extras :
Eureka include the, older, uncensored director and cast commentary with Catherine Hardwicke, John Robinson, Victor Rasuk and Emile Hirsch. It discusses incidents in the production and it's decent and organized. There is a brief introduction to Dogtown by director Hardwicke and seven older featurettes about the making of the film (Making Of - 29:36, Dogged on Dogtown - 6:52, Bails and Spills - 1:10, Extended Pool Session - 1:37, Of Course We Want a Skateboarding Bulldog - 2:20, Making of Pacific Ocean Park - 4:36, The Ocean Washes My Hair - 2:23) 20-minutes worth of deleted / alternate scenes - a piece on storyboarding, a Blooper/Gag reel, the music video Nervous Breakdown by Rise Again and trailers. The package is dual-format and includes a second disc DVD.
| | |
| --- | --- |
| | |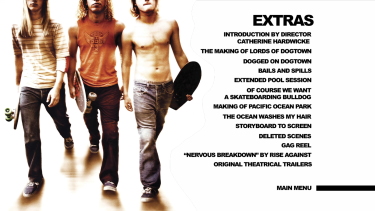 BOTTOM LINE:
Lords of Dogtown is an excellent film - Hardwicke does a fabulous job of crawling inside this niche and the time period - extracting the elements that give it life and exporting them on the screen with an amazing cast. DoP Elliot Davis' cinematography really advances the film experience. It's a solid choice to release on Blu-ray. Absolutely recommended!
Gary Tooze
December 4th, 2016