Review by Gary Tooze
Production:
Theatrical: Twentieth Century Fox Film Corporation
Video: Shout! Factory
Disc:
Region: 'A' (as verified by the Oppo Blu-ray player)
Runtime: 1:39:02.603
Disc Size: 45,965,701,974 bytes
Feature Size: 26,735,984,640 bytes
Video Bitrate: 27.99 Mbps
Chapters: 12
Case: Standard Blu-ray case
Release date: December 13th, 2016
Video:
Aspect ratio: 1.85:1
Resolution: 1080p / 23.976 fps
Video codec: MPEG-4 AVC Video
Audio:
DTS-HD Master Audio English 2268 kbps 5.1 / 48 kHz / 2268 kbps / 24-bit (DTS Core: 5.1 / 48 kHz / 1509 kbps / 24-bit)
DTS-HD Master Audio English 1806 kbps 2.0 / 48 kHz / 1806 kbps / 24-bit (DTS Core: 2.0 / 48 kHz / 1509 kbps / 24-bit)
Commentary:
DTS-HD Master Audio English 1571 kbps 2.0 / 48 kHz / 1571 kbps / 24-bit (DTS Core: 2.0 / 48 kHz / 1509 kbps / 24-bit))
Subtitles:
English (SDH), none
Extras:
•
NEW "The Actor's Journey" – Interview With Dennis Quaid (14:50)
•
NEW "Dreamscapes And Dreammakers" Retrospective Including Brand-New Interviews With Director Joseph Ruben, Co-Writer David Loughery, Actor David Patrick Kelly And Other Members Of The Special Effects Team (1:01:50)
•
NEW "Nightmares And Dreamsnakes" – Looking Back At The Snakeman With Craig Reardon, David Patrick Kelley And Others (23:23)
•
NEW In-Depth Conversation Between Bruce Cohn Curtis And Co-Writer/Producer Chuck Russell (23:32)
•
Audio Commentary With Bruce Cohn Curtis, David Loughery And Craig Reardon
•
Snake Man Test Footage (2:17)
•
Still Gallery (2:32)
•
Theatrical Trailer (2:13)
Bitrate:
Description: Alex Gardner (Dennis Quaid) is a man with an incredible psychic gift… but for years has used it solely for personal gain. Reuniting with his old mentor, Dr. Novotny (Max von Sydow), Gardner joins a government project in which he learns to channel his abilities in order to enter peoples' subconscious through their dreams. As his powers grow, the young psychic soon finds himself in a living nightmare of conspiracy and murder… and the only way out is to go back in.

A sleeper hit on its initial release, Dreamscape's reputation as a classic of '80s genre entertainment has only grown over the years. From its impressive cast – including Christopher Plummer, Kate Capshaw, Eddie Albert, David Patrick Kelly, and George Wendt – to behind-the-camera talent such as director Joseph Ruben (The Stepfather) and co-writer Chuck Russell (A Nightmare On Elm Street 3: Dream Warriors, 1988's The Blob), Dreamscape is a rousing mix of science fiction, adventure, and horror beyond your wildest imagination.
***
Selfish teen Alex Gardner (Dennis Quaid) is coerced into joining a government project in which psychics like him are trained to enter others' dreams. He starts learning to use his abilities to do good, but before long, a new official, Bob Blair (Christopher Plummer), seizes control of the project. A writer (George Wendt) helps Alex uncover Blair's true motives, which involve assassination via dreams. Soon, only Alex and a beautiful scientist (Kate Capshaw) stand in the way of something terrible.
The Film:
Quaid is a gambler with psychic powers. To pay off debts, he is persuaded to take part in an experiment where he links up with sleepers and tours through their dreams, solving a neurosis here, dealing with a demon there. Some of the dreams are funny (one middle-aged man's fidelity nightmare is hysterical); most are pretty nasty, though, especially a trip through an 8-year-old's primal fears. In the end, things get a bit silly: Quaid has to save the USA by fighting off the forces of evil in the President's nightmares. But as a night out this is as good a piece of solid, down-the-line schlock as anything to come along since Halloween III.
Excerpt from TimeOut located HERE
How cool it would be to have the ability to climb into other people's dreams! Imagine the fun you could have, to say nothing of the lifetimes you could spend pilfering the dreams of someone like Hugh Hefner.
Of course, science fiction movies always take a perfectly cool concept and promptly louse it up with villains and government conspiracies and whatnot. (On the other hand, if it's non-stop sex dreams I'm after, there's always Cinemax.)

Dennis Quaid heads a very cool cast as Alex Gardner, a nice guy who can snoop in other peoples' dreams. Recruited by a hush-hush government project to protect the night-time wanderings of the U.S. President, Alex discovers all sorts of nasty secrets and agendas. Meanwhile, he gets to jaunt through all sorts of wild and creepy dream sequences AND woo a young and comely Kate Capshaw to boot! If all this sounds a bit wild, well that's what makes Dreamscape a colorful and well-liked little cult flick.
Excerpt from eFilmCritic.com (Scott Weinberg) located HERE
Image : NOTE: The below Blu-ray captures were taken directly from the Blu-ray disc.
Dreamscape looks consistent on Blu-ray from Shout! Factory - and the 'Collector's Edition' is another of their stacked packages. The 1080P image quality supports the film's mid-80s look. Some of the dream sequences are vivid with a 'lava-lamp' like association to the effects. This is dual-layered with a decent bitrate. Colors are true with a bit of richness and detail rises above SD-capability. Contrast is adept and there is minor depth. There are no flaws - the video is clean and produces, what appears to be, an authentic 1.85:1 video presentation without manipulation or noise.
CLICK EACH BLU-RAY CAPTURE TO SEE ALL IMAGES IN FULL 1920X1080 RESOLUTION
Audio :
Shout! Factory gives the option of a DTS-HD Master 5.1 surround track or a 2.0 channel stereo with the same encode - both 24-bit
. The film's effects haven't aged well but still hold a nostalgic value and the audio effects can also be 'cheesy' but the tracks carry depth notable in the
original music by Maurice Jarre (
The Tin Drum
,
The Man Who Would Be King
,
The Damned etc.
) which advances the film's mystery, suspense and builds tension.
There are optional English (SDH) subtitles on the region 'A'
Blu-ray
disc.

Extras :
Good for Shout! Factory to produce some new supplements. "The Actor's Journey" is a 1/4 hour interview with likable Dennis Quaid and he shares some of the perceptions of his craft and I found it educational. "Dreamscapes And Dreammakers" is an hour-long retrospective including brand-new interviews with director Joseph Ruben, co-writer David Loughery, actor David Patrick Kelly and members of the 'Special Effects Team'. It covers so much of the production and fans will appreciate the detail. Also new is "Nightmares And Dreamsnakes" – Looking Back At The Snakeman - a 24-minute video piece with Craig Reardon, David Patrick Kelley expanding on the effects of the dream sequences. There is also a new 25-minute conversation between Bruce Cohn Curtis and Co-Writer/Producer Chuck Russell touching upon the film's evolution. There is the original, optional, full-length audio commentary with Bruce Cohn Curtis, David Loughery and Craig Reardon, 2-minutes of Harryhausen-esque Snake Man test footage, a stills gallery and a theatrical trailer.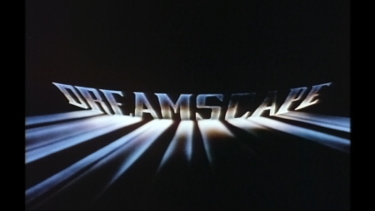 BOTTOM LINE:
I liked the first 1/2 of Dreamscape more than the second half but I still enjoyed my, overall, viewing. It's quite a good concept for a film although it tends to deviate focusing more on the action than the psychic abilities or the science. Dreamscape is more than 30-years old and has a PG purity - exporting a clean Disney-like adventure that would follow Quaid through much of his career. There is also some nostalgia-value here and I appreciated that aspect. The Shout! Factory 'Collector's Edition' Blu-ray produces the best package to-date - by far - for enjoying this film one night in your Home Theater. Another of their competent and complete packages. Recommended!
Gary Tooze
December 4th, 2016