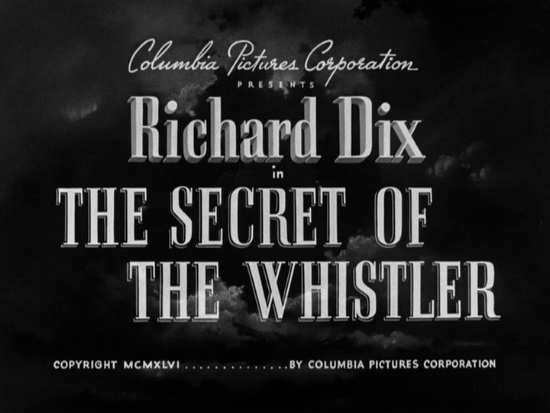 directed by George Sherman
USA 1946
Lesser entry in the offbeat Whistler series. The story is worthy enough. Richard Dix plays an "artist' and kept man who takes a fancy to a shapely blonde model while his wealthy wife is stricken with a serious heart problem. The intrigue goes on from there. The problem is that the screenplay is filmed in straightforward fashion, with none of the moody atmospherics that distinguish other entries. The result is an entertaining 60 minutes, but minus the usual visual panache. Apparently, journeyman director George Sherman wasn't advised of the proper lighting or feel of the series. Either that or the producers were seeking a stylistic departure.

Nonetheless, the story keeps us watching. As usual we can't be sure how events will turn out since Dix's character is as morally compromised as in the other entries. Unlike other Hollywood films of that era, there is no one to root for as the plot unfolds. Thus, it's the story itself that holds our interest, and not the more predictable question of how a hero will triumph. Fortunately, the ending comes up with the usual fine touch of irony that fans expect.
Excerpt of review from Doug Doepke for imdb.com located HERE
Posters
Theatrical Release: 7 November 1946 (USA)
Reviews More Reviews DVD Reviews

DVD Comparison:
Onesmedia (The Whistler: The Film Collection) - Region 0 - NTSC vs. Sony Pictures (Choice Collection) - Region 0 - NTSC
Big thanks to Gregory Meshman for all the Screen Caps!
(Onesmedia (The Whistler: The Film Collection) - Region 0 - NTSC - LEFT vs. Sony Pictures (Choice Collection) - Region 0 - NTSC - RIGHT)
DVD Box Covers

Distribution

Onesmedia

Region 0 - NTSC

Sony Pictures
Region 0 - NTSC
Runtime
1:04:16
1:04:18
Video

1.33:1 Original Aspect Ratio
Average Bitrate: 4.65 mb/s
NTSC 720x480 29.97 f/s

1.33:1 Original Aspect Ratio
Average Bitrate: 4.29 mb/s
NTSC 720x480 29.97 f/s

NOTE: The Vertical axis represents the bits transferred per second. The Horizontal is the time in minutes.

Bitrate:

Onesmedia (The Whistler: The Film Collection)

Bitrate:

Sony Pictures (Choice Collection)

Audio
Dolby Digital Mono (English)

Dolby Digital Mono (English)

Subtitles
None
None
Features
Release Information:
Studio: Onesmedia

Aspect Ratio:
Fullscreen - 1.33:1

Edition Details:
� 8 movies on 4 discs

DVD Release Date:

Chapters 16

Release Information:
Studio: Sony Pictures

Aspect Ratio:
Fullscreen - 1.33:1

Edition Details:
� None


DVD Release Date: July 7, 2015
Keep case

Chapters 7

| | |
| --- | --- |
| Comments | The Whistler series of eight movies was probably the most requested film series from Columbia library to get a DVD release and it was missing from authorized digital media until now. There were many questionable releases from various companies, like from Onesmedia compared here, a company specializing on radio compilation CDs and DVDs that also releases some film series based in radio plays. Their early release of The Whistler series also includes a DVD of over 235 hours of The Whistler radio mystery plays, but it's no longer available on Amazon. While it was nice to see all eight films collected in one made-on-demand package, the quality of transfers is poor and new made-on-demand discs from Sony Pictures blows the transfers in all regards. The excellent contrast, grain structure and lack of any damage on the print, including annoying watermarks with a company logo seen on Onesmedia releases, make releases from Sony easy to recommend. So far Sony skipped the second entry in the series, The Mark of the Whistler, which was based on Cornell Woolrich's story, Dormant Account, likely due to clearance. 4 releases from Sony Pictures have already been reviewed here at DVDBeaver - The Whistler, The Power of the Whistler, Voice of the Whistler and Mysterious Intruder. The final three features were released in July 2015 - The Secret of the Whistler, The Thirteenth Hour and The Return of the Whistler - all enjoyable and each has its own merits, but are lacking compared to the first films in the series. They are a nice way to finish the series, and we are comparing them here for completeness sake. The films get our recommendation for any film noir fan and hopefully we will see a better priced boxset release that includes The Mark of the Whistler. |
---
DVD Menu
Onesmedia (The Whistler: The Film Collection) - Region 0 - NTSC

---
Screen Captures
(Onesmedia (The Whistler: The Film Collection) - Region 0 - NTSC - TOP vs. Sony Pictures (Choice Collection) - Region 0 - NTSC - BOTTOM)
---
(Onesmedia (The Whistler: The Film Collection) - Region 0 - NTSC - TOP vs. Sony Pictures (Choice Collection) - Region 0 - NTSC - BOTTOM)
---
(Onesmedia (The Whistler: The Film Collection) - Region 0 - NTSC - TOP vs. Sony Pictures (Choice Collection) - Region 0 - NTSC - BOTTOM)
---
(Onesmedia (The Whistler: The Film Collection) - Region 0 - NTSC - TOP vs. Sony Pictures (Choice Collection) - Region 0 - NTSC - BOTTOM)
---
(Onesmedia (The Whistler: The Film Collection) - Region 0 - NTSC - TOP vs. Sony Pictures (Choice Collection) - Region 0 - NTSC - BOTTOM)
---
(Onesmedia (The Whistler: The Film Collection) - Region 0 - NTSC - TOP vs. Sony Pictures (Choice Collection) - Region 0 - NTSC - BOTTOM)