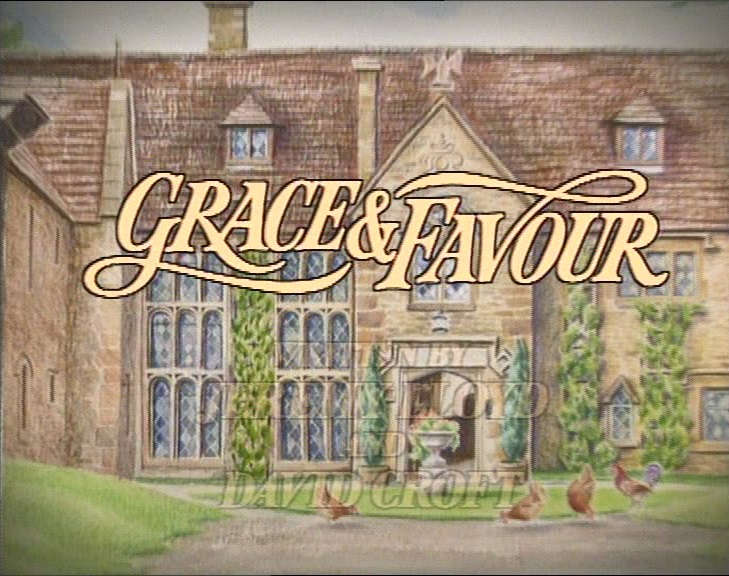 (aka "Are You Being Served? Again!" )
directed by Mike Stephens
UK 1992
Seven years after the ARE YOU BEING SERVED? concluding tenth season, Grace Brothers department store has closed after sex-mad octogenarian met his maker while scuba diving in the Caribbean with his personal secretary Miss Lovelock (FIRST OF THE SUMMER WINE's Joanne Heywood). The remaining staff at the end of the closing day - the staff of the Men's and Ladies' Departments - womanizing Captain Peacock (THE LAST OF THE SUMMER WINE's Frank Thornton), snobby Mrs. Peacock (HUGH AND I's Mollie Sugden) and her "pussy", fey Mr. Humphries (John Inman, THE TALL GUY), and "dead common" Miss Brahams (EASTENDERS' Wendy Richard) - along with Miss Lovelock learn from randy solicitor Mr. Thorpe (Michael Bilton, TO THE MANOR BORN's "Old Ned") left to his favorite charity The Home for Fallen Women while their pension fund had been invested in a number of defunct companies, with the only thing of value remaining being a Tudor manor house being run as a country house hotel managed by their pompous former department manager Mr. Rumbold (Nicholas Smith, THE CANTERBURY TALES) with "earthy" Morris Moulterd (Billy Burden) and his daughter Mavis (Fleur Bennett) running the home farm and Miss Lovelock left the horses and the groom's quarters. With the pension fund investments only netting each of them £60 a week, they have no choice but to try to staff the hotel themselves and try to make a profit form it. Besides the internal squabbling as the staff adapt to their new roles and deal with a guest list of randy old folks, divorced (or widowed) Captain Peakcock is making fervent overtures to Miss Lovelock (who is just at home with a Kawasaki or a stallion between her thighs), Mrs. Slocombe is fending off the advances of Mr. Moulterd who is attempting to rekindle their WWII dalliances (much to her embarassment), and mama's boy Mr. Humphries has his bed invaded by smitten Mavis. Although a welcome follow-up/reunion and quite funny for the original show's fans, GRACE AND FAVOUR pretty much ran its course in two short series with the series' naughty humor feeling more quaint in the nineties than in the seventies, and seemingly less mileage to be wrung out of the new setting and supporting characters (perhaps because Basil Fawlty had already tread similar ground).
Theatrical Release: 10 January 1992 - 8 February 1993 (UK TV)
Reviews More Reviews DVD Reviews

DVD Comparison:
BBC/Warner Home Video - Region 1 - NTSC vs. Eureka Video - Region 2 - PAL
Big thanks to Eric Cotenas for all the Screen Caps!
(BBC/Warner Home Video - Region 1 - NTSC - LEFT vs. Eureka Video - Region 2 - PAL - RIGHT)
DVD Box Covers

Distribution

BBC/Warner Home Video

Region 1 - NTSC

Eureka Video
Region 2 - PAL
Runtime
5:51:49 (4% PAL speedup)
5:50:47 (4% PAL speedup)
Video

1.33:1 Original Aspect Ratio
Average Bitrate: ~4.95 mb/s
NTSC 720x480 29.97 f/s

1.33:1 Original Aspect Ratio
Average Bitrate: ~6.19 mb/s
PAL 720x576 25.00 f/s

NOTE: The Vertical axis represents the bits transferred per second. The Horizontal is the time in minutes.

Bitrate:

BBC/Warner Home Video

Bitrate:

Eureka Video

Audio
English Dolby Digital 2.0 stereo

English Dolby Digital 2.0 stereo

Subtitles
none
English HoH, none
Features
Release Information:
Studio: BBC/Warner Home Video

Aspect Ratio:
Fullscreen - 1.33:1

Edition Details:
� Disc One: (with 'Play All' option)
� - Episode 1 (4:3; 29:36)
� - Episode 2 (4:3; 29:28)
� - Episode 3 (4:3; 29:26)
� - Episode 4 (4:3; 28:48)
� - Episode 5 (4:3; 27:55)
� - Episode 6 (4:3; 29:38)
� Cast bios and Bonus trailers

� Disc Two: (with 'Play All' option)
� - Episode 1 (4:3; 28:53)
� - Episode 2 (4:3; 29:40)
� - Episode 3 (4:3; 29:22)
� - Episode 4 (4:3; 29:48)
� - Episode 5 (4:3; 29:43)
� - Episode 6 (4:3; 29:32)

DVD Release Date: 7 September 2004
Amaray

Chapters 72

Release Information:
Studio: Eureka Video

Aspect Ratio:
Fullscreen - 1.33:1

Edition Details:
� Discs One and Two: (Series 1)
� - Episode 1 (4:3; 29:33)
� - Episode 2 (4:3; 29:22)
� - Episode 3 (4:3; 29:20)
� - Episode 4 (4:3; 28:42)
� - Episode 5 (4:3; 27:50)
� - Episode 6 (4:3; 29:32)
� Trailers and Who's Who

� Discs Three and Four: (Series 2)
� - Episode 1 (4:3; 28:45)
� - Episode 2 (4:3; 29:34)
� - Episode 3 (4:3; 29:16)
� - Episode 4 (4:3; 29:42)
� - Episode 5 (4:3; 29:38)
� - Episode 6 (4:3; 29:23)


DVD Release Date: 23 May 2016
Amaray

Chapters 72

| | |
| --- | --- |
| Comments | Not much of a difference between the two region sets. While the R1 split the series' 12 episodes between two dual-layer discs, the R2 splits them between four single-layer discs. Picture quality is superior on the UK set simply by being presented in its native PAL format (the flare and softness is part of the nineties videography). The Dolby Digital 2.0 audio tracks are similar but the UK offers optional English HoH subtitles (the US has closed captioning). |
---
DVD Menus
(BBC/Warner Home Video - Region 1 - NTSC - LEFT vs. Eureka Video - Region 2 - PAL - RIGHT)

| | |
| --- | --- |
| | |
| | |
| | |
| | |
---
Screen Captures
(BBC/Warner Home Video - Region 1 - NTSC - TOP vs. Eureka Video - Region 2 - PAL - BOTTOM)
---
(BBC/Warner Home Video - Region 1 - NTSC - TOP vs. Eureka Video - Region 2 - PAL - BOTTOM)
---
(BBC/Warner Home Video - Region 1 - NTSC - TOP vs. Eureka Video - Region 2 - PAL - BOTTOM)
---
(BBC/Warner Home Video - Region 1 - NTSC - TOP vs. Eureka Video - Region 2 - PAL - BOTTOM)
---
(BBC/Warner Home Video - Region 1 - NTSC - TOP vs. Eureka Video - Region 2 - PAL - BOTTOM)
---
(BBC/Warner Home Video - Region 1 - NTSC - TOP vs. Eureka Video - Region 2 - PAL - BOTTOM)