Review by Gary Tooze
Production:
Theatrical: Marvel Entertainment
Video: Walt Disney Studios
Disc:
Region: FREE (as verified by the Oppo Blu-ray player)
Runtime: 13 episodes (av. 0:52:51.960 per episode)
Disc 1 Size: 44,575,180,492 bytes
Average Episode Size: 11,295,891,456 bytes
Video Bitrate: 21.98 Mbps
Case: Thick Blu-ray case inside cardboard slipcase
Release date: October 3rd, 2016
Video:
Aspect ratio: 1.78:1
Resolution: 1080p / 23.976 fps
Video codec: MPEG-4 AVC Video
Audio:
DTS-HD Master Audio English 2671 kbps 5.1 / 48 kHz / 2671 kbps / 24-bit (DTS Core: 5.1 / 48 kHz / 1509 kbps / 24-bit / DN -4dB)
DTS-HD High-Res Audio German 2046 kbps 5.1 / 48 kHz / 2046 kbps / 24-bit (DTS Core: 5.1 / 48 kHz / 1509 kbps / 24-bit / DN -4dB)
Subtitles:
English (SDH), German, none
Extras:
• None
Episode Sample Bitrate:
Description: All 13 episodes from the first season of the action adventure following the Marvel Comics superhero. Idealistic lawyer Matt Murdock (Charlie Cox), along with his long-time friend Foggy Nelson (Elden Henson), uses his newly established firm to tackle the rising levels of criminal activity in New York City. By night however, Murdock - who was blinded by a chemical spill as a young boy - uses his heightened senses to fight crime on the streets as vigilante Daredevil. With the influence of underworld kingpin Wilson Fisk (Vincent D'Onofrio) continuing to grow, Murdock faces a fight on two fronts to keep the city safe.
Season
One
Into the Ring S1, Ep1
10 Apr. 2015 Into the Ring
Matt Murdock and Foggy Nelson open their law firm, and take the case of a woman accused of murder who Matt believes is innocent.

Cut Man S1, Ep2
10 Apr. 2015 Cut Man
Murdock makes a near fatal error while trying to save a kidnapped boy, and finds an unlikely ally when he needs saving himself.

Rabbit in a Snowstorm S1, Ep3
10 Apr. 2015 Rabbit in a Snowstorm
Murdock and Foggy take on a mysterious wealthy client, but Murdock is convinced that there's more to the case than just the facts.

In the Blood S1, Ep4
10 Apr. 2015 In the Blood
Two vicious Russian brothers working for Fisk strike back against Daredevil. Fisk moves to further consolidate his power in the criminal underworld.

World on Fire S1, Ep5
10 Apr. 2015 World on Fire
Fisk moves forward with plans that threaten to rip Hell's Kitchen apart. Murdock and Foggy take on a case helping tenants victimised by a slumlord.

Condemned S1, Ep6
10 Apr. 2015 Condemned
Daredevil finds himself trapped in the fallout of Fisk's plan to take control of Hell's Kitchen. Ben Urich digs closer to the truth.

Stick S1, Ep7
10 Apr. 2015 Stick
An important figure from Murdock's past reemerges seeking his help to battle a new enemy threatening Hell's Kitchen.

Shadows in the Glass S1, Ep8
10 Apr. 2015 Shadows in the Glass
While Murdock, Foggy and Karen's mission becomes clearer, Fisk's world spins further out of control in his battle for Hell's Kitchen.

Speak of the Devil S1, Ep9
10 Apr. 2015 Speak of the Devil
When Fisk gains the upper hand, the goal to destroy him becomes even more difficult, while Daredevil faces his own demons.

Nelson v. Murdock S1, Ep10
10 Apr. 2015 Nelson v. Murdock
After Foggy and Murdock's relationship has taken a turn for the worst, a new enemy of Fisk has surfaced.

The Path of the Righteous S1, Ep11
10 Apr. 2015 The Path of the Righteous
Fisk and Murdock wrestle with the consequences of their chosen paths, while Ben and Karen get closer to Fisk's true past.

The Ones We Leave Behind S1, Ep12
10 Apr. 2015 The Ones We Leave Behind
Fisk seeks revenge while Karen is haunted by recent events. Daredevil makes a startling discovery about Fisk's financing.

Daredevil S1, Ep13
10 Apr. 2015 Daredevil
In the season finale, a boxed-in Fisk and a desperate Murdock, Foggy, and Karen are forced to play their end games.
Excerpt from IMDb located HERE

Image : NOTE: The below Blu-ray captures were taken directly from the Blu-ray disc.
Although not 'officially' released Stateside on disc yet - Europe has this available and it can still be purchased in North America. Disney's Blu-ray package of the fabulous series Daredevil is as clean and crisp as you might imagine from a new HD-broadcast series. The 13 X 52-minute episodes are housed on four Blu-rays. It is transferred in the original 1.78:1 aspect ratio. These are on dual-layered discs with reasonable bitrates for the feature content per Blu-ray. There are plenty of dark scenes in Daredevil (dark topics) but the bitrate is supportive and I saw no noise or compression artifacts. The brighter the scenes the more depth - which is common. Detail is strong, visuals, especially close-ups, are crisp. It is quite flawless and in 1080P.
CLICK EACH BLU-RAY CAPTURE TO SEE ALL IMAGES IN FULL 1920X1080 RESOLUTION
Audio :
Excellent audio quality with a supportive and tight DTS-HD Master 5.1 track at 2671 kbps. Most of the action - and impressively-choreographed fight scenes have effect sounds that jump to the rear speakers. John Paesano's score floats in and out through scene changes and is an excellent theme that I haven't tired of. Everything sounds pristine in lossless and there is depth in the aggressive bass. There is a German language DUB on my edition and subtitle options signifying the four discs as being region FREE - playable on Blu-ray machines worldwide.
Extras :
None. I don't know if the 'official US Blu-ray' release of Season One will have some extras, but it seems doubtful and will probably be exactly as this is; bare-bones.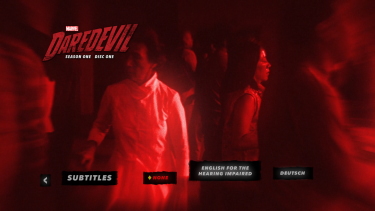 BOTTOM LINE:
Daredevil is probably my favorite TV series right now. I saw this on NetFlix on vacation earlier this year and had to get the entire series to both fill in the gaps and re-watch it from the beginning. It has some great cinematography with shifting focus and details reflected in Murdoch's glasses etc. . The classic Marvel storyline of Dardevil is such a strong one but has never been exported to film while still maintaining the essence of the story, until now - and this is the best by a long shot. Charlie Cox plays the lead exceptionally well and Deborah Ann Woll and Elden Henson are great support. I loved Vincent D'Onofrio as Wilson Fisk, Rosario Dawson as the nursing on-again-off-again girlfriend and Scott Glenn as mentor 'Stick' in the flashback/origin segments. I hope the excellent writing and high quality continues in future seasons. There is a lot of value here - one the more addictive television shows I've seen in a while - and it is strongly recommended!
Gary Tooze
October 14th, 2016