NOTE: The below Blu-ray captures were obtained directly from the Blu-ray disc.
ADDITION: Signal One - Region 'B' Blu-ray September 2016': The new Signal One looks to be using the same restoration (2K restoration supervised by director Jerry Schatzberg) but they have upped their game with a max'ed out bitrate on the dual-layered disc. My software can't determine much of a difference except a few pixels shifted around (hence only 3 captures compared.) It looks marvelous. If forced to choose I'd probably go for the Signal One in-motion but you'd have to have quite the discerning eye. Brilliant image quality.
Audio may also lean to the Signal One with a linear PCM mono track at 24-bit. It is authentically flat and very tight occasionally scattering the dialogue with a vérité subtlety. The film has no score. We don't get the unused score as heard as an isolated track on the Twilight Time. There are optional English (SDH) subtitles on the region 'B'-locked Blu-ray disc.
Signal One load the extras with many Allerton Films, out of France, featurettes including Jerry the Photographer a 17-minute, 2004 where Jerry Schatzberg discusses his early career. Jerry the Filmmaker is also from 2004 and runs 21-minutes as Schatzberg reflects on his work as a director. Al & Jerry exploring the relationship between actor and director for 9-minutes. Jerry in Cannes spends another 6-minutes with the director recalling his selections at the Cannes Film Festival. There is also a selected scene director commentary as Schatzberg reflects on five key sequences for about 20-minutes in total. Panic in the Streets of New York is the same 2011 25-minute piece featuring interviews with Jerry Schatzberg and cinematographer Adam Holender as found on the Twilight Time - as is Writers in Needle Park a 10-minute interview with writer Joan Didion. There is also an original theatrical trailer.
Well, Signal One continue to announce themselves with the definitive edition (although I have not seen the French Blu-rays.) It seems to marginally, have the best a/v and many more extras. Penetrating film experience. VERY strongly recommended!
***
ADDITION: Twilight Time - Region FREE
Blu-ray June 2016':
Twilight Time's new 1080P restored transfer looks marvelous beside the 2007 DVD. Colors are significantly richer, contrast bolder and flesh tones look more realistic. It's quite impressive in-motion showing grain texture and depth. I was very pleased with the appearance - on a dual-layered disc with a high bitrate for the, almost, 2-hour film.
Regarding the film's sound - Twilight Time utilize a DTS-HD Master 2.0 channel track at 1674 kbps (16-bit). The film has no score - we see this screener on the
Blu-ray: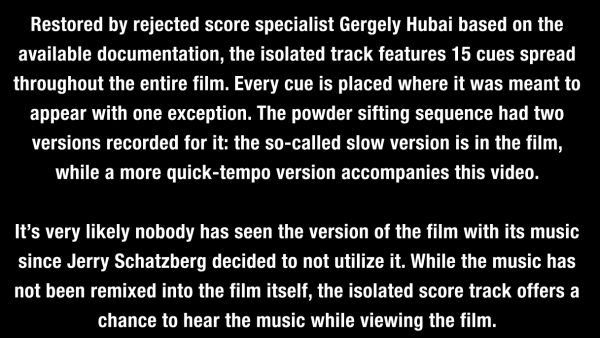 So we can access the 'potentially utilized' score, composed and conducted by Ned Rorem, as an extra. The lossless for the film sounds strong - purposely scattered at times, and clean with some depth.
If the stellar transfer and access to the unheard score in lossless weren't enough of an enticement, Twilight Time add some featurettes; Panic in the Streets of New York runs over 25-minutes, is from 2001 by David Gregory and has input from Jerry Schatzberg and Adam Holender. Writers in Needle Park runs shy of 10-minutes and spends time with writer Joan Didion. We get some notes on Ned Rorem's Unused Score, an original theatrical trailer plus the usual liner notes by Julie Kirgo and this Blu-ray is limited to 3,000 Copies.
A stark, honest portrayal - important early 70's film - Pacino's debut - and a very desirable Blu-ray. We give a very strong recommendation!
***
ON THE DVD: Fox is a very good DVD production company and the image on The Panic in Needle Park is clean and true to its original intent. Colors are a bit dull (faded) but detail is acceptable. Although it is advertised on Amazon as being two-disc, it is actually the Open Matte version on one side and the widescreen (1:85:1 anamorphic) on the opposite side - both are single-layered and progressive. There are optional English or Spanish subtitles and audio choices for original mono or 2.0 channel stereo. There is also a mono French DUB option.
There are no extras save the theatrical trailer.
The film is shocking in its realism (actually refused a certificate in the UK for four years because of its graphic depiction of drug-taking). Pacino is excellent as is Kitty Winn (some may remember her from The Exorcist). The film has the gritty feel of the 70's and Schatzberg's direction is quite compelling - giving the production an honest and occasionally compassionate aura. Strongly recommended - great value for the money (it is less than $10)!