NOTE: The below Blu-ray captures were taken directly from the Blu-ray disc.
ADDITION: Arrow - Region 'A' - Blu-ray - November 16': Wow - there are some big differences in the Arrow 1080P visuals as compared to the 88 Films Blu-ray transfer. Most notably the Arrow is much brighter, with much warmer skin tones and shows significantly more information in their 1.85:1 frame - mostly on the left and top edges. I have no idea which is more authentic to the theatrical roots but the 88 Films is severely cropped beside the Arrow. The Arrow has a lower bitrate but the grain textures are still well-supported and it looks consistent in-motion.
David told us on FB: "As someone who used to do a lot of telecine work - I suspect that the 88 Films Blu ray is the correct framing (even though it shows less image).

Standard 35mm camera lenses (but not Super35) would be housed on the camera in a way that left room on the left side of frame for the optical sound track to be added later. Even though that area of the negative would get exposed - it was never meant to be seen by the audience." (Thanks David!)
Michael Brooke responds: "The Arrow restoration was sourced from a 35mm interpositive, and the same framing was maintained throughout the entire length (I've confirmed this directly with someone who worked on it) - and I attach a grab of one of the titles so you can see that it's perfectly centred.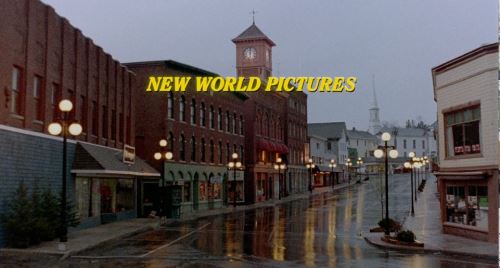 The Arrow version is framed precisely as it would have been projected, because there is no other way of projecting it at the then universal US cinema ratio of 1.85:1. The only explanation that supports the "Arrow's framing is off-centre" hypothesis is that ALL of the film's onscreen titles must have been deliberately intended to be projected off-centre - including the end credits and the New World opening logo, the latter being recreated off-centre specifically for the purpose of this release (see the grab posted below this comment). I know which scenario I find easier to believe!

As for the two older releases, while I obviously have to speculate about their provenance, we know beyond doubt that they're not presented at the theatrical aspect ratio of 1.85:1, so I suggest that the most likely explanation is that they were sourced from TV masters that were contractually required to be reframed to 16:9. In such situations, titles are generally treated separately from the main body of the film, to ensure that the text conforms to title-safe requirements, and it looks as though the bulk of the film was zoomed in to eliminate the black bars at the top and bottom. Why this zooming is slightly off-centre, I have no idea, but all the evidence suggests that this is the case." (Thanks Michael!)

Quite the difference in the audio transfers as well - leaning to the 88 Films with a more robust transfer (24-bit). Arrow offer linear PCM mono, 2.0 channel and a DTS-HD Master 5.1 surround option (all 16-bit) with a few pleasing separations in the latter. The, occasionally boisterous, score by Les Reed (The Girl on a Motorcycle, Columbo) sounds decent and all dialogue clean and audible. Arrow add the option of English (SDH) subtitles on their Region 'A' Blu-ray.

Arrow, as their penchant, stack the disc with supplements. There is an audio commentary with director Michael Gornick, moderated by Perry Martin and it has some fun and educational moments. We get the same 11-minute Screenplay for a Sequel interview with screenwriter George A. Romero and 8-minute Tales from the Creep interview with actor and make-up artist Tom Savini, plus the six minutes of Behind-the-Scenes Footage, trailers and TV Spots - all found on the 88 Films edition. Arrow add the 1/2 hour Nightmares in Foam Rubber featurette with special make-up effects artists Howard Berger and Greg Nicotero plus new interviews with actor Daniel Beer (14:44) entitled Poncho's Last Ride and a second with with actor Tom Wright (13:51) entitled The Road to Dover. My Friend Rick Berger is a few minutes on working with make-up legend Rick Baker. The package has a reversible sleeve featuring original and newly commissioned artwork by Mike Saputo and for the first pressing only a collector's booklet featuring new writing on the film by Michael Blyth

.

The Arrow certainly offers the best in many aspects of the two Blu-ray releases. We always appreciate having options and we can certainly give a strong recommendation to the US Arrow!

***

ADDITION: 88 Films - Region 'B' - Blu-ray (May 2016): Lots of fun, the 88 Films 1080P is obviously betters the SD - dual-layered with a max'ed out bitrate, more information in the frame, uncompressed audio (linear PCM) option of both 2.0 channel (24-bit) and 5.1 (16-bit). 88 Films add some solid extras and which includes a LE 'O-Card' for the first 2,000 units. RedShirt and 88 Films produced featurettes; Screenplay For A Sequel - an 11-minute Interview with Screenwriter George A. Romero, Tales From The Creep - is an 8-minute Interview with Actor Tom Savini. There are some behind-the-scenes footage with Tom Savini as "The Creep", 2 theatrical trailers, TV Spot and Still Gallery as well as 18-minutes of an 88 Films Trailer Reel. Some re-watchable value here if you are in the mood on a late Friday night...

- Gary + Eric