Review by Gary Tooze
Production:
Theatrical: Norm-Iris
Video: Synapse Films
Disc:
Region: FREE! (as verified by the Momitsu region FREE Blu-ray player)
Runtime: 1:13:40.582
Disc Size: 48,851,679,805 bytes
Feature Size: 21,468,959,424 bytes
Video Bitrate: 34.79 Mbps
Chapters: 17
Case: Standard Blu-ray case
Release date: October 13th, 2015
Video:
Aspect ratio: 1.33:1
Resolution: 1080p / 23.976 fps
Video codec: MPEG-4 AVC Video
Audio:
DTS-HD Master Audio English 1838 kbps 2.0 / 48 kHz / 1838 kbps / 24-bit (DTS Core: 2.0 / 48 kHz / 1509 kbps / 24-bit)
Commentary:
Dolby Digital Audio English 192 kbps 2.0 / 48 kHz / 192 kbps
Subtitles:
English, Spanish, None
Extras:
• Audio Commentary with Jackey Raye Neyman-Jones and Tom Neyman
• Hands: The Fate of MANOS Featurette (30:46)
• Restoring the Hands of Fate Featurette (6:36)
• FELT: The Puppet Hands of Fate Featurette (3:58)
• Manos: The Hands of Fate: Grindhouse Edition (1:09:43)
DVD of the film
Bitrate:
Description: Mike (Harold P. Warren) and Maggie (Diane Mahree), on a road trip with their daughter and family dog, take a wrong turn in Texas and become trapped at a weird lodge inhabited by a polygamous pagan cult. They soon find themselves in the middle of a power struggle between caretaker Torgo (John Reynolds), cult leader The Master (Tom Neyman), and two warring factions of the Master's wives. As the family tries to escape, the worshipers of Manos decide their fate...

MANOS: THE HANDS OF FATE, the sole directorial effort of Texas fertilizer salesman Harold P. Warren, perplexed even the most jaded Drive-In audiences and was deemed by many "the worst movie ever made". Nearly lost, the original 16mm Ektachrome film elements have been finally unearthed and lovingly restored by Ben Solovey to create the definitive version of this accidental masterpiece. There's no other movie like MANOS... now in HD with picture and sound unseen since 1966.
The Film:
I've seen the reviews for this one already, but I never did grasp the phenomenon that is "Manos: the Hands of Fate" until I actually watched it. This film is the worst I have EVER seen, and I have seen "Plan 9 From Outer Space."

It starts with a family going on a trip and getting lost. They end up at a house with a Knee-Enhanced stuttering man named Torgo, who cannot make up his mind whether they can stay or not. First he says the Master won't like it. Then he lets them in. Then he says the Master won't mind. Then he says the Master will like the woman. Then he doesn't want to let them leave. Geez.

I think the best part about this movie is Torgo's Theme. It haunted me as I went to bed that night. I couldn't stop it in my brain. Anyway, the family gets creepy feelings about Torgo and his aforementioned Master. So they make poor Torgo carry their bags back and forth to the car. The girl's poodle is killed. Torgo makes a rather lethargic pass at the wife. She screams and calls for her husband but doesn't notice that Torgo is just standing there. He's not holding her there or anything. Then she decides to forgive him. Torgo rambles on about his Master's wives.
Excerpt from It's a Bad, bad, bad, bad Movie located HERE
I have mixed feelings about Manos. Yes, it is truly bad and one of the worst films of all time. It's a lot of fun and the stories behind it are the best of any movie but in recent years it has come to be accepted as THE worst movie of all time in some circles. Removing the long standing "Plan 9 From Outer Space" from this illustrious position. I find this disturbing because I feel that it is mainly the result of the stories behind the movie rather than the content of the film itself. The movie got its start when writer/director Harold P. Warren, a fertilizer salesman, made a bet he could produce a hit movie with an extremely modest budget. The man had a bit of an ego and clearly was not a gifted filmmaker. The entire movie was shot using a handheld camera that could only record thirty-two seconds of footage at a time. John Reynolds, who plays the satyr Torgo in the film, killed himself the same year the film came out while addicted to pain killers he got hooked on because of the prosthetics he wore for the film permanently damaged his knees. The saddest thing about that is the fact that nowhere in the movie is it demonstrated that Torgo is a satyr.
Excerpt from Mr. B. Naturals Bad Movie Review Archive located HERE

Image : NOTE: The below Blu-ray captures were taken directly from the Blu-ray disc.
Manos: The Hands of Fate gets a 1080P transfer from a 'New 2K Restoration'. While 16mm - it is probably as good as it's going to look on Blu-ray. It's dual-layered with a max'ed out bitrate. The textures are thick and consistent - appearing very appealing to this reviewer. Colors are rich and thick. There are still some less noticeable damage marks but you can see how superior this looks to the included 'Grindhouse version' that is unrestored (but offers the same technical transfer.) The Blu-ray treatment may seem inappropriate for this film but I, personally, love to see lesser-caliber work have their visuals brought to the 'max' and really showcasing the power of the format. Because of the richness of the presentation, I was very keen on my viewing.
CLICK EACH BLU-RAY CAPTURE TO SEE ALL IMAGES IN FULL 1920X1080 RESOLUTION
1)

Synapse (Restored) Region FREE - Blu-ray - TOP

2)

Synapse (Grindhouse) Region FREE - Blu-ray - BOTTOM
1)

Synapse (Restored) Region FREE - Blu-ray - TOP

2)

Synapse (Grindhouse) Region FREE - Blu-ray - BOTTOM
Audio :
Synapse use a DTS-HD Master 2.0 channel at 1838 kbps and it retains the film's modest audio production qualities. It always sounds a little odd - over-dubbed - but that can be part of its lower-production charm. The score is by a Robert Smith Jr. + Russ Huddleston (both, their only IMDb credit) which includes the unusual but strangely appealing "Torgo's Theme' that tends to grow on you as you view. Flute, vocals... it can actually be downloaded as a ringtone now with the film cult status. There are optional English and Spanish subtitles and m
y
Oppo
has identified it as being a region FREE disc playable on
Blu-ray
machines worldwide.

Extras :
One again Synapse are prepared to support their release with some keen supplements. We get an audio commentary with Jackey Raye Neyman-Jones (Debbie in the film) and Tom Neyman ('Master') reminiscing about the production - very informative and garners some appreciation. There are three features - Hands: The Fate of MANOS runs 1/2 an hour and delves deeper into the film than you might have presumed possible (its very good!), Restoring the Hands of Fate is a scant 6.5 minutes on the process used to restore the 16mm film for the Blu-ray release and FELT: The Puppet Hands of Fate is only 4-minutes long. The notable extra is the unrestored, 1 hour 10-minute, 'Grindhouse Edition' of the film that was a great idea to include so you can see how much improved the restored version actually is. You can see it's in pretty rough shape comparatively but is given a similarly robust technical transfer as the 'restored'. The package also contains a DVD of the film (no Grindhouse version though).
| | |
| --- | --- |
| | |
| | |
| | |
| | |
| | |
| | |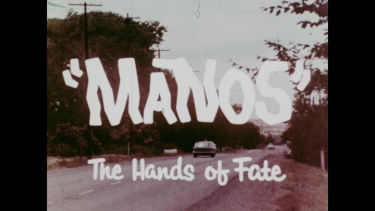 BOTTOM LINE:
This was more fun than I was anticipating. Having heard about this film for years (and its horrific reputation) I was curious and ready for almost everything. I had never seen the Mystery Theatre version. I actually wish it was longer. Yes, it is bad in a production sense (Ed Wood way) but if seen in the right light - there is some artistry floating around the excessive sloppiness. There is no real gore or exploitation leanings of the extravagant kind. I was glad to have been able to see this 'iconic' pimple-on-the-buttock-of-cinema and the Synapse Blu-ray package does about as good a job with this title as possible. This reviewer appreciated that effort. For those 'curious' and open-minded - we absolutely recommend!
Gary Tooze
October 5th, 2015