Review by Gary Tooze
Production:
Theatrical: Michael White Productions
Video:
B2MP
Disc:
Region: 'A' (as verified by the Momitsu region FREE Blu-ray player)
Runtime: 1:37:19.875
Disc Size: 24,419,197,414 bytes
Feature Size: 23,746,179,072 bytes
Video Bitrate: 23.99 Mbps
Chapters: 18
Case: Standard Blu-ray case
Release date: May 8th, 2015
Video:
Aspect ratio: 1.78:1
Resolution: 1080p / 23.976 fps
Video codec: MPEG-4 AVC Video
Audio:
LPCM Audio English 2304 kbps 2.0 / 48 kHz / 2304 kbps / 24-bit
Commentary:
LPCM Audio English 2304 kbps 2.0 / 48 kHz / 2304 kbps / 24-bit
Isolated Score:
LPCM Audio English 2304 kbps 2.0 / 48 kHz / 2304 kbps / 24-bit
Subtitles:
English (SDH), none
Extras:
• Comments from Jeremy Irons
• Isolated music track
• Theatrical trailer (3:09)
• New essay by Ewa Hanna Mazierska
Bitrate:
Description: Jerzy Skolimowski wrote and directed this brilliant story about four foreign workers who come to London under false pretense to restore an apartment. Academy Award winner Jeremy Irons stars as Nowak, the only one of the four Polish workers who speaks and understands English. While they are deep in the midst of reconstruction, Poland is swept by political turmoil. The military have imposed martial law, outlawed the unions and put the free world on alert. Nowak, aware of the situation through phone calls and news reports, must keep knowledge of it from his co-workers until the job is finished, and also figure out a way to get his fellow workers home before it's too late. The film won the best screenplay award at the Cannes Film Festival the year it was screened.
The Film:
Jeremy Irons portrays Nowak, one of four Polish laborers, living in England. In exchange for a place to stay, Irons and his buddies -- none of whom have British work permits -- agree to renovate their landlord's flat within a limited time-frame. Despite their hectic schedule, the boys agree never to work on Sunday: this is the day that they communicate with their loved ones in Poland. On one such Sunday, however, the Soviets declare martial law in Poland, cutting off all telephone and telegraph service to the outside world. Nowak, the only one of the four who speaks English, learns of the turmoil in Poland before his friends do; he decides to keep the news secret, rather than jeopardize their living arrangements. When the flow of money from home ceases, Nowak takes to stealing to finance the renovation project. He pushes his friends mercilessly to make sure the project is completed on time, secretly burning their letters so that they remain in the dark about the Soviet incursion upon their native soil. When they do find out, they physically vent their anger upon Nowak, perceiving him to be as much an enemy and oppressor as the Soviets. This is clearly the allegorical point that director Jerzy Skolimowski is hoping to make in Moonlighting; wisely, he avoids conveying his message in fluent tract, relating his story with generous doses of humor and irony.
Excerpt from MRQE located HERE
Conceived and made with an urgency appropriate to the December 1981 military clampdown on Skolimowski's native Poland, this film is a characteristically oblique and quirky response. Displacement rather than confrontation is the key, with a group of Polish builders busy renovating their boss' London house when the axe falls at home. Irons plays their leader, the only English speaker, who is forced into a parody of twisted labour relations when he decides to conceal the news from his co-workers. But the tendency towards allegory is pleasingly offset by an alienated vision of the English daily round: a farcical and surreal mixture of frustration, deception and shoplifting. The result is as much about 'us' as 'them'; and constitutes a quietly disturbing, often sharply amusing, flip side to Wajda's men of marble and iron.
Excerpt from TimeOut located HERE

Image : NOTE: The below Blu-ray captures were taken directly from the Blu-ray disc.
Moonlighting was such a pleasant surprise to watch Jerzy Skolimowski's impressive film in 1080P. Wow! It's from B2MP who brought us the wonderful Tomorrow (Robert Duvall) to Blu-ray. Aside from looking a bit thin - it is quite remarkable in the higher resolution. Colors are very bright, there is plenty of depth and a nice sheen of textured grain. I kept thinking I saw the colors bleeding but it was never obvious. They look pretty tight for the most part. This is single-layered with a reasonable bitrate and I'm impressed with the contrast and entire visual presentation. It is in the slightly bastardized 1.78:1 aspect ratio. I was very pleased with the consistent presentation.
CLICK EACH BLU-RAY CAPTURE TO SEE ALL IMAGES IN FULL 1920X1080 RESOLUTION
Audio :
We get a linear PCM in 2.0 channel mono at a decent 2304 kbps. It sounds clean and clear with few effects in the film. The score (also offered isolated) is by Stanley Myers - who, besides a few Pete Walker films (Frightmare, House of Mortal Sin) also has Cimino's The Deer Hunter on his resume, and Nicolas Roeg's amusing Insignificance. It is exported with decent depth. There are optional English (SDH) subtitles (see sample above) on the region 'A' Blu-ray disc. NOTE: As per the theatrical presentation the sporadic Polish dialogue is not translated.
Extras :
B2MP include some decent supplements including, what is termed as, 'Comments from Jeremy Irons'. It is not a full commentary as there are huge gaps but he does impart some interesting points regarding the production and his part in it. My only niggling complaint is that it is transferred at quite a low volume and you may need to crank it a bit to hear him. They also have the Stanley Myers's score available as an isolated option and it is also in linear PCM. There is a theatrical trailer and the case contains a six page linear notes leaflet with a new essay by Ewa Hanna Mazierska. Boy is the print every tiny though. Good job though B2MP!
| | |
| --- | --- |
| | |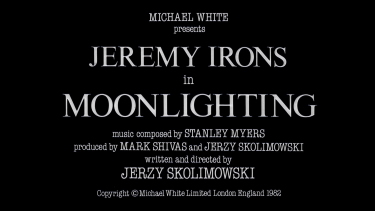 BOTTOM LINE:
I loved this film when I saw it years ago and even more now in 1080P. Moonlighting is brilliant cinema. It's political allegory (critique of Poland's communist regime) underplayed and performances touching. Irons is exceptional. The B2MP Blu-ray produces a fine presentation with some valued extras - super job guys! Bring on some more. We strongly recommend!
Gary Tooze
May 13th, 2015