NOTE: The below Blu-ray captures were obtained directly from the Blu-ray disc.
ADDITION: Paramount (The Entire Mystery) - Region FREE Blu-ray - July 2014:
Firstly, this review will be incomplete - there is so much in this package to watch, but I hope to provide some facts that people keep inquiring about.
Yes, this is region FREE - and more than likely - the same Blu-ray set sold all over the world. It gives you this option as an initial screen: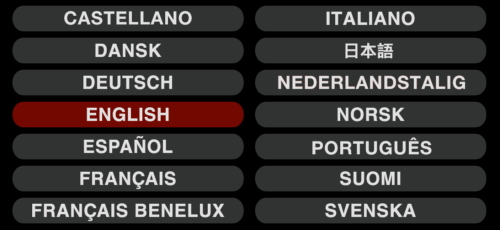 So, some may wish to check-out pricing of other regions - UK seems quite cheap - depending on your shipping!
I am watching this constantly - and all I am looking for is anomalies. I see an image with some infrequent compression artifacts, but a lot of pleasing texture. The SD image in the Definitive Gold Box set was fabulous. This 1080P supports the same color scheme (but richer, deeper colors in HD.) The lossless audio is awesome. Stay tuned for more comments!
NOTE: Greg tells us in email: "I watched every episode, movie and Missing Pieces in the Twin Peaks box and whatever minor flaws exist, there is one major one that I'd to know if you've noticed/encountered. In Episode 9, the audio is out of sync for the first half of the episode. It is slight at first, but the audio is disarmingly out of sync during the scene where Ben and Jerry discuss the ledgers while eating a cheese pig (maybe 15 to 20 minutes in). I tried it on two different players and had my brother look at the scene out of his own box set and he encountered the same problem. I haven't seen anyone bring this up yet, even as they've been complaining of the far less out of sync audio in the Missing Pieces, which is barely noticeable.
NOTE: John tells us in email "Regarding the audio sync issues for the Twin Peaks Blu-ray set, I tested episode 9, "cheese pig" scene on my PS4. The sync issues were very prominent, until I turned the video playback 1080p/24HZ setting from "Auto" to "Off". The sync issues were gone or nearly gone after that." (thanks John!)

Other than this, what a box! Great visuals and audio that surpassed my expectations!"
NOTE: Twin Peaks - Fire Walk With Me is different from the French mk2 Blu-ray from 2010. See the bottom of review!
The 10 Blu-ray disc Broken down:
Disc One:
• Pilot
- Original Version
- Alternate International Version
• Episode 1 & Episode 2
• Special Features
- Log Lady Intros (HD)
- Preview and recaps on select episodes (HD)

Disc Two:
• Episode 3, Episode 4, Episode 5, Episode 6 & Episode 7
• Special Features
- Season 1 Image Gallery
- Twin Peaks Sneak Peeks (HD)
- Log Lady Intros (HD)
- Previews and recaps on select episodes (HD)

Disc Three:
• Episode 8, Episode 9 & Episode 10
• Special Features
- A Slice of Lynch: Uncut (HD) – NEW! (55:33)
- Season 2 Image Gallery
- Promos (HD/SD)
- Log Lady Intros (HD)
- Preview and recaps on select episodes (HD)

Disc Four:
• Episode 11, Episode 12, Episode 13 & Episode 14
• Special Features
- Series Deleted Scenes
- Series Deleted Scenes (HD) – NEW! (8:19)
Cooper and Donna talk About Picnic
Picnic
Cooper and Truman at Gazebo
Mayor's Speech
Lucy and Raccoons
16mm Period Piece
Booby Coaches Shelly
Lucy and Deputy Andy
Jerry's Wandering Eye
27 Going on 6
Lucy, Andy, and Donuts
Something About Johnny
- Outtakes (HD) – NEW! (2:14)
- Log Lady Intros (HD)
- Preview and recaps on select episodes (HD)

Disc Five:
• Episode 15, Episode 16, Episode 17 & Episode 18
• Special Features
- Return To Twin Peaks
- Location Guide
- The Glastonbury Archives
–17 Pieces of Pie: Shooting at the Mar T (AKA RR) Diner
–Mark Frost Interview with Wrapped in Plastic
–Learning to Speak in the Red Room
–An Introduction to David Lynch
–Lucy Bumpers
–1-900 Hotline
–Production Documents
–Image Galleries
- Log Lady Intros (HD)
- Preview and recaps on select episodes (HD)

Disc Six:
• Episode 19, Episode 20, Episode 21 & Episode 22
• Special Features
- Postcards From The Cast
- Twin Peaks Sneak Peaks (HD)
- Log Lady Intros (HD)
- Preview and recaps on select episodes (HD)

Disc Seven: • Episode 23, Episode 24, Episode 25 & Episode 26
• Special Features
- Cast And Crew Interviews
- Log Lady Intros (HD)
- Preview and recaps on select episodes (HD)

Disc Eight:
• Episode 27, Episode 28 & Episode 29
• Special Features
- Secrets From Another Place: Creating Twin Peaks (HD)
–Northwest Passage: Creating the Pilot
–Freshly Squeezed: Creating Season One
–Where We're From: Creating the Music
–Into the Night: Creating Season Two
- Log Lady Intros (HD)
- Preview and recaps on select episodes (HD)

Disc Nine:
• Twin Peaks: Fire Walk With Me
• The Missing Pieces: Deleted/Alternate Scenes (HD) – NEW! (1:31:25 - found on 9th disc - see below)
• Special Feature
- Archival Interviews 5:25)

Disc Ten:
• Special Features
- Between Two Worlds (HD) – NEW! (Palmer Family Interview / Actor's Discussion - total = 38:20)
- Moving Through Time: Fire Walk With Me Memories (HD) – NEW! (29:37)
- Reflections On The Phenomenon Of Twin Peaks (31:21)
- US Trailer
- International Trailer
- Fire Walk With Me Photo Gallery – NEW!
- Atmospherics (HD) – NEW! (13:14)
–Trees/Woods
–Pie
–Signs/Places
–Coffee
–Notes
–Water
–Donuts
–Owls
–The Ring
–The Red Room
I will write more on the quality and extras soon!
***
ON THE DVD Boxset: This Paramount ' Definitive Gold Box Edition' represents 10 dual-layered discs containing some 29 episodes and supplements from the 'anti-Mayberry' - dark and brooding Twin Peaks. The discs are coded for regions 1 and 4 in the NTSC standard ready for sale in South American as well with Spanish and Portuguese subs and DUBs offered as options. It is housed in a custom case with stacked clear -plastic holders that open in a book-style format.
The image looks tremendous - almost as exceptional as high-definition. It has a dark appearance with excellent color balance, contrast , black levels and detail. It shows some very minor digital noise but overall some of the best looking TV on SD DVD I have ever seen. When the 5.1 track is called upon - it is up to the task - dialogue is always clear and audible with subtitle options available. Outstanding transfers.
Fans will be quite pleased with the inclusion of not only the pilot episode but also the 'international' version of the pilot. On the last disc we have some featurettes - Running about 30 minutes is A Slice of Lynch it offers talking head comments from David Lynch, Kyle MacLachlan, Madchen Amick, and the sound editor John Wentworth. There is a humorous look at Twin Peaks fan festivals and a most enjoyable - Secrets From Another Place. This has more interviews (cast and crew) and a fair amount on production and development - quite worthwhile. Two Saturday Night Live pieces are included - satire stuff with Kyle MacLachlan plus filler in the form of a music video, TV spots, an interactive 'map' of the town, some stills galleries etc. . There are also four deleted scenes on the previous disc (#9) but I can't say they held any viable interest for me.
NOTE: They are supplements from the two stand-alone boxes (Season 1 and 2) that are not included in this Gold Edition set - namely the commentaries from the first season box set and the interviews from the second season (plus a few other tidbits).
Fans who don't own one of the two previously releases Season boxsets will want to pick this up for sure. For those that already own Season 1 and 2 - it will be a decision based on how much you adore the show. The extras, pilot and image quality may be enough to swing over many for double-dipping. This is a very impressive collection.
NOTE: Artisan's release "Twin Peaks: Season 1" is frequently criticized for its over-saturated image. Although Lynch and company used red filters while shooting the series, Artisan's release conveys orange skin tones and inaccurate color schemes.