NOTE: The below Blu-ray captures were taken directly from the Blu-ray disc.
The Criterion Blu-ray of The Touch is part of their Ingmar Bergman's Cinema 100th Anniversary 30 Blu-ray Boxset (reviewed, as a work in-progress, HERE). The Touch shares this Blu-ray with The Serpent's Egg. See comparative captures, a listing of technical details, extras etc., on this page.
The Criterion (Ingmar Bergman's Cinema) 1080P transfer is in the 1.85:1 aspect ratio on another dual-layered Blu-ray with a modest bitrate. The HD presentation looks pleasing with, bright colors (yellow roses), rich deep black levels and impressive contrast. The Blu-ray visuals are a bit thin but show some depth. The presentation is consistent and the source text indicates that it is from a 35mm interpositive: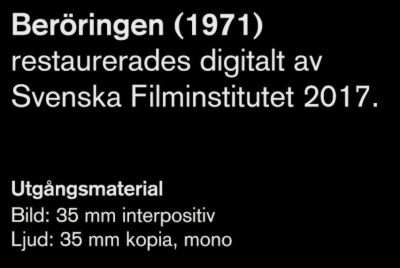 Criterion (Ingmar Bergman's Cinema) again use a linear PCM 2.0 channel mono transfer at 24-bit with original English, Swedish and some French used in the film (this is the director's preferred English/Swedish version). There aren't an abundance of effects - some crowd noises and a score credited to Carl Michael Bellman, Peter Covent and Jan Johansson with pieces like Liksom en herdinna and Sax Kitten. There are optional English subtitles on the region FREE Blu-ray disc.

The only extra is 55 minutes - a documentary by Stig Björkman about the early years of the 70's in Ingmar Bergman's professional and private life shot during the filming of The Touch.

The Touch is a tragic, unrequited, love story. I had known that Ingmar Bergman did a film with Elliott Gould, but I had never seen it - mainly disinterested because of the critical in difference. Bibi and Max can do no wrong in my eyes. I enjoyed it as a highly interesting suprise. I thought it was a very good film and the 1080P presentation and this Blu-ray adds further value to Criterion's massive package.