NOTE: The below Blu-ray captures were taken directly from the Blu-ray disc.
The Criterion Blu-ray of The Devil's Eye is part of their Ingmar Bergman's Cinema 100th Anniversary 30 Blu-ray Boxset (reviewed, as a work in-progress, HERE). The Devil's Eye shares this Blu-ray with All These Women. See comparative captures, a listing of technical details, extras etc., on this page.
Criterion present Bergman's 1960 film, "The Devil's Eye" on a dual-layered Blu-ray. The 1.37:1 B&W image has a maxed out bitrate. The film shares the disc with "All These Women". The transfer has a strong showing impressive detail, grain and Criterion's hallmark contrast. This transfer comes from a 35mm original negative as evidenced by the prefacing source-text: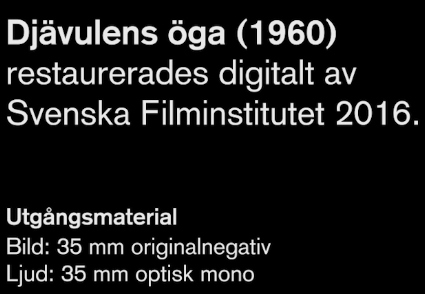 The film is presented in its original Swedish language, on a mono 24-bit linear PCM track. Though uncredited, the music here is from Erik Nordgren (The Seventh Seal, Wild Strawberries). The music and dialogue are clearly audible but there are few instances of slight hiss. There are optional English subtitles on this Region-Free Blu-ray.

There are no extras on this Blu-ray disc - just the two films.

Criterion bring Bergman's "The Devil's Eye" to Blu-ray with a highly impressive video quality. Each review seems to identify that the collection is absolutely essential to any Bergman fan.