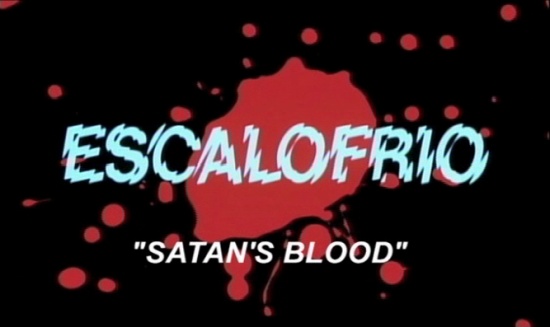 (aka "Escalofrio" or "Don't Panic")
directed by Carlos Puerto and Juan Picquer Simon (uncredited)
Spain 1977
While out on an afternoon drive, electronics repairman Andy (José María Guillén) and his pregnant wife Annie (Sandra Alberti, DEATH SURROUNDS MONICA) meet Bruno (Angel Aranda, PLANET OF THE VAMPIRES) and Mary (Mariana Karr) at a traffic light. Bruno claims to be a school pal of Andy's, even though he is about ten to fifteen years older, and the younger couple find themselves invited to the older couple's house deep in the countryside (a house recognizable to Spanish horror fans from a number of Paul Naschy films). After dinner conversation turns towards the older couple's interest in the occult - which should have been a big red flag - and spin on the Ouija board that predicts Bruno's untimely death and accuses Annie of still being in love with Andy's brother. The gathering storm means that Andy and Annie will have to stay the night. When Annie gets up to let the dog inside, she is nearly raped by the couple's handyman. Andy and Annie confront Bruno and Mary and are drawn into a Satanic orgy, the aftermath of which spirals into a nightmarish whirlpool of murder and suicide.

After the death of General Franco, Spain eased up on its censorship standards (in the early seventies, the nudity and gore for which Spanish horror films are known only appeared in the export prints and not the domestic versions). The introduction of the "S" classification for films with gory and violent content lead to an exploitation film production boom from the mid seventies to the early eighties with sometimes near-pornographic content (this relaxation in censorship also lead to the return of Jess Franco to Spanish filmmaking after more than a decade exploring his unique brand of erotic horror in France, Germany, Portugal, and anywhere Harry Alan Towers or Erwin C. Dietrich could strike a deal). Director Carlos Puerto had directed a few shorts in the sixties, and wrote SATAN'S BLOOD producer Juan Picquer Simon's FABULOUS JOURNEY TO THE CENTER OF THE EARTH. Puerto found more work during this late seventies exploitation boom, penning Leon Klimovsky's gory TRAUMA and directing Paul Naschy in EL FRANCOTIRADOR/THE SNIPER. SATAN'S BLOOD was reportedly co-directed by Simon (and Librado Pastor's main title theme pops up on the Spanish track of Simon's slasher PIECES), who also is credited with the unique art direction. Like SEXO SANGRIENTO, another "S" classification picture, SATAN'S BLOOD seems as though it could have been more effective as a horror short without the nightmare logic padding; however, the end product has enough sex and creepy imagery to entertain seasoned Spanish horror fans and those just looking for a bit of Eurosleaze. Co-production company Cinevision also produced Tomas Aznar's BEYOND TERROR (also penned by Simon), which would make a neat double bill with SATAN'S BLOOD.
Posters
Theatrical Release: 14 August 1978 (Spain)
Reviews More Reviews DVD Reviews
DVD Comparison:
Mondo Macabro - Region 0 - NTSC vs. Scorpion Releasing - Region 0 - NTSC
Big thanks to Eric Cotenas for all the Screen Caps!
(Mondo Macabro - Region 0 - NTSC - LEFT vs. Scorpion Releasing - Region 0 - NTSC - RIGHT)
DVD Box Covers

Distribution

Mondo Macabro

Region 0 - NTSC

Scorpion Releasing
Region 0 - NTSC
Runtime
1:21:45
1:21:45
Video

1.75:1 Original Aspect Ratio

16X9 enhanced
Average Bitrate: 7.36 mb/s
NTSC 720x480 29.97 f/s

1:75:1 Original Aspect Ratio

16X9 enhanced
Average Bitrate: 8.52 mb/s
NTSC 720x480 29.97 f/s

NOTE: The Vertical axis represents the bits transferred per second. The Horizontal is the time in minutes.

Bitrate:

Mondo Macabro

Bitrate:

Scorpion Releasing

Audio
English Dolby Digital 2.0 mono; Spanish Dolby Digital 2.0 mono

English Dolby Digital 2.0 mono; Spanish Dolby Digital 2.0 mono

Subtitles
English, none
none
Features
Release Information:
Studio: Mondo Macabro

Aspect Ratio:
Widescreen anamorphic - 1.75:1

Edition Details:
• Alternate Opening (16:9; 2:15)
• The Devil's Disciples: Gavin Baddeley on 20th Century Satanism (4:3; 24:04)
• Still Galleries
• About the Film Liner Notes Essay
• Mondo Macabro Promo Reel
• Disc Credits

DVD Release Date: 28 February 2006
Amaray

Chapters 10

Release Information:
Studio: Scorpion Releasing

Aspect Ratio:
Widescreen anamorphic - 1:75:1

Edition Details:
• Playable with optional Katarina's Nightmare Theater wrap-around segments
• Still Gallery
• Trailers for FINAL EXAM, HOUSE ON SORORITY ROW, HUMONGOUS, NOTHING BUT THE NIGHT, HUMAN EXPERIMENTS, THE INCUBUS, and THE DEVIL WITHIN HER


DVD Release Date: November 8th, 2011
Amaray

Chapters 20
Comments

While Scorpion's progressive, dual-layer anamorphic transfer may be a shade lighter, it appear to be otherwise identical Mondo Macabro's OOP disc transfer. Although it is mentioned nowhere on the cover and there is no set-up menu, Scorpion has included the Spanish dub; however, Mondo Macabro also included optional English subtitles for the track. Both discs feature the scholarly prologue missing from English-dubbed prints (an English overdub has been added to the scene on the English track), although Mondo Macabro allowed the film to be viewed with or without the prologue (also available to be viewed separately in the extras).

The Scorpion disc is playable with optional opening and closing segments with hostess Katarina Leigh Waters, who does provide some background on the film (as well as the Spanish "S Classificaiton" rating), but Mondo Macabro's "About the Film" essay is an essential read. Spanish horror fans will want the Mondo disc for the English subtitles, the great liner notes, and other extras; however, Scorpion's release is a perfectly respectable presentation (more so as an entry in the Katarina series than as a standalone release).
---
DVD Menus
(Mondo Macabro - Region 0 - NTSC - LEFT vs. Scorpion Releasing - Region 0 - NTSC - RIGHT)

| | |
| --- | --- |
| | |
| | |
| | |
| | |
---
Screen Captures
(Mondo Macabro - Region 0 - NTSC - TOP vs. Scorpion Releasing - Region 0 - NTSC - BOTTOM)
---
(Mondo Macabro - Region 0 - NTSC - TOP vs. Scorpion Releasing - Region 0 - NTSC - BOTTOM)
---
(Mondo Macabro - Region 0 - NTSC - TOP vs. Scorpion Releasing - Region 0 - NTSC - BOTTOM)
---
(Mondo Macabro - Region 0 - NTSC - TOP vs. Scorpion Releasing - Region 0 - NTSC - BOTTOM)
---
(Mondo Macabro - Region 0 - NTSC - TOP vs. Scorpion Releasing - Region 0 - NTSC - BOTTOM)
---
(Mondo Macabro - Region 0 - NTSC - TOP vs. Scorpion Releasing - Region 0 - NTSC - BOTTOM)