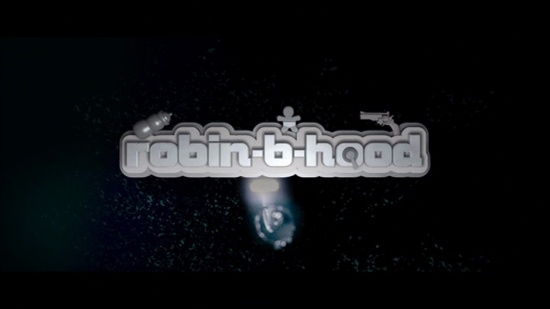 (aka "Bo bui gai wak" or "Rob-B-Hood" or "Project BB")
directed by Benny Chan
Hong Kong 2006
Fong (Jackie Chan) and Octopus (Louis Koo) have turned to robbery to sustain their respective vices of gambling and fast cars. They get their assignments from Landlord (Michael Hui) and their latest one is kidnapping a baby (whom they had previously rescued in a kidnapping attempt by the child's gangster father Max [Terence Yin]) which they reluctantly agree to for the promise of a large payoff. Fong and Octopus are stuck with the kid and the usual hilarity and endearment ensues until they discover that the baby is to be handed over to the Triad Godfather (Baoguo Chen) for his son Max. ROBIN-B-HOOD (usually cited under the better alternate title ROB-B-HOOD) has what we expect from both Jackie Chan and director Benny Chan but in lesser degrees. The action scenes are good -- particularly the early hospital set-piece -- but not particularly wince-inducing and the stunt choreography is energetic though not quite as impressive as Chan's earlier works (the outtakes and stunt bloopers are included in the end credits as usual for Jackie Chan films) but at two hours, it outstays its welcome. The "single men having to deal with messy yet adorable infants" aspect of the film doesn't give us anything new over THREE MEN AND A BABY. Although it might make for diverting family-fare abroad, one wonders if the subplot of Chan's landlord's wife carrying around a baby doll and treating like the child she lost years before might be a bit of a downer even when played for comic effect (while the live baby is stashed at the landlord's place, Fong and Octopus they have to distract her with her baby doll; although that gets a poignant resolution). Some other elements are even more questionable (hiding the baby in a washing machine, some graphic diaper changes, continually having to drop and catch the child from great heights even if it is obvious CGI sometimes). The film's end credits are actually preceded by a disclaimer about the stunts. The film isn't as dire some of Chan's live-action Disney fare but as far as his more comic action films goes, it is certainly no OPERATION CONDOR or MR. CANTON AND THE LADY ROSE. Worth watching but probably not one fans of Jackie Chan or Hong Kong cinema in general will revisit.
Posters
Theatrical Release: 28 September 2006 (South Korea)
Reviews More Reviews DVD Reviews
DVD Review: Showbox Entertainment (Cine Asia) - Region 2 - PAL
Big thanks to Eric Cotenas for the Review!
DVD Box Cover

CLICK to order from:

Distribution

Showbox Entertainment

Region 2 - PAL

Runtime
2:01:12 (4% PAL speedup)
Video

1.78:1 Open Matte format

16X9 enhanced
Average Bitrate: 6.91 mb/s
PAL 720x576 25.00 f/s

NOTE: The Vertical axis represents the bits transferred per second. The Horizontal is the time in minutes.

Bitrate

Audio
Cantonese Dolby Digital 5.1; English Dolby Digital 5.1
Subtitles
English, none
Features
Release Information:
Studio: Showbox Entertainment

Aspect Ratio:
Widescreen anamorphic - 1.78:1

Edition Details:
• DISC ONE:
• Trailers for FIST OF LEGEND and KILL ZONE
• DISC TWO:
• CRASHING THE HOOD - interview with Jackie Chan (16:9; 39:08; in English)
• THE HAND THAT MOCKS THE CRADLE - interview with Benny Chan (16:9; 16:02; with English subtitles)
• BABY BOOMER - interview with co-star Conroy Chan (16:9; 14:36; in English)
• Promotional Trailer (16:9; 2:16)
• PLAYTIME FOR ADULTS - on the set (4:3; 21:46; with English subtitles)
• Making of ROBIN-B-HOOD (4:3; 22:05; with English subtitles)

DVD Release Date: 24 May 2010
Amaray

Chapters 20
Comments

Although the presentation is preceded by a Dragon Dynasty logo and reproduces all of the extras of the US 2 disc edition (with the exception of the Benny Chan commentary), the dual-layer transfer is not an NTSC-PAL conversion. Rather, it is anamorphic and progressive PAL (probably source from the master used for the accompanying BluRay edition). The aspect ratio seems to be an issue as the disc is 1.78:1 while sources cite a 2.35:1 aspect ratio (the featurettes feature scope framing as well). According to imdb's technical specifications, it was shot in Super 35mm so the presentation may be opened up rather than cropped. Horizontally, compositions look fine but when a 2.35:1 matte is added, hairlines are usually cut off (but that could just be "edgy" framing) but other times without the matte the image just looks framed too wide vertically.

Cantonese 5.1 and and a horrible English 5.1 dub are provided along with optional English subtitles. Other than a couple trailers on the first disc, all of the contextual extras are on disc 2 including 3 substantial interviews (Jackie Chan and the HK-born/Australia-raised co-star Conroy Chan speak English while director Benny Chan is subtitled) and two making-of featurettes as well as the American promotional trailer.
---

DVD Menus

---
Screen Captures
Subtitle sample
---
DVD Box Cover

CLICK to order from:

Distribution

Showbox Entertainment

Region 2 - PAL