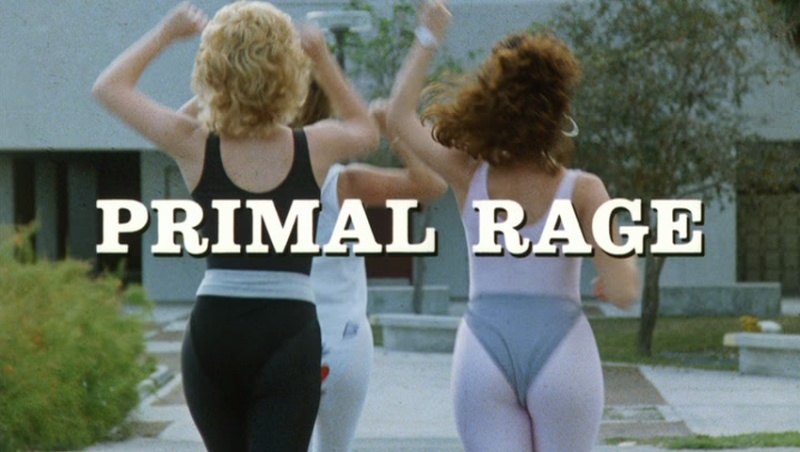 (aka "Rage furia primitiva " or "Animal Rage" or "Basic Terror")
directed by Vittorio Rambaldi
USA/Italy 1988
The newspaper at the University of Florida has been trying to get an animal cruelty story on the privately-funded work of Professor Ethridge (Bo Svenson). The experimental baboon has a violent reaction to the experimental drug Ethridge has been using to regenerate cells. Sensationalistic editor Duffy (Mitch Watson) breaks into the lab and is bitten by the crazed baboon that escapes and is promptly hit by a police car. Infected, Duffy bites Debbie (Sarah Buxton, who also starred in WELCOME TO SPRING BREAK/NIGHTMARE BEACH directed by Umberto Lenzi who scripted this film) before going on a violent rampage. After being forced to shoot a crazed Duffy, his photojournalism major friend Sam (Patrick Lowe) and Debbie's roommate Lauren (Cheryl Arutt) team up with Ethridge to try to save Debbie who has since infected three frat guys who tried to rape her. Debbie escapes from Ethridge and while Sam and Lauren try to find her, they also have to contend with the three frat guys who are are mutilating their way through the costumed extras at the Halloween Dance (showcasing a live performance of the film's theme song by The Facade Band just in case you wanted to hear it again). An Italian production shot in Florida (and shot at the same time as WELCOME TO SPRING BREAK/NIGHTMARE BEACH with which it also shares a Claudio Simonetti soundtrack and a cheesy Greg Bonham-penned theme song), PRIMAL RAGE is a somewhat entertaining piece of late eighties Italian horror; less gory than other Italian horrors but gorier than American genre entries of the time. The detached Svenson performance and the competent lead performances are to the detriment of the film but it has in its favor Carlo Rambaldi (E.T.) animatronics, gore (courtesy of Rambaldi's other son Alex), and some truly horrid supporting performances (notably the 3 rape-happy frat guys). Besides the familiar Simonetti synth score and credits vocal "Say the Word", the soundtrack also features two heavy metal tracks previously used in Dario Argento's OPERA and the Simonetti-produced disco single "Love is My Mania" by The Fast Food Girls.
Posters
Theatrical Release: 1 December 1988 (Italy)
DVD Review: Code Red DVD - Region 0 - NTSC
Big thanks to Eric Cotenas for the Review!
DVD Box Cover

CLICK to order from:

Distribution

Code Red DVD

Region 0 - NTSC

Runtime
1:31:48
Video

1.77:1 Original Aspect Ratio

16X9 enhanced
Average Bitrate: 5.24 mb/s
NTSC 720x480 29.97 f/s

NOTE: The Vertical axis represents the bits transferred per second. The Horizontal is the time in minutes.

Bitrate

Audio
English Dolby Digital 2.0 stereo
Subtitles
none
Features
Release Information:
Studio: Code Red DVD

Aspect Ratio:
Widescreen anamorphic - 1.77:1

Edition Details:
• Startup trailer for FAMILY HONOR (16:9; 0:31)
• Trailers for HORROR HIGH (16:9; 2:18), THE NIGHT CHILD (16:9; 2:07), THE BLACK KLANSMAN (16:9; 0:41)
• SLITHIS (4:3; 3:01), A LONG RIDE FROM HELL (4:3; 1:01)

DVD Release Date: July 13th, 2010
Amaray

Chapters 15
Comments

Code Red's disc is an anamorphic, progressive, single-layer transfer of a new HD master (rather than a conversion of the master used for the Italian release) with no main menu. There is a startup trailer for FAMILY HONOR followed by a disclaimer about the content of interviews/commentaries (there are none), the logo, the feature, and some more trailers after the film. There exists an English-friendly R2 Italian DVD but according to reviews, the gory scenes present in the Code Red DVD have been largely cut on the import.

There is no scene selection menu but the film has been encoded with 15 chapters. The stereo English audio is clear and forceful when it comes to the synth score (cheesy theme song included) and the baboon screeches. The film also had an open matte stereo sound VHS release in the states on Warner Home Video of all labels.
---
Screen Captures
---
DVD Box Cover

CLICK to order from:

Distribution

Code Red DVD

Region 0 - NTSC