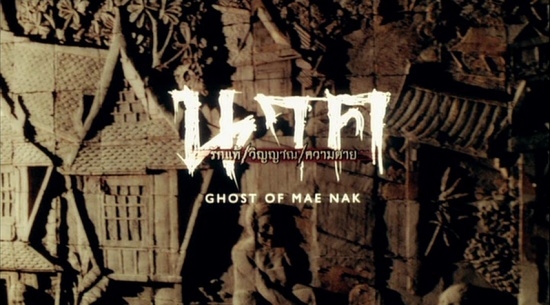 (aka "The Ghost of Mae Nak")
directed by Mark Duffield
Thailand 2005
Mak (Siwat Chotchaicharin) has been haunted by nightmares featuring a spectral female figure. He is about to marry his childhood sweetheart Nak (Pataratida Pacharawirapong) and they have just been sold a one hundred year old house by shifty Mr. Angel (Meesak Nakarat) and after the wedding all of their gifts are stolen (including a brooch made from bone that Mak purchased for Nak). When Mak recognizes some thieves selling the gifts, he takes after them on foot and is knocked down by their car and left in a coma. The doctors do now know if or when he will come out of it but Nak swears Mak talked to her, instructing her to "Fine Mae Nak." Nak learns the legend of Mae Nak (Porntip Papanai), a woman who married Por Mak (Jaran Ngamdee) only for them to be separated by war. When he returned, he found Mae Nak had given birth to a child but their happiness is spoiled when he learns from the villagers that Mae Nak died in childbirth. Mae Nak's ghost took revenge on the villagers who tried to keep her spirit away from Por Mak so a monk exorcised her by cutting a fragment of bone out of her skull and trapping her spirit inside it which he made into a brooch (she also learns that they are living in Mae Nak's house). Nak finds the brooch and tries to discover how to use it to put Mae Nak to rest. Meanwhile, attempts by surgeons and exorcists to cure Mak are disrupted by psychic outbursts and Mak learns that she must find Mae Nak's grave before she loses Mak to the ghost (who is once again taking out anyone who gets in her way in various gory manners). Like Paul Spurrier's P, GHOST OF MAE NAK (reportedly the twentieth film adaptation of the legend) is another Thai production by a British writer/director/cinematographer but it is unfortunately nowhere near as accomplished as that production. Slick-looking with some satisfying gore (and variable CGI), GHOST OF MAE NAK suffers from a faulty script (derivative of everything from THE OMEN, THE EXORCIST, THE CHANGELING, etc) full of banal dialogue that is blandly delivered by attractive leads and broadly played by the supporting cast. The film is not even remotely compelling as the human villains are so broadly drawn that the main couple must be completely oblivious and Mae Nak never registers (as human or CGI ghost) as a figure of pathos or threat. The comic relief secondary couple are completely superfluous (and not funny) and there are way too many dreams or dreams within dreams capped by shots of people jolting up into the camera in a cold sweat.
Poster
Theatrical Release: 15 September 2005 (Thailand)
Reviews More Reviews DVD Reviews
DVD Review: Tartan Video (Tartan Asia Extreme) - Region 1 - NTSC
Big thanks to Eric Cotenas for the Review!
DVD Box Cover

CLICK to order from:

Distribution

Tartan Video

Region 1 - NTSC

Runtime
1:45:04
Video

1.80:1 Original Aspect Ratio

16X9 enhanced
Average Bitrate: 6.15 mb/s
NTSC 720x480 29.97 f/s

NOTE: The Vertical axis represents the bits transferred per second. The Horizontal is the time in minutes.

Bitrate

Audio
Thai DTS 5.1; Thai Dolby Digital 5.1; Thai Dolby Digital 2.0 stereo
Subtitles
English, Spanish, none
Features
Release Information:
Studio: Tartan Video

Aspect Ratio:
Widescreen anamorphic - 1.80:1

Edition Details:
• Audio Commentary by director/cinematographer Mark Duffield
• On the Set (16:9; 1:05:52)
• Trailers for CELLO, RED SHOES, LADY VENGEANCE, MAREBITO, and THE HEIRLOOM

DVD Release Date: October 17th, 2006
Amaray

Chapters 15
Comments

Tartan's presentation of this Thai film is interlaced. The image is contrasty but I think that has more to do with the aggressive color grading to emulate the tired blue shadows, green midtones, blown-out highlight look of most mainstream action/sci-fi/horror films of late than a problem of the source master. Active half-bitrate DTS 5.1 and Dolby Digital 5.1 tracks are offered as well as a good stereo downmix. The subtitles appear error-free (no surprise given that the script was written in English and translated into Thai and the transcribed dialogue was likely finessed by the English filmmakers).

Not mentioned on the DVD cover is an overly audio commentary by director/cinematographer Mark Duffield but this is not necessarily an unexpected bonus. Virtually every shot or scene begins with Duffield saying how pleased he is with it and his assessment of the scripting and acting is overstated (he blames Thai television work for the broad performances and says he worked on toning them down). Also included is an hour-long making-of featurette and trailers for various Tartan Asia Extreme releases.
---

DVD Menus

---
Screen Captures
Subtitle sample
---
DVD Box Cover

CLICK to order from:

Distribution

Tartan Video

Region 1 - NTSC