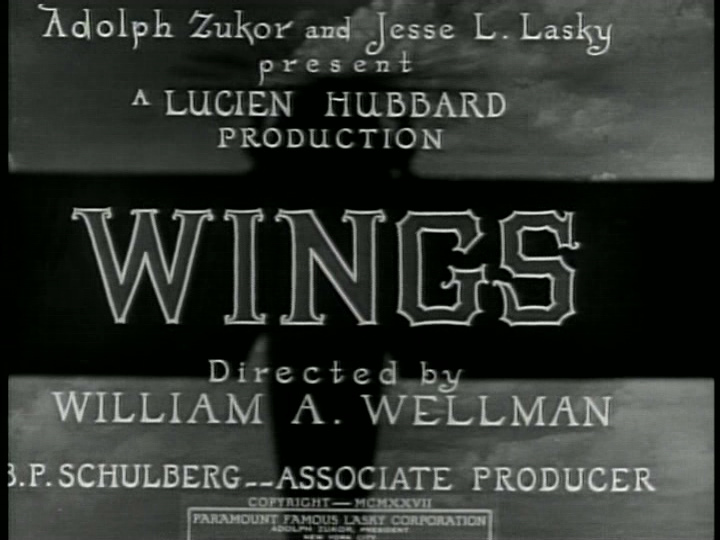 ("The Best Collection" - Region 0 - NTSC - TOP vs. Paramount - Region FREE - Blu-ray BOTTOM)
directed by William A. Wellman and Harry d'Abbadie d'Arrast (uncredited)
USA 1927
This winner of the first Academy Award for Best Picture was also the last silent film to receive that honor. Set against... the backdrop of the Army Air Corps, the WWI adventure features stunning aerial photography and combat flying sequences.

**'

Amazing air duels and an impressive study of aviators are depicted in "Wings," Paramount's epic of the flying fighters of the World War, which was launched last night in the Criterion Theatre. After the exhibition of the first half of this absorbing subject, Commander Richard E. Byrd was noticed in the lobby talking to Jesse L. Lasky and the words of the hero of the North Pole and transatlantic flights evidently pleased the producer. As the Commander turned to re-enter the theatre he remarked:

"And I wouldn't say so if I didn't think it."

And there were scores of others who found the realism of the episodes highly exciting, not excepting a young officer of Uncle Sam's flying force who declared loudly:

"That crash in No Man's Land was a real bust-up."
Posters
Theatrical Release: May 19th, 1927 (USA)
Reviews More Reviews DVD Reviews
Comparison:
"The Best Collection" - Region 0 - NTSC vs. Paramount - Region FREE - Blu-ray
("The Best Collection" - Region 0 - NTSC - LEFT vs. Paramount - Region FREE - Blu-ray RIGHT)
Box Covers

Distribution

"The Best Collection"

Region 0 - NTSC

Paramount
Region FREE - Blu-ray
Runtime
0:49:00 + 1:29:21 = 2:18:21
2:24:17.648
Video

1.33:1 Original Aspect Ratio
Average Bitrate: 5.3 / 5.5 mb/s
NTSC 720x480 29.97 f/s

1080P Dual-layered

Blu-ray

Disc Size: 47,569,884,811 bytes

Feature: 36,886,726,656 bytes

Video Bitrate:

28.10 Mbps

Codec: MPEG-4 AVC Video

NOTE: The Vertical axis represents the bits transferred per second. The Horizontal is the time in minutes.

Bitrate:

First side

Bitrate:

Second Side

Bitrate:

Paramount (Blu-ray)

Audio
Dolby Digital 1.0 mono
DTS-HD Master Audio English 3998 kbps 5.1 / 48 kHz / 3998 kbps / 24-bit (DTS Core: 5.1 / 48 kHz / 1509 kbps / 24-bit)
* Dolby Digital Audio English 224 kbps 2.0 / 48 kHz / 224 kbps / Dolby Surround
Subtitles
Chinese, none
English, French, Spanish, Portuguese, none
Features
Release Information:
Studio: "The Best Collection"

Aspect Ratio: 1.33:1

Edition Details:
• None

DVD Release Date: Unknown
Snapping keep case

Chapters 4+4=8

Release Information:
Studio: Paramount

Aspect Ratio: - 1.35:1

1080P Dual-layered

Blu-ray

Disc Size: 47,569,884,811 bytes

Feature: 36,886,726,656 bytes

Video Bitrate:

28.10 Mbps

Codec: MPEG-4 AVC Video

Edition Details:
• Wings: Grandeur in the Sky (25:55 in 1080P)
• Restoring the Power and Beauty of Wings (14:20 in 1080P)
• Dogfight! (12:53 in 1080P)


Blu-ray Release Date: January 24th, 2012
Standard Blu-ray Case inside cardboard slipcase

Chapters 22
Comments

NOTE: These Blu-ray captures were taken directly from the Blu-ray disc.

ADDITION: Paramount - Region FREE - Blu-ray (January 12'):

Before I owned more than a handful of DVDs - I was shopping in an Asian Mall and stumbled across this "Best of Collection" - #62 in a series - a Chinese DVD of the 1927 William A. Wellman film Wings. It was a dual-sided, single-layered disc referred to as a DVD10 (I don't recall seeing too many since). It was interlaced and offered optional Chinese subtitles. At the time, well over a decade ago, I wasn't even aware of what a bootleg was nor had any intention of starting a website called DVDBeaver. The "Best of Collection" did allow me to see the film... but now I can look at it much more critically with Paramount's new, restored Wings on dual-layered 1080P Blu-ray.

The 1080P rendition is pretty impressive. Just to get the DVD comments out of the way - the Chinese transfer is heavily cropped on the left edge, a shortened version with some scenes missing and is interlaced. Predictably, the Blu-ray wins in every category (over 5X the bitrate) with much of the damage on the SD - cleaned extensively and/or removed on the new format disc. The aspect ratio clocks in at about 1.35:1 and they have gone with the sepia tint for the majority of the feature. Detail has highly remarkable moments and this looks very desirable in-motion. Almost impossible to believe that we are looking at an 85-year old film. Grain textures aren't overwhelming (have they removed too much?) but it's nice to see some still exists. No one would be expecting perfection from the video but it looks better than many might anticipate - still some speckles, flickering and banding but the contrast layering is extremely impressive. I can't see anyone complaining about what we are supplied with here - excepting maybe too much grain removal.

We are given two tracks a DTS-HD Master 5.1 at 3998 kbps described as "re-recorded score composed by J.S. Zamecnik (orchestrated and arranged by Dominik Hauser; featured pianist Frederick Hodges) with sound effects by Ben Burtt". The otehr choice is a more basic Dolby stereo - "...pipe organ score composed and performed by Gaylord Carter." I tested both the lossless surround is amazingly dynamic. It really changes the viewing experience - particularly music in the dogfights. But I didn't find that it overwhelmed the video. Purist may opt for the stereo. Paramount supply optional subtitles for the English intertitles.

NOTE There is an Intermission included on the Blu-ray and a short musical overture to start the film.



Extras include a 26-minute piece Wings: Grandeur in the Sky in 1080P which focuses more on the historical aspect of filmmaking in that era. Restoring the Power and Beauty of Wings runs 15-minutes in HD includes segments on recreating the score as well as the work done on the video. Dogfight! is over a dozen minutes looking at the use of one-on-one aerial battles during wartime.

This is an inpressive package. The film is a glorious experience with the restored audio and video. Seeing Clara Bow in 1080P seems worth the price alone - but tack on the dynamic scores and extras and this is a easy endorsement. Buy with confidence!

Gary Tooze
---
Menus
("The Best Collection" - Region 0 - NTSC - LEFT vs. Paramount - Region FREE - Blu-ray RIGHT)
---
CLICK EACH BLU-RAY CAPTURE TO SEE ALL IMAGES IN FULL 1920X1080 RESOLUTION
Screen Captures
1)

"The Best Collection" - Region 0 - NTSC - TOP

2)

Paramount - Region FREE - Blu-ray BOTTOM
---
1)

"The Best Collection" - Region 0 - NTSC - TOP

2)

Paramount - Region FREE - Blu-ray BOTTOM
---
1)

"The Best Collection" - Region 0 - NTSC - TOP

2)

Paramount - Region FREE - Blu-ray BOTTOM
---
1)

"The Best Collection" - Region 0 - NTSC - TOP

2)

Paramount - Region FREE - Blu-ray BOTTOM
---
1)

"The Best Collection" - Region 0 - NTSC - TOP

2)

Paramount - Region FREE - Blu-ray BOTTOM
---
1)

"The Best Collection" - Region 0 - NTSC - TOP

2)

Paramount - Region FREE - Blu-ray BOTTOM
---
1)

"The Best Collection" - Region 0 - NTSC - TOP

2)

Paramount - Region FREE - Blu-ray BOTTOM
---
1)

"The Best Collection" - Region 0 - NTSC - TOP

2)

Paramount - Region FREE - Blu-ray BOTTOM
---
1)

"The Best Collection" - Region 0 - NTSC - TOP

2)

Paramount - Region FREE - Blu-ray BOTTOM
---
1)

"The Best Collection" - Region 0 - NTSC - TOP

2)

Paramount - Region FREE - Blu-ray BOTTOM