Review by Gary Tooze
Production:
Theatrical: William Mishkin Motion Pictures
Video: Blue Underground
Disc:
Region: 'A' (B, C untested)
Runtime: 1:43:21.403
Disc Size: 36,241,681,802 bytes
Feature Size: 31,027,998,720 bytes
Video Bitrate: 32.99 Mbps
Chapters: 18
Case: Standard Blu-ray case
Release date: June 28th, 2011
Video:
Aspect ratio: 1.85:1
Resolution: 1080p / 23.976 fps
Video codec: MPEG-4 AVC Video
Audio:
DTS-HD Master Audio English 3978 kbps 7.1 / 48 kHz / 3978 kbps / 24-bit (DTS Core: 5.1 / 48 kHz / 1509 kbps / 24-bit)
Dolby Digital EX Audio English 640 kbps 5.1-EX / 48 kHz / 640 kbps / DN -4dB
Dolby Digital Audio English 256 kbps 2.0 / 48 kHz / 256 kbps / DN -4dB
Subtitles:
English (SDH), French, Spanish, none
Extras:
• 12 Deleted or Extended Scenes (12:02 in 1080P!)
•
English Trailer
(1:55 - 1080P!)
• Spanish Trailer (1:55 - 1080P!)
• Three TV Spots (1:36- 1080P!)
•
Poster and Stills
Gallery
Bitrate:
Description: Agoraphobic mystery novelist Lauren Cochran decides to leave the city in an attempt to cure her recent writer's block. She rents an old Victorian house in the quiet countryside, unaware of its shocking history. As those around her suffer increasingly violent deaths, Lauren begins to unravel the truth: the house was once an infamous brothel now haunted by the victims of a bloody massacre. Will her terrifying phobia allow her to escape from THE NESTING?

Also known as MASSACRE MANSION and PHOBIA, this eerie house of horrors was co-written, produced, and directed by notorious adult filmmaker Armand Weston, and stars Robin Groves (STEPHEN KING'S SILVER BULLET), John Carradine (SHOCK WAVES, THE HOWLING), and Academy Award(r) winner Gloria Grahame (THE BAD AND THE BEAUTIFUL, OKLAHOMA!) in her final film role.
The Film:
Despite the fact that the movie crosses two very familiar horror storylines (the haunted house and the revenge from the grave plots), it still manages to be offbeat enough to hold my interest, and manages to have some interesting details. This is good, because the movie definitely suffers in several regards; some of the acting is quite weak, the dialogue is often clunky and some of it is quite awful, there are plot elements that are never explained (why do the ghosts go after the doctor?), and it has a big ending where none is needed. There are some nice touches, though; I love the scene where the writer is talking on the phone in the foreground while we see a central character appear in the background, listen to the conversation, and depart before she knows he's been there.
Excerpt from Dave Sindelar at ScfiFilm.orgl located HERE
At the core of The Nesting is a semi-interesting mystery with a lot of potential for creeps. It's a ghost story for adults, peppered with violence (scythe fever!) and unhinged situations. The problem lies in the delivery. Pedestrian direction and vague script jumps do little to help the shoddy production values (ridiculous sound effects, terrible ADR recording, music from that Brady Bunch story arc in Hawaii), which are at a disadvantage from the get go. Then the padding gets piled on. Lauren gets even more annoying. The handful of capable scares are surrounded by endless monologues, delivered by characters who are slightly less interesting than a bar of soap. Those country bumpkins were right. This sure ain't the big city.
Excerpt from BleeedingSkull located HERE

Image : NOTE: The below Blu-ray captures were taken directly from the Blu-ray disc.
The Nesting appears fairly modest on Blu-ray from Blue Underground. I don't fault the appearance described as '... newly transferred in blood-curdling High Definition from the original camera negative!'. Technically it is dual-layered with a very high bitrate and probably looks as good as it can. The Nesting is a film of most production values but the digital image is clean and consistent, colors are muted but true. There is a smidgeon of depth and only one scene with prominent noise. Overall, this isn't going to look much better showing an even but unobtrusive amount of grain. It is superior to what SD could relate and the image does not excel beyond the level of the film with unnatural manipulations. I imagine this may not have even looked this good theatrically. It's hard to fine any strong complaints.
CLICK EACH BLU-RAY CAPTURE TO SEE ALL IMAGES IN FULL 1920X1080 RESOLUTION
Audio :
The film doesn't really deserve this technically powerful DTS-HD Master 7.1 at 3978 kbps and there is only so much you can do mix-wise to create some intensity but while this is not bad I'd prefer the original mono track. Film from meager stock, minimal production lighting that have aged normally can seem out-of-place with an over exuberant audio track. I mostly prefer original if the glory of a remix distracts me from the film experience. The mono is flat, naturally weak and dialogue a bit scattered but its imperfections held some charm for me.

Extras :
I was interested to see if any of the 12 Deleted or Extended Scenes (running a dozen minutes in 1080P!) ties pieces of the story together a bit more cohesively. I don't think so - but they were interesting to view regardless. There are also trailers, 3 TV Spots and a Poster and Stills Gallery. There isn't much to say about the film although a new interview with some of the cast might have been appropriate.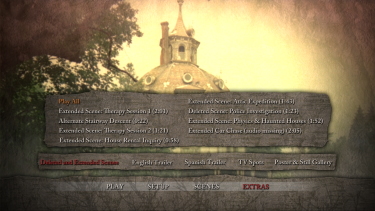 BOTTOM LINE:
The Nesting is one of those films that has an odd appeal - certainly there are factors in its favor - but it also come across like a made-for-TV-movie at times. Great premise - mediocre acting and a shade of flair in the direction. My gal Gloria is in for only a few moments. I think people who might be keen are probably aware of what they can expect from this Blue Underground choice of film. It's imperfect but has appeal as never being available before - excepting via VHS. Another is the price - this Blu-ray has some value for what they are asking and many will find enjoyment.
Gary Tooze
June 20th, 2011