Review by Gary Tooze
Production:
Theatrical: Fade to Black
Video: Sony Pictures
Disc:
Region: 'A' (B + C untested)
Runtime: 1:40:31.025
Disc Size: 31,439,901,223 bytes
Feature Size: 25,574,043,648 bytes
Video Bitrate: 27.92 Mbps
Chapters: 16
Case: Standard Blu-ray case
Release date: July 6th, 2010
Video:
Aspect ratio: 2.35:1
Resolution: 1080p / 23.976 fps
Video codec: MPEG-4 AVC Video
Audio:
DTS-HD Master Audio English 3956 kbps 5.1 / 48 kHz / 3956 kbps / 24-bit (DTS Core: 5.1 / 48 kHz / 1509 kbps / 24-bit)
Dolby Digital Audio English 192 kbps 2.0 / 48 kHz / 192 kbps / Dolby Surround
Subtitles:
English (SDH), English, none
Extras:
• Commentary by producer/director Tom Ford
• movieIQ™+sync and BD-Live connect you to real-time information on the cast, music, trivia and more while watching the movie!
• The Making of A Single Man (16:08)
•
Previews
Bitrate:
Description: In Los Angeles 1962, at the height of the Cuban missile crisis George Falconer, a 52 year old British college professor is struggling to find meaning to his life after the death of his long time partner, Jim. George dwells on the past and cannot see his future as we follow him through a single day, where a series of events and encounters, ultimately lead him to decide if there is a meaning to life after Jim. George is consoled by his closest friend Charley, a 48 year old beauty who is wrestling with her own questions about the future. A young student of George's, Kenny, who is coming to terms with his true nature, stalks George as he feels in him a kindred spirit. A romantic tale of love interrupted the isolation that is an inherent part of the human condition and ultimately the importance of the seemingly smaller moments in life.
The Film:
A sorrowful beauty infuses every frame of this remarkable debut feature from fashion designer Tom Ford. Loosely based on the novel by Christopher Isherwood, A Single Man visits a single day in the life of gay Brit expat George Falconer (Colin Firth), a teacher at a Los Angeles college who plans on suicide to end his pain over the death of his lover, Jim (Matthew Goode). The film is stunningly visualized, with Ford achieving a feeling for light and texture to rival Wong Kar-wai's. Life with Jim is seen in black-and-white flashbacks that contrast vividly with the rich color palette of his present encounters, notably with Kenny, beautifully played by Nicholas Hoult (About a Boy), a student whose interests exceed the academic, and his British friend Charley (Julianne Moore), a divorcee who fantasizes that George will marry her. Moore is explosively good, especially in her drunk scene. But the film belongs to Firth. Uncanny at showing the heart crumbling under George's elegant exterior, he gives the performance of his career. Ford is a true visionary, but it's his humanity that gives the love story a ravishing, bruised grandeur.
Excerpt from Peter Travers at Rolling Stone located HERE
Image :
NOTE: The below Blu-ray captures were taken directly from the
Blu-ray disc.
It's a solid transfer by Sony for A Single Man on Blu-ray. There are some varying cinematic styles in the film with grainier past reflections and smooth black and white sequences. They all hold up well in the 1080P dual-layered rendering with a reasonably high video bitrate. Colors don't stand out as exceptionally notable but contrast is strong and there is some depth. Detail is highlighted in the many extreme close-ups. Skin tones seem true and there is a nice sheen of textured grain throughout. This Blu-ray has a nice film-like feel to it and I expect this is a very good representation of the theatrical presentation.
Audio :
The DTS-HD Master 5.1 at 3956 kbps seems most apparent in the awesome piano score from Abel Korzeniowski. This is essentially an arthouse film and the music is so evocative bringing out substance in the contemplative quiet moments. It was a big part of my viewing. There isn't notable separation and the film is generally passive without demonstrative effects. I suspect that the track is supporting the film precisely. There are optional subtitles in English and English (SDH) only - the commentary as well.
Extras :
Director/producer Tom Ford gives a solid commentary touching upon many important aspects of the film's production. Beyond that is a 20-minute Making of with Firth, Ford, and Julianne Moore giving soundbytes of their take on A Single Man. This is actually pretty good and worth the time invested. There are also the proverbial 'Previews' and an untested movieIQ+sync and BD-Live, through the Internet, that connects you to real-time information on the cast, music, trivia and more while watching the movie.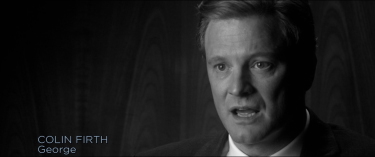 BOTTOM LINE:
If you aren't aware - this is a magnificent film. I had a highly impressive viewing on Blu-ray. Once again I see some middling critical response but I, personally, consider this close to a masterpiece with Firth's performance worthy of an Oscar (he was nominated but did not win). I also love Julianne Moore. Sony have given the film some justice with a great a/v Blu-ray transfer and the commentary adds further value. I wish all films I reviewed were this good - I give a very strong recommendation.
Gary Tooze
June 26th, 2010