Review by Gary Tooze
Studio:
Theatrical: TriStar Pictures
Video: LionsGate
Blu-ray Package:

Skynet Edition

Japanese Premium Edition

(2-disc)

LionsGate Original

Runtime:

2:17:19.459

(Theatrical)

2:33:26.334 (Extended SE)

2:16:35.395

(Theatrical)

2:33:24.278 (Extended SE)

2:16:35.687

(Theatrical only)

Disc Size:

47,925,356,689 bytes

(3 versions are seamlessly branched)

Theatrical: 48,294,646,920 bytes

Extended: 48,967,215,968 bytes

24,458,274,734 bytes

Feature Size:

Theatrical:

31,354,152,960 bytes

Extended: 35,873,894,400 bytes

Special Edition:

Theatrical:

36,072,609,792 bytes

Extended:

39,454,887,936 bytes

23,357,331,456 bytes
Encode:

VC-1 Video

MPEG-4 AVC

MPEG-2

Total Av.Bitrate:

30.63 Mbps

35.21 Mbps

22.80 Mbps
y

Skynet is NOT region FREE - but the other two are (as verified by the Momitsu region FREE Blu-ray player), and all three are 1080P and 2:35:1
Audio:
DTS-HD Master Audio English 4046 kbps 5.1 / 48 kHz / 4046 kbps / 24-bit (DTS Core: 5.1-ES / 48 kHz / 1509 kbps / 24-bit)
Dolby Digital EX Audio English 640 kbps 5.1-EX / 48 kHz / 640 kbps
Dolby Digital EX Audio English 640 kbps 5.1-EX / 48 kHz / 640 kbps
Dolby Digital Audio English 224 kbps 2.0 / 48 kHz / 224 kbps
Dolby Digital Audio English 224 kbps 2.0 / 48 kHz / 224 kbps / Dolby Surround
Dolby Digital Audio English 224 kbps 2.0 / 48 kHz / 224 kbps
Dolby Digital Audio French 224 kbps 2.0 / 48 kHz / 224 kbps / Dolby Surround
DTS Express English 192 kbps 2.0 / 48 kHz / 192 kbps / 24-bit
DTS Express English 192 kbps 2.0 / 48 kHz / 192 kbps / 24-bit
Subtitles:
English, English (SDH), French, Spanish, none
Extras:
• Audio Commentary by James Cameron & William Wisher.
• Audio Commentary by 26 members of cast & crew.
• Two Deleted Scenes (in HD!) with optional commentary
Ancillary Data
• 5 Trailers (3 theatrical, 1 Extended, 1 THX)
Interactive Modes (PiP features Bonusview)
• BD-Live (Blu-ray profile 2.0) Data Center, D-Box enabled
Bitrate:
Theatrical
Description: Arnold Schwarzenegger returns as The Terminator in this explosive action-adventure spectacle. Now he's one of the good guys, sent back in time to protect John Connor, the boy destined to lead the freedom fighters of the future. Linda Hamilton reprises her role as Sarah Connor, John's mother, a quintessential survivor who has been institutionalized for her warning of the nuclear holocaust she knows is inevitable. Together, the threesome must find a way to stop the ultimate enemy - the T-1000, the most lethal Terminator ever created. Co- written, produced and directed by James Cameron (The Terminator, Aliens, Titanic), this visual tour de force is also a touching human story of survival.
The Film:
The Terminator is back, and he's almost human. His mission is protect the now adolescent John Connor from an even more indestructible Terminator - played by Robert Patrick with relentless intensity, though little of Arnold's menace. If it weren't for the bodies he indiscriminately leaves in his wake, Patrick's T-1000 would have more in common with Malkovich's Mitch Leary from In the Line of Fire than with Schwarzenegger's Terminator. But that's just one of the many ways Cameron made sure the audience would not come to feel that the sequel was merely a warmed over version of the original. Sarah Connor (again played by Linda Hamilton, now buff and brooding) is in a prison hospital for the criminally insane. She suffers from apocalyptic delusions and wants desperately to see her son. Dr. Silberman thinks she's too dangerous even for that, and would only try to make another escape. He's not wrong. Edward Furlong, at 14, certainly looked the part of Sarah's son, but I found him at times a little self-conscious (and who wouldn't be in such company in their first screen role), though in key moments he was just what Cameron and we needed.
Excerpt from Lensview's review on DVDBeaver located HERE
Image :
NOTE: The below Blu-ray captures were ripped directly from the
Blu-ray disc.
"Anyone not wearing 2 million sunblock is gonna have a real bad day."
After our extensive comparison HERE including previous DVD versions and the initial MPEG-2 LionsGate Blu-ray + Premium Japanese - region FREE Blu-ray releases - I knew another US version was forthcoming due to the popularity of the title. I don't have any interest in venturing to the 6-disc Limited Edition T2 Complete Collector's Set Endoskull Blu-ray edition - especially after wading into this Skynet package. I think if I was projecting onto a large screen I might be more keen to investigate the improvements (if any) regarding the image. Speaking on a strict technical basis the Japanese Premium Edition seems in advance of this Skynet version and while my equipment and screen captures can't prove it visually, or rather the effort is not there to do so. Personally, I prefer the larger file sizes, higher bitrates, MPEG-4 AVC over VC-1, not having it seamlessly branched (perhaps irrational of me) and, being honest, the Skynet has a few scenes that looked to show some more prominent signs of DNR manipulation or uncommon softness (see 2 samples below) which really plasticize character's appearance. But what I should really trying to say is that for the vast majority of HD TV owners, or those who project less than 80 inches - the visual differences don't appear dramatic enough between the Japanese Premium and this Skynet edition to be decisive based solely on the image quality. It depends on what you are looking for with this title. They are, however, both smoother in motion and tighter than LionsGate's initial, single-layered, high-definition offering of Terminator 2. This is not a first choice disc to dominantly 'Wow' viewers for a Home Theater demonstration despite the fact that the film theatrically was so intensely dynamic. The transfer still remains somewhat problematic and flat but is probably as detailed as it will ever look. Effects (were considered groundbreaking but are now commonplace) have come a long way in the past 15 years and they appear more lackluster than some memories may fondly recall. Lastly, the noise reduction is a definite issue for those both cognoscente and sensitive to it's presence. My personal preference is for the Japanese package despite it's heftier price tag. I don't feel LionsGate has done their job here.
CLICK EACH BLU-RAY CAPTURE TO SEE ALL IMAGES IN FULL 1920X1080 RESOLUTION
1) Lionsgate Skynet Edition (seamlessly branched) - REGION-FREE Blu-ray - TOP
2) Geneon Entertainment (Japan SE) REGION-FREE Blu-ray - SECOND
3) Geneon Entertainment (Japan Theatrical) REGION-FREE Blu-ray - THIRD
4) LionsGate REGION-FREE Blu-ray - FOURTH
5) Artisan (Extreme) - Region 1 - NTSC - BOTTOM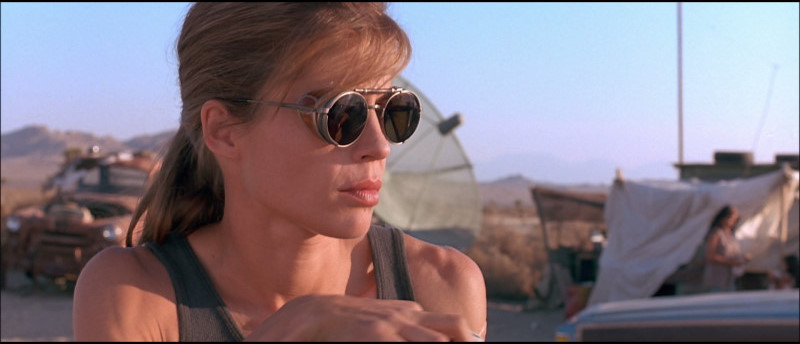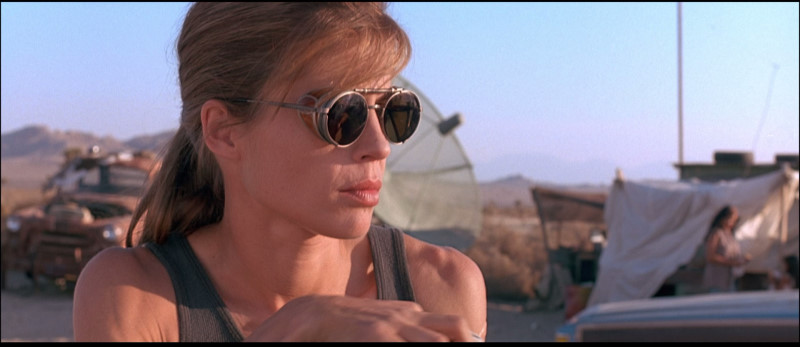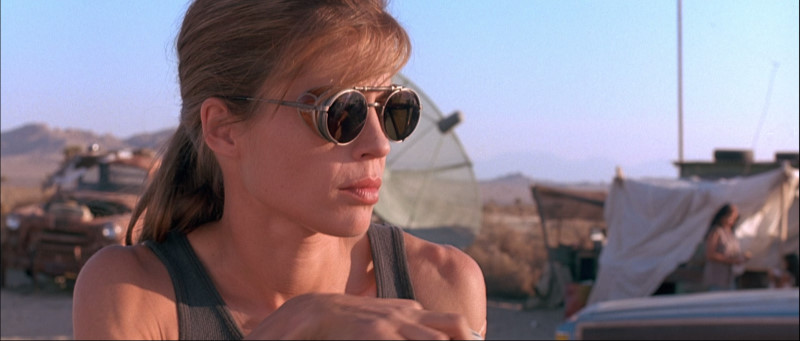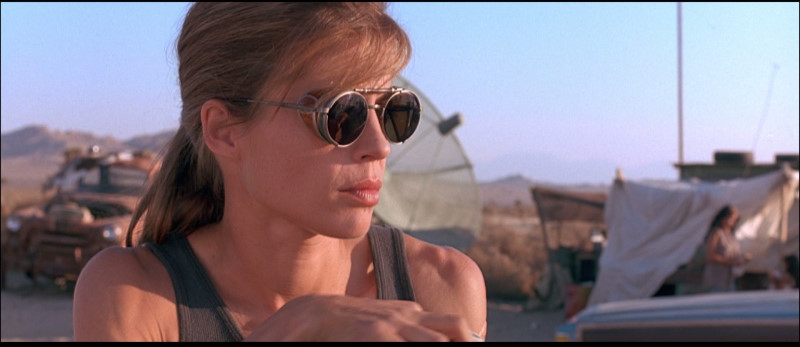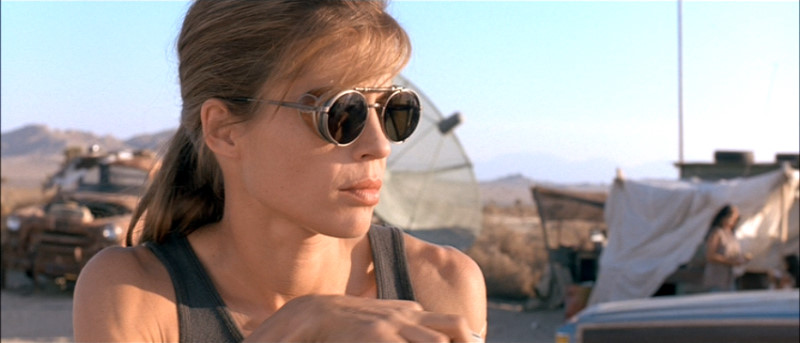 DNR (click to more clearly identify)
More Skynet Blu-ray grabs
Audio :
Once again relying on the technicals - this is the best audio release for Terminator 2
with a strong DTS lossless Master at over 4000 kpbs. It's substantial. There are a few lesser audio options to sample without multiple DUB options on this disc. T2 is loaded up with effect sounds and they seem to evolve from every corner of the surround although admittedly the mix may not reach the boundaries of depth and range that more modern films in the same action/sci-fi genre. Bass is powerful and the high end seems more advanced as well. The soundtrack sounds excellent. Like with the audio the differences can be so very small - almost unidentifiable - but the stronger the aural presentation the greater effect it can have on viewing experience. Terminator 2 - Judgment Day is a strong case in point. I always found the audio for this film as important as other characteristics. There are yellow subtitle options and my
Momitsu
tells me that, unlike the other Terminator 2
Blu-ray
releases, this is a region-locked to 'A'.
Extras :
Kind of a grab-bag
with bits stolen from various past DVD incarnations and some rather cumbersome and overblown HD effect bells and whistles. The two commentaries (James Cameron & William Wisher and the second with 26 members of cast & crew to non-screen specific activity) that have been kicking around for a few years are available yet again. I briefly re-visited and was reminded there is some decent value to the discussions but a newer one(s) would have been appreciated. Under the 'Ancillary Data' tab - beyond 2 short, commentary optional, deleted scenes beneath 'Visual Campaigns' - 'Terminated Data' (the T-1000 searching young John Conner's room + Sarah narrating when she is old with grandchild at park) and a stack of HD trailers - we get some confounding 'Interactive Modes' with Bonusview Picture-in-Picture a 'Data Center' BD-Live (Blu-ray profile 2.0), 'Browse Timeline', 'Skynet Access' and D-Box enabled supplements. While the audio uplifted me - the confusing access to the extras soured me. One decent, and possibly lengthy, documentary/featurette would be far more appreciated and considering the film's mammoth following and gigantor budget should have been considered at some stage while the less congenial excessive button surfing though menu options put on hold. Even on my Profile 2.0 player the menu doesn't run smoothly.
NOTE: The first thing that happens when you put the disc in - is that it tries to connect via the Internet to 'Skynet Access'. If it fails (I didn't have my machine connected to the Net) it asks you to 'try again' or 'cancel'. It then proceeds to the 6-tabbed main menu ('Select Version', 'Browse Timeline', 'Sensory Control', 'Interactive Modes', 'Ancillary Data' and 'Skynet Access'.)
BOTTOM LINE:
I'm sure I sound negative towards this Skynet issue when in fact I have always been a big fan of the film - one of the most exhilarating for its time in the sun. This Skynet Blu-ray, in my opinion, admittedly encourages some negative reaction. Despite the reasonable price tag LionsGate have made it kind of hollow - lacking deserved depth for both the transfer and quirky interactive supplements. But being 1/3 the price of the Japanese Premium and 1/6 the Limited Edition T2 Complete Collector's Set Endoskull Blu-ray edition it certainly gives a far better presentation than the existing DVDs. Although, I don't see the essential value of having all three versions seamlessly branched on one disc and the ugly DNR bothered me. So, if you really love the film, I'd lean to the Japanese release. But for most, I expect the Skynet for less than $20 should suffice! Personally, I'm giving it a thumbs down. LionsGate have not had the kind of success with this title on digital that fans were expecting.
Gary Tooze
May 16th, 2009