Review by Gary Tooze
Studio:
Theatrical: Warner
Video:
Warner Home Video
Disc:
Region: FREE!
Runtime: 2:02:49.153
Disc Size: 21,021,705,004 bytes
Feature Size: 16,676,413,440 bytes
Average Bitrate: 18.10 Mbps
Chapters: 33
Case: Standard Blu-ray case
Release date: February 27th, 2007
Video:
Aspect ratio: 2.35:1
Resolution: 1080p
Video codec: VC-1 Video
Audio:
Dolby Digital Audio English 192 kbps 2.0 / 48 kHz / 192 kbps
Dolby Digital Audio English 192 kbps 1.0 / 48 kHz / 192 kbps
Dolby Digital Audio English 192 kbps 1.0 / 48 kHz / 192 kbps
DUBs: Dolby Digital Audio French 192 kbps 1.0 / 48 kHz / 192 kbps
Dolby Digital Audio Spanish 192 kbps 1.0 / 48 kHz / 192 kbps
Subtitles:
English, English (SDH), French, Spanish, none
Extras:
• Commentary by Peckinpah documentarians Nick Redman, Paul Seydor, Garner Simmons and David Weddle
•
'Virtual' Reel One Commentary by Steve McQueen, Ali McGraw and Sam Peckinpah (10:36 - HD!)
• New Featurette: Main Title 1M1 Jerry Fielding, Sam Peckinpah (29:56 - SD) and The Getaway Reel 4 Bank Robbery Sequence with alternate Jerry Fielding Score in HD (9:19 - SD)
•
Audio-only Bonus - Alternate Jerry Fielding Score
•
Sam Peckinpah Movie trailer Gallery
Bitrate: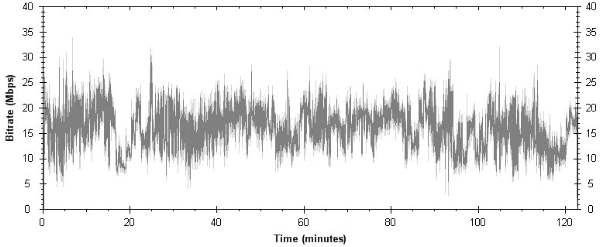 Description: Master thief Doc McCoy knows his wife has been in bed with the local political boss in order to spring him from jail. What he can't know is the sinister succession of double-crosses that will sour the deal once he's on the outside - and executing the ultimate robbery. Fasten your seat belts and join Steve McQueen and Ali MacGraw in a supreme action thriller based on Jim Thompson's novel. Sam Peckinpah directed, filming on locations across Texas and in sequence - from the opening inside Hunstville State Prison to the explosive El Paso border climax. Once The Getaway starts, there's no escaping its breathless intensity.
The Film:
We usually think of excess when we think of Peckinpah, most readily from the trademark slow-motion violence of 1969's The Wild Bunch. We don't often think of his nuts-and-bolts filmmaking. Yet despite the gunplay and occasional slow-mo in The Getaway, the movie is ample evidence that he could really tell a story in more traditional ways, too. The crisp opening detailing the grinding monotony of Doc McCoy's prison stint, the cross-cutting among all the elements of the heist and a tense sequence in which McQueen scours a train for a con man who bamboozled Carol out of their bag of ill-gotten money are all textbook examples of visual storytelling. Peckinpah and McQueen had just come off of the flop Junior Bonner together (another fine collaboration), while McQueen laid a more high-profile egg before that with Le Mans, so the emphasis here was to make a crowd-pleaser, and they definitely succeeded.

Balancing the crime story is the romance between Doc and Carol. Their relationship has to survive the fact that she slept with a member of the parole board (Johnson) in order to get Doc out of jail, as well as overcome the stress of being outlaws on the run. This part of the story doesn't date as well as the brisk action. McGraw's performance has always been flat, but her star power gave it a big boost when the movie was new (this was her first film after the pop culture phenomenon that was Love Story). She's beautiful, and we don't doubt Doc's affection for Carol for a moment (indeed, McQueen and McGraw each divorced their spouses to be married after falling in love during the shoot). But, 30+ years later, McGraw comes off as awfully dainty for the rough-and-tumble role. Typically for a Peckinpah movie, the stars bump into all sorts of colorful supporting players during the story, many, like Johnson, familiar faces in the director's movies. These include Dub Taylor, Slim Pickens, Bo Hopkins and Richard Bright.
xcerpt from TCM located HERE
Image :
NOTE: The below Blu-ray captures were ripped directly from the
Blu-ray disc.
The Getaway appears slightly more detailed than the simultaneously released Bullitt on Blu-ray from Warner and both are probably exact duplicates of their HD-DVD editions. The image quality shows some grit and minor grain. It probably looked quite similar to this theatrically over 35 years ago. This is only single-layered and one of the earlier classic brought to hi-def disc. Colors seem brighter and truer than SD could relate although it can tend to look blocky at times. Skin tones seem quite warm - contrast exhibits healthy, rich black levels. Daylight scenes are more impressive but nothing is overly dark. This Blu-ray has a nice realistic feel with the only black-mark being the stock footage used in the film which comes across quite poorly. By modern standards this is fairly tame visually but as a representation of the original - I doubt much more could be done. This Blu-ray probably looks like the film The Getaway and it advances beyond the last DVD editions in several key areas - notably detail and colors.
CLICK EACH BLU-RAY CAPTURE TO SEE ALL IMAGES IN FULL 1920X1080 RESOLUTION
Audio :
No boost going on here - its a mono track pushing mostly through the center channel. I like the authenticity but fans who indulge for their Surround systems will be left empty handed with The Getaway. Quincy Jones does a great score switching moods and encapsulating strong emotions with his deft arrangements. The closing harmonica theme music seems absolutely perfect and sounds crisp enough without range or depth.
Extras : 8
The supplements appear to duplicate the SE DVD with the fine Redman led commentary. The 'Virtual' Reel One Commentary by Steve McQueen, Ali McGraw and Sam Peckinpah is s nice nostalgic SD touch for about 10 minutes. There is an SD featurette on Jerry Fielding and The Getaway Reel 4 Bank Robbery Sequence with alternate Jerry Fielding Score in HD. As an audio-only bonus - we get the Alternate Jerry Fielding Score and a trailer gallery of Sam Peckinpah Films. Overall the commentary is the king and very much worth indulging in.
BOTTOM LINE:
I loved revisiting this film in 1080P and got a lot more out of it noticing plenty of Peckinpah 'socially soured' touches. As an action/thriller this holds up just as well today and the chemistry of McQueen/McGraw is perfectly implemented into the story. This is infinitely superior to its Basinger/Baldwin remake and a great film to have on Blu-ray in my opinion. I doubt we're going to see it looking any better and I recommend!
Gary Tooze
February 14th, 2009