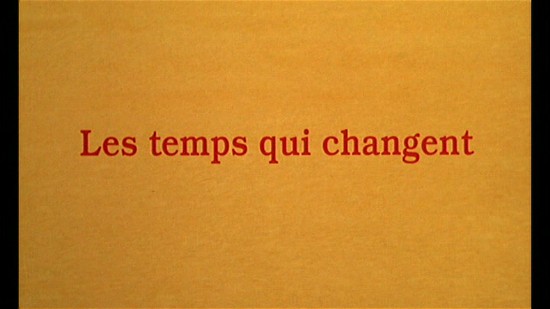 (aka "Changing Times" )
directed by André Téchiné
France 2004
There is a dreadful trailer for "Changing Times" ("Les temps qui changent") currently running at my local art-house theater. An upbeat melody and a dippy narrator market the film as a romantic comedy featuring Gérard Depardieu and Catherine Deneuve together for the first time since "The Last Metro" (1980). He's always loved her, and she him: "True love will last a lifetime." Oy vey. It sounds like the sort of film Sandra Bullock will be making in about 20 years (or is she already making them?) I was not looking forward to it. I should have known better, though, considering that the film is directed by the always reliable André Téchiné.

The actual film is anything but a romantic comedy; in fact, it's rather grim. Antoine (Depardieu) is a businessman who decides to call on his old love Cécile (Deneuve) while on a project in Tangiers. But when Antoine comes a courtin', it seems a whole more like stalking, and Cécile, now married to a much younger man, is understandably uncomfortable with his advances. Antoine is truly creepy; he is so resolute and so affectless in his demeanor that the word "sociopath" springs to mind. Téchiné has plenty of fun turning such an unlikely character into a romantic suitor, but even he can't think of any plausible way to make Cécile interested in the crazy bastard. So he settles for the implausible instead. The film takes a melodramatic turn at the end that seems even more absurd because Antoine is so completely out of place either in a romance or in a melodrama. Most critics didn't care for the ending, and I'm still mulling it over. Considering Téchiné's previous work, I'm inclined to view it as a subversion of genre(s) rather than a sell-out, but maybe I'm playing the auteur game and giving him too much credit.

Almost entirely separate from the main romance are two primary subplots which highlight tensions between Europe and the Muslim world, both historical and present. Cécile's bisexual son carries on a (not so) secret affair with a Moroccan youth, and his Muslim girlfriend tries to reconnect with her much more pious (and bitter) sister. Neither story is fully fleshed-out, but they serve as an example of Téchiné's generally sloppy (and I mean that in a good way) approach to narrative structure. He cuts away from the main action whenever it suits him, and feels no need to tie-in the disparate plot strands. Somewhere Robert McKee is shaking his fist.

Depardieu is super, as usual. He really doesn't get enough credit as an actor (has everyone forgotten his brilliant performance in Maurice Pialat's "Loulou"?), at least not in America where he has become the default butt of Francophobic jokes. La Deneuve is still La Deneuve. "Changing Times" isn't a masterpiece, or even one of Téchiné's major works, but it's still of interest. Don't be fooled by the silly tag line on the DVD cover ("Can your first love also be your last?) – there's a lot more than meets the eye here.

Random thought: Depardieu's character's full name is Antoine Lavau – is that French for Anton LaVey?

Poster
Theatrical Release: France (2004), USA (2006)
Reviews More Reviews DVD Reviews
DVD Review: Koch Lorber - Region 1 - NTSC
Big thanks to Christopher Long for the Review!
DVD Box Cover

CLICK to order from:

Distribution

Koch Lorber

Region 1 - NTSC

Runtime
138:39
Video

1.66:1 Original Aspect Ratio

16X9 enhanced
Average Bitrate: 5.94 mb/s
NTSC 720x480 29.97 f/s

NOTE: The Vertical axis represents the bits transferred per second. The Horizontal is the time in minutes.

Bitrate

Audio
Dolby Digital - French, Arabic
Subtitles
English, none
Features
Release Information:
Studio: Koch Lorber

Aspect Ratio:
Widescreen anamorphic - 1.66:1

Edition Details:
• Interview with Gilbert Melki

DVD Release Date: Oct 3, 2006

Chapters 12
Comments:

On the plus side, I couldn't find any examples of combing, as I usually do with Koch Lorber transfers. However, this transfer has plenty of problems. The image looks dirty, and the focus is very soft - you can see this in most of the screen caps below. It actually looks a lot like a (bad) 16mm blowup, but as far as I know the film was shot on 35mm. The DVD producers knew there was a problem because the DVD actually begins with a disclaimer from them stating that the film "is stylistically and visually presented as intended by the director." I wish I had more info than that for you, but I haven't seen the film in theaters so I can't compare.

The only extra is an interview with GIlbert Melki (17 min.), the actor who plays Deneuve's husband.
---

DVD Menus
---
Screen Captures