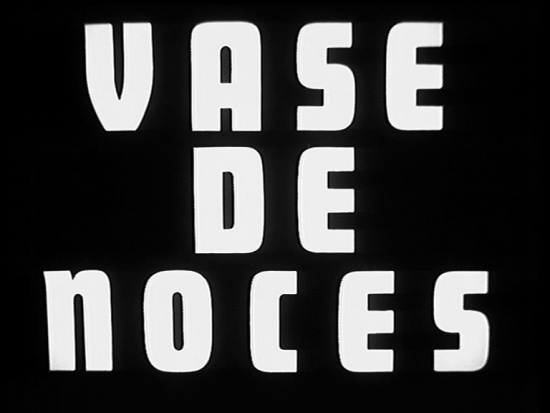 (aka "One Man and His Pig" or "Wedding Trough" or "Der Hochzeitstrog")
directed by Thierry Zéno
Belgium 1974
Although called A MAN AND HIS PIG in the US (and known in cult circles under a more reductive title which appears as a subtitle on the disc's cover), the official English title is THE WEDDING TROUGH. The French title's meaning is more open with VASE meaning vase or container as well as mud (in addition to being an antiquated euphemism for both the front and rear orifices open to sexual penetration) and NOCES or "wedding" is both a masculine and feminine noun. VASE DE NOCES is not a silent film but it features absolutely no dialogue because there is only one human character in the entire film (co-scenarist Dominique Garny) who lives amongst swine and fowl and collects soil and plant specimens (in the documentary, Zéno identifies him as an autistic). He eventually does mate with the sow and she conceives three piglets which he tries to raise as children. When he fails to connect with the the piglets (a seemingly benign scene in which he becomes frustrated trying to get the piglets to each from separate plates has the unnerving potential to erupt into an incident of domestic violence), he kills them (stillborn piglets were used) and the sow kills itself apparently out of grief. Left alone, the protagonist self-destructs amidst coprophagia and vomiting (put in context by Zéno in the documentary as both a regression as well as a sort of alchemic search for immortality). The bulk of the scenario culminates about an hour into the film and is followed by twenty minutes of extreme Pasolini-esque posturing including the aforementioned pre-SALO coprophagia, burying himself in the dirt, and wandering naked through a plowed field that resembles a barren landscape (both Zéno and Garny cite Pasolini and the direct influence of TEOREMA as opposed to PORCILE which was released the same year as this film but had not been viewed before production; Zéno also contrasts that film's use of pigs as a political symbol versus his use of the sow as a symbol of femininity). Resolutely arthouse, the film isn't quite as outrageous as its cult reputation suggests - only the easily offended might raise a stink - but it will appeal to more adventurous viewers.
Theatrical Release: 14 June 1975 (Japan)
Reviews More Reviews DVD Reviews
DVD Review: Camera Obscura - Region 0 - PAL
Big thanks to Eric Cotenas for the Review!
DVD Box Cover

CLICK to order from:

Distribution

Camera Obscura

Region 0 - PAL

Runtime
1:18:51 (4% PAL speedup)
Video

1.30:1 Original Aspect Ratio
Average Bitrate: 9.38 mb/s
PAL 720x576 25.00 f/s

NOTE: The Vertical axis represents the bits transferred per second. The Horizontal is the time in minutes.

Bitrate

Audio
No Dialogue (Dolby Digital 2.0 mono)
Subtitles
none
Features
Release Information:
Studio: Camera Obscura

Aspect Ratio:
Fullscreen - 1.30:1

Edition Details:
• DISC TWO:
• OF PIGS AND MEN documentary (16:9; 72:30; in French with optional English and German subtitles)
• Intro by director Thierry Zéno and co-writer Dominque Garny (4:3; 0:38; in French with English and German subtitles)
• Outro by director Thierry Zéno and co-writer Dominque Garny (4:3; 0:13; in French with optional
• English and German subtitles)
• DVD Transfer vs Internet Download Featurette (4:3; 3:15; multi-angle)
• 4-page booklet with essays by Dr. Marcus Stiglegger and Olaf Moller (in German only)

DVD Release Date: May 22, 2009
Amaray in slipcase

Chapters 16
Comments

Camera Obscura's dual-layer transfer of this film has been treated to an extremely high bitrate of 9.38 and the extras have been allocated to a second disc and the film probably looks as good as it can having been shot on 16mm short ends of varying age (from reels used by the American army). The film has no dialogue but German and English subtitles are provided for the disc 2 extras.

Director Zéno and actor/co-scenarist Garny provide a brief intro and outro to the film as well as a 72 minute documentary "Of Pigs and Men" about in which Zéno and Garny talk about their partnership in film school and every aspect of the film from conception to its reception in France (where an X-rating for an art film is tantamount to censorship) and Australia where it was initially banned until Zéno spoke before the censorship commission (who allowed its release on the condition that the print be preceded with introductory text about his intentions). The 72 minute running time may seem rather indulgent considering that there are only two talking heads but it is quite informative and in-depth. It could have used some sub-division by theme, though. Also present is an "Internet Download vs DVD transfer" extra utilizing the multi-angle feature to compare the two versions (including the sound quality). The only complaint about the otherwise fine packaging is the packing of the two discs on top of one another on the same spindle (taller than the ones for single discs, though) inside the case.
---

DVD Menus
---
Screen Captures
---
DVD Box Cover

CLICK to order from:

Distribution

Camera Obscura

Region 0 - PAL