Review by Gary Tooze
Production:
Theatrical: Artisan Entertainment
Video: Lions Gate
Disc:
Region: FREE! (as verified by the Momitsu region FREE Blu-ray player)
Runtime: 2:00:05.031
Disc Size: 23,362,614,581 bytes
Feature Size: 22,150,287,360 bytes
Video Bitrate: 17.99 Mbps
Chapters: 16
Case: Standard Blu-ray case
Release date: November 24th, 2009
Video:
Aspect ratio: 1.78:1
Resolution: 1080p / 23.976 fps
Video codec: MPEG-4 AVC Video
Audio:
DTS-HD Master Audio English 4737 kbps 7.1 / 48 kHz / 4737 kbps / 24-bit (DTS Core:
5.1 / 48 kHz / 1509 kbps / 24-bit)
Commentary: Dolby Digital Audio English 192 kbps 2.0 / 48 kHz / 192 kbps / Dolby Surround
Commentary: Dolby Digital Audio English 192 kbps 2.0 / 48 kHz / 192 kbps / Dolby Surround
Subtitles:
English (SDH), English, Spanish, none
Extras:
• Commentary with director/writer Christopher McQuarrie and Composer Joe Kraemer
•
Music score Commentary with Composer Joe Kraemer
• 6 Cast and crew interviews in SD
•
Theatrical trailer
(2:17 SD)
Bitrate:
Description: Longtime partners Parker and Longbaugh are hoping for a quick and nonviolent payoff when they abduct Robin, a young woman carrying the child of a wealthy Southwestern couple. But kidnapping proves to be much more complicated, logistically and psychologically, than other felonies they've committed. Parker is increasingly drawn to the mysterious Robin, whose imminent delivery date awakens strong feelings in him. Tensions rise between Parker and Longbaugh, a ruthlessly decisive man who knows Parker's sentimental impulses could land them in big trouble. As the moment for the ransom exchange approaches, Parker and Longbaugh must battle not only well-armed opponents, but also their own conflicted emotions.
The Film:
Many will undoubtedly remark upon the similarities between The Way of the Gun and the films of Quentin Tarantino. However, while it would be disingenuous to assume that writer/director Christopher McQuarrie was not influenced by the likes of Reservoir Dogs and Pulp Fiction, the real source of his inspiration seems to be coming from another direction. Watching The Way of the Gun, there are times when the presence of Sam Peckinpah's ghost is almost palpable. Although McQuarrie (the screenwriter for The Usual Suspects making his directorial debut here) lacks Peckinpah's polished style, the setting, characters, and unvarnished, visceral violence all pay homage to the late, great filmmaker.
The script for The Way of the Gun doesn't match that of The Usual Suspects for ingenuity, but it's a perfectly serviceable screenplay, filled with satisfying little ironic twists and turns. The dialogue doesn't sparkle á là Tarantino, but the characters aren't reduced to muttering mindless cliches. From time-to-time, McQuarrie gets a little too cute with his one-liners (for example: "Karma's only justice without the satisfaction"), but this tendency never represents more than a momentary distraction. Most importantly, he keeps the level of tension high and involves the audience in the story for the entire two hours. The ending is not telegraphed or pre-ordained; you have to experience the movie to get to it.
Excerpt from James Berardinelli at Reelviews.net located HERE
Image :
NOTE: The below Blu-ray captures were ripped directly from the
Blu-ray disc.
At times there was something suspicious about this transfer - but as I couldn't nail it down - we'll give the benefit of the doubt. The Way of the Gun looks decent enough on Blu-ray. There is some strong detail and visible grain giving it a nice texture. This is only single-layered and aside from a few crushed blacks, minimal noise and reddish skin tones I was surprised how good the appearance was. Colors are a little flat - but this may be the way it looked theatrically. I've never seen the film before but can easily see how this surpasses a DVD rendition - there is even some dimensionality. Daylight scenes are the most impressive but there isn't a preponderance of darkness. There may have been some manipulations and background grain/noise can look a bit clunky but this Blu-ray does a fine job of presenting the film in this new format.
CLICK EACH BLU-RAY CAPTURE TO SEE ALL IMAGES IN FULL 1920X1080 RESOLUTION
Audio :
The DTS-HD Master 7.1 is a real powerhouse at 4737 kbps. With all the gunfire in the film - I feel a little shell-shocked with bullets zinging around my ears. Effect noises are aggressive with deep punching bass and sounds explode from all speakers whipping around your home theater with purpose. It's almost too loud at times. Joe Kraemer's score runs beside the film like a mirror - mimicking the thrillers aspects and escalating paces. There are both English and Spanish subtitles and m
y
Momitsu
has identified it as being a region FREE disc playable on
Blu-ray
machines worldwide.
Extras :
The supplements appear duplicated from the 2001 DVD release. There is an excellent feature-length commentary with Christopher McQuarrie and composer Joe Kraemer. Kraemer gives McQuarrie the space to indulge in multiple explanations of plot points and narrative intent. He gives 'good commentary' and has a lot of valuable remarks. We get a second commentary with the isolated music track, by composer Kraemer. It also has real value although those keen on how to score a film may find it more appealing. There are six short 4:3 SD interviews with Ryan Phillippe, Benicio del Toro, Juliette Lewis, Taye Diggs, James Caan, and Nicky Katt - and an SD trailer.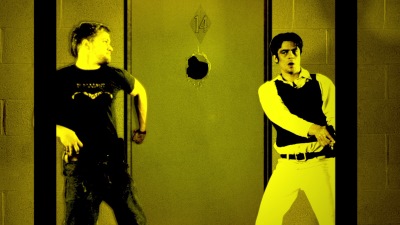 BOTTOM LINE:
There is some ham-fisted homage going down here - even beyond the protagonists names. This is very heavy on the violence - a bit too much for this reviewer. I can still appreciate the interestingly-written plot and decent performances. I think a lot of people will like this film - especially those less sensitive to the gunplay. I want to see more from McQuarrie - he is definitely on a Peckinpah bent - harkening back to the raw 70's action films. As for the Blu-ray it achieves visually despite my suspicious reservations of the video and the audio is as demonstrative as you could ever expect. The commentaries are available for those keen enough to indulge and you can't beat this price. Give this a spin!
Gary Tooze
November 14th, 2009