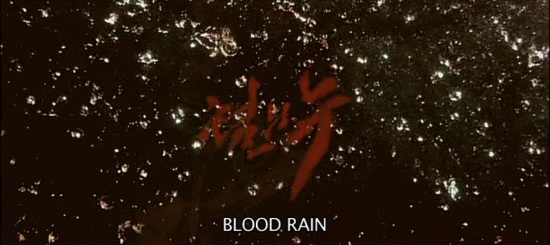 (aka "Hyeol-ui nu" )
directed by Dae-seung Kim
South Korea 2005
On a remote island that derives its wealth from its fine quality paper, the spirit of the executed Commissioner Kang speaks through a medium and swears vengeance on those responsible for his grisly death. The suspicious fire which destroys the paper intended for a royal tribute brings investigators to the island as the paper mill's owners work their laborers endlessly to replace the destroyed paper. When the body of a paper mill worker impaled on spear is discovered and another mill representative is discovered boiled alive, inspector Lee discovers that Kang was accused of being a Catholic traitor by five unknown informants and that the inquisitor executed Kang without trial along with four of his family members and that the informants are being killed in the same five ways. As the islanders become afraid of the ghost's vengeance and the family controlling the mill fear punishment for not delivering their tribute, inspector Lee tries to prove that the crimes are being committed by a human who knew that Kang and his family were innocent and not a bloodthirsty ghost. But will personal revelations about his family past cloud his deduction?

BLOOD RAIN is an unusual period thriller that combines elements of classic and modern detective stories (including Holmesian deduction, autopsies, haunted detectives out of the nineties serial killer sub-genre) with the more familiar vengeful ghost elements of the recent resurgence of Asian horror films. Beautifully photographed and atypically scored with lyrical Western styles (also a trait of other recent Korean horror entries like A TALE OF TWO SISTERS), BLOOD RAIN's emphasis on action over subtle chills is successful because the filmmakers are able to provide a plot and backstory familiar to the audience while keeping them guessing about the identity of the killer (although the story doesn't quite balance the logic versus superstition extremes as much as some literary antecedents in which an intellectual outsider encounters provincial superstition). Lead performances are good but not outstanding but the grisly deaths are proficiently achieved yet handled with relative restraint (save for the flashback of Kang's execution, the gruesome onscreen depiction of which is dramatically justified although some wince-inducing shots of chickens being killed for ritual purposes may be off-putting). As such, BLOOD RAIN is a refreshing diversion for those schooled in the recent trends of Asian horror and likely a satisfying thriller to more general audiences.
Poster
Theatrical Release: 4 May 2005 (South Korea)
Reviews More Reviews DVD Reviews
DVD Comparison:
Palisades Tartan - Region 2 - PAL vs. Pathfinder Entertainment - Region 0 - NTSC
Big thanks to Eric Cotenas for all the Screen Caps!
(Palisades Tartan - Region 2 - PAL - LEFT vs. Pathfinder Entertainment - Region 0 - NTSC - RIGHT)
DVD Box Covers

Distribution

Palisades Tartan

Region 2 - PAL

Pathfinder Entertainment
Region 0 - NTSC
Runtime
1:54:36 (4% PAL speedup)
1:59:24
Video

2.28:1 Original Aspect Ratio

16X9 enhanced
Average Bitrate: 7.72 mb/s
PAL 720x576 25.00 f/s

2.24:1 Original Aspect Ratio

16X9 enhanced
Average Bitrate: 4.3 mb/s
NTSC 720x480 29.97 f/s

NOTE: The Vertical axis represents the bits transferred per second. The Horizontal is the time in minutes.

Bitrate:

Palisades Tartan

Bitrate:

Pathfinder Entertainment

Audio
Korean DTS; Korean Dolby Digital 5.1; Korean Dolby Digital 2.0 stereo

English Dolby Digital 2.0 stereo

Subtitles
English, none
English (burnt-in)
Features
Release Information:
Studio: Palisades Tartan

Aspect Ratio:
Widescreen anamorphic - 2.28:1

Edition Details:
• Theatrical Trailer (4:3; 2:11)

DVD Release Date: 26 October 2009
Amaray

Chapters 16

Release Information:
Studio: Pathfinder Entertainment

Aspect Ratio:
Widescreen anamorphic - 2.24:1

Edition Details:
• Theatrical Trailer (4:3; 2:14)
• Trailers for FORBIDDEN QUEST (4:3; 2:50); INNOCENTS WITH DIRTY HANDS (4:3; 2:49); THE UNFAITHFUL WIFE (4:3; 3:14), MURDER, TAKE ONE (4:3; 2:54), and BAROCCO (4:3; 2:50)


DVD Release Date: September 8, 2009
Amaray

Chapters 8
Comments

Announced by Tartan Films in 2008, Palisades Tartan's disc of BLOOD RAIN features the new company's logo on the disc face and before the film itself. The transfer is anamorphic and progressive.

The sole extra is the film's theatrical trailer. The Region 1 DVD from Pathfinder Entertainment is single layer with only 2.0 stereo sound, and unremovable subtitles. Although the Pathfinder disc runs at the correct speed, it is an interlaced transfer that makes hash of the action scenes (the hard-telecined interlaced image and burnt-in subtitles with one or two spelling errors suggest that Pathfinder might have done a deck to deck recording from the Korean DVD) and contrasts are ever-so-slightly duller. The OOP Korean 2 disc set featured 2 audio commentaries and several featurettes. A Malaysian disc also features 5.1 and DTS tracks and English subtitles.

The UK arm of Palisades Tartan was, however, required to make 7 seconds of cuts by the BBFC for animal cruelty (a horse being tripped amidst a chase scene although the chicken butchering remains) which is featured in the R1 version. The BBFC site says that the cuts were substituted and the submission running time is the same as the video running time. The far better video quality and audio specifications as well as removable subtitles make the Palisades Tartan disc nevertheless the superior viewing option.
---

DVD Menus
(Palisades Tartan - Region 2 - PAL - LEFT vs. Pathfinder Entertainment - Region 0 - NTSC - RIGHT)
---
Screen Captures
(Palisades Tartan - Region 2 - PAL - TOP vs. Pathfinder Entertainment - Region 0 - NTSC - BOTTOM)
Subtitle sample
---
(Palisades Tartan - Region 2 - PAL - TOP vs. Pathfinder Entertainment - Region 0 - NTSC - BOTTOM)
---
(Palisades Tartan - Region 2 - PAL - TOP vs. Pathfinder Entertainment - Region 0 - NTSC - BOTTOM)
---
(Palisades Tartan - Region 2 - PAL - TOP vs. Pathfinder Entertainment - Region 0 - NTSC - BOTTOM)
---
(Palisades Tartan - Region 2 - PAL - TOP vs. Pathfinder Entertainment - Region 0 - NTSC - BOTTOM)
---
(Palisades Tartan - Region 2 - PAL - TOP vs. Pathfinder Entertainment - Region 0 - NTSC - BOTTOM)
---
(Palisades Tartan - Region 2 - PAL - TOP vs. Pathfinder Entertainment - Region 0 - NTSC - BOTTOM)
interlacing artifacts on US DVD (film speed but hard-telecined)