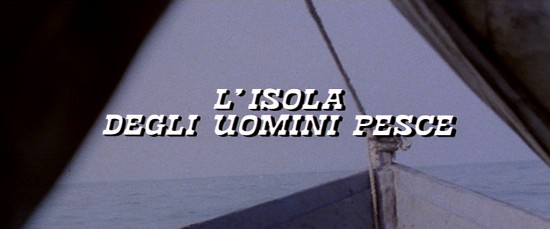 (aka "Island of the Fishmen' or 'L'isola degli uomini pesce" or "Screamers" or "Island of Mutations" or "Something Waiting in the Dark" )
directed by Sergio Martino
Italy 1979
A lifeboat carrying a group of convicts and the ship's doctor Claude (Claudio Cassinelli) crashes against some rocks in the fog. The survivors make their way to an island inhabited by wealthy Edmond Rackham (Richard Johnson), beautiful Amanda (Barbara Bach), her scientist father (Joseph Cotten), a voodoo priestess (Beryl Cunningham, THE WEEKEND MURDERS), and a horde of natives. Although warned away by Amanda, the convicts and Claude are given shelter by Rackham. When one of the convicts disappears (after trying to rape Amanda), Claude starts investigating and believes that Edmond and Amanda are hiding something (the titular fishmen, I'm guessing, given the title). Filmed at the same time as Lucio Fulci's ZOMBIE and utilizing the same locations (and lead Johnson who would co-star with Bach and Cassinelli in Martino's follow-up THE GREAT ALLIGATOR aka BIG ALLIGATOR RIVER), ISLAND OF THE FISHMEN is low on gore and nudity but entertaining nonetheless. Martino regular Giancarlo Ferrando's scope cinematography and Massimo Antonello Geleng's production design (except maybe the fishmen) add to the atmosphere.

The export edition of ISLAND OF THE FISHMEN was available pretty much everywhere else but the United States since Roger Corman's New World Pictures acquired the film, cut it down and tried to market it as a slasher called SOMETHING WAITING IN THE DARK. When it did not sell, Corman had Miller Drake shoot a prologue (in Panavision to match the Techniscope ratio) featuring Cameron Mitchell and Mel Ferrer among others coming to the island in search of gold and being gorily killed by the fishmen (featuring far superior effects by Chris Walas of Cronenberg's THE FLY) - the creatures themselves in this opening scene were also superior to the original creations seen elsewhere in the film - and was retitled SCREAMERS. The SCREAMERS version was promoted as featuring a scene in which a man was turned inside out and footage was specially shot for the trailer. When audiences complained that it did not occur in the film, footage from the trailer was spliced into theatrical prints (as such, that footage was not present in the inter-positive used for Embassy Entertainment's VHS release).
Posters
Theatrical Release: June 1981 (USA)
Reviews More Reviews DVD Reviews
DVD Comparison:
MYA Communication - Region 0 - NTSC vs. NoShame - Region 2 - PAL
Big thanks to Eric Cotenas for all the Screen Caps!
(MYA Communication - Region 0 - NTSC - LEFT vs. NoShame - Region 2 - PAL - RIGHT)
DVD Box Covers

Distribution

MYA Communication

Region 0 - NTSC

NoShame
Region 2 - PAL
Runtime
1:38:48
1:34:54 (4% PAL speedup)
Video

2.40:1 Original Aspect Ratio

16X9 enhanced
Average Bitrate: 5.35 mb/s
NTSC 720x480 29.97 f/s

2.40:1 Original Aspect Ratio

16X9 enhanced
Average Bitrate: 6.63 mb/s
PAL 720x576 25.00 f/s

NOTE: The Vertical axis represents the bits transferred per second. The Horizontal is the time in minutes.

Bitrate:

MYA Communication

Bitrate:

NoShame

Audio
English (Dolby Digital 2.0 mono); Italian (Dolby Digital 2.0 mono)

Italian (Dolby Digital 5.1); Italian (Dolby Digital 2.0 mono); English (Dolby Digital 2.0 mono)

Subtitles
none
Italian, none
Features
Release Information:
Studio: MYA Communication

Aspect Ratio:
Widescreen anamorphic - 2.40:1

Edition Details:
• Trailer (Italian with English subtitles; 16:9; 3:46)
• Photo Gallery

DVD Release Date: July 28, 2009
Amaray

Chapters 12

Release Information:
Studio: NoShame

Aspect Ratio:
Widescreen anamorphic - 2.40:1

Edition Details:
• Introduction by Sergio Martino (16:9; 0:36)
• Acque Profonde - interviews with director Sergio Martino, producer Luciano Martino, and designer Massimo Antonello Geleng (16:9; 58:36)
• Italian Trailer (16:9; 3:08)
• Photo Gallery


DVD Release Date:
Amaray

Chapters 12
Comments

No Shame's disc features a dual-layer anamorphic transfer with English and Italian mono (and remixed 5.1 in the latter). The English audio is clear but has not been pitch-corrected for PAL speedup and Johnson's voice is noticeably higher-pitched. A 60 minute interview with director Martino, Fishmen designer/art director Massimo Antonello Geleng (THE STENDHAL SYNDROME) who shows off some beautiful color production sketches, and producer Luciano Martino has no English subtitles. An Italian trailer and photo gallery round out the package. MYA's NTSC DVD also features an anamorphic progressive transfer. The image has a lower bitrate and is a bit softer but colors are similarly vibrant. The only extras are a trailer with English subtitles and photo gallery. The optional Italian audio on the MYA disc has no accompanying subtitles (an annoying MYA trait). The DVD menus on the MYA also have the same template program look with a crowded main menu in place of setup and special features submenus. Visually, I would lean towards the Italian release with more natural grain but the MYA disc's correct projection speed allows for the correct audio pitch. The NoShame disc has recently gone out of print (the German release is long out of print) so the MYA disc may be the most accessible.

The English-dubbed export version was first released on DVD by the German label Marketing Films in an anamorphic transfer (also featuring Italian and German audio) paired with Martino's TV sequel THE FISHMEN AND THEIR QUEEN. A French DVD from Neo Publishing features a shorter interview with Martino along with a 20 minute featurette with input from Geleng and cinematographer Giancarlo Ferrando but there are no subtitles and no English audio for the feature. It is unfortunate the SCREAMERS version (mentioned above in the movie review) was not also made available (or at least the trailer) but that version is still part of the New World Pictures catalog and may have been sub-licensed to Buena Vista.
---
DVD Menus
(MYA Communication - Region 0 - NTSC - LEFT vs. NoShame - Region 2 - PAL - RIGHT)
---
Screen Captures
(MYA Communication - Region 0 - NTSC - TOP vs. NoShame - Region 2 - PAL - BOTTOM)
---
(MYA Communication - Region 0 - NTSC - TOP vs. NoShame - Region 2 - PAL - BOTTOM)
---
(MYA Communication - Region 0 - NTSC - TOP vs. NoShame - Region 2 - PAL - BOTTOM)
---
(MYA Communication - Region 0 - NTSC - TOP vs. NoShame - Region 2 - PAL - BOTTOM)
---
(MYA Communication - Region 0 - NTSC - TOP vs. NoShame - Region 2 - PAL - BOTTOM)
---
(MYA Communication - Region 0 - NTSC - TOP vs. NoShame - Region 2 - PAL - BOTTOM)