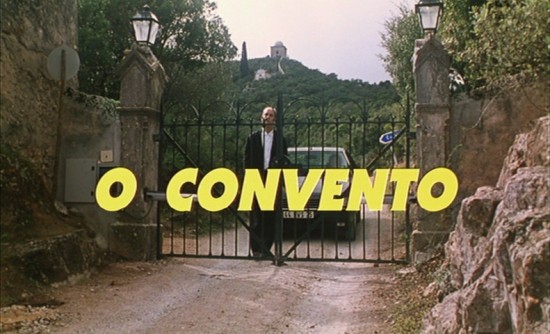 (aka "The Convent" )
directed by Manoel de Oliveira
Portugal/France 1995
American scholar Michael Padovic (John Malkovich) and his French wife Helene (Catherine Deneuve) have come to a remote Portuguese monastery in search of a marriage contract that would prove that William Shakespeare was really a Spanish-Jew who fled the inquisition. They are welcomed by sinister guardian of the monastery Baltar (Luis Miguel Cintra) who quickly develops an attraction for Helene and offers Padovic the archival assistance of the beautiful Ms. Piedade (Leonor Silveira) for his scholarly endeavors which Baltar equates with immortality. Although it quickly seems as thought Baltar is offering Padovic some sort of Faustian pact to accomplish his goals, things and people are not what they appear (is Ms. Piedade an angel or a temptress? is it Baltar who is bewitching Helene or vice versa?). Meanwhile, Helene has decided to strike her own deal with the satanic Baltar.

Scripted by director Manoel de Oliveira from a novel by Agustina Bessa-Luís (who has collaborated with him on seven other films), O CONVENTO met with mixed reviews upon its release stateside and is better approached as a moody meditation on good and evil or even a suggestive horror film than as even a mainstream art film. Although Baltar certainly is demonic - when Padovic remarks that he talks "like the devil" Baltar replies that he is "merely a humble servant" - the potential for a certain amount of deviltry is revealed in more than one character and there is a potential Faustian pact in each conversation in which one character persuades another to voice her/his thoughts or desires. Malkovich is Malkovich while Deneuve is dignified but neither of these high profile actors really carry the film. Much more interesting are the effortlessly sinister Cintra (acting in Portuguese, French, and English) and Silveira (who played Madame Bovary to Cintra's cuckolded husband in De Oliveira's ABRAHAM'S VALLEY) who is suitably mercurial. As servant Baltazar, Duarte D'Almeida is also quite good though he and tarot card reading Heloísa Miranda recede into the background after the film's first third. The film is a worthy rental for those whose interest in De Oliveira may have been tapped by BELLE TOUJOURS as well as another interesting entry in the eclectic art film catalog of producer Paulo Branco (Zulawski's LA FIDELITE, Akerman's LA CAPTIVE, Tiago Guedes' and Frederico Serra's BAD BLOOD).
Theatrical Release: 1 December 1995
Reviews More Reviews DVD Reviews
DVD Comparison:
LionsGate - Region 1 - NTSC vs. Wellspring - Region 0 - NTSC
Big thanks to Eric Cotenas for all the Screen Caps!
(LionsGate - Region 1 - NTSC - LEFT vs. Wellspring - Region 0 - NTSC - RIGHT)
DVD Box Covers

Distribution

LionsGate

Region 1 - NTSC

Wellspring
Region 0 - NTSC
Runtime
1:31:11
1:27:18 (4% PAL speedup)
Video

1.66:1 Original Aspect Ratio

16X9 enhanced
Average Bitrate: 6.3 mb/s
NTSC 720x480 29.97 f/s

1.67:1 Original Aspect Ratio

16X9 enhanced
Average Bitrate: 5.97 mb/s
NTSC 720x480 29.97 f/s

NOTE: The Vertical axis represents the bits transferred per second. The Horizontal is the time in minutes.

Bitrate:

LionsGate

Bitrate:

Wellspring

Audio
English/Portuguese/French (Dolby Digital 2.0 stereo)

English/Portuguese/French (Dolby Digital 5.1); English/Portuguese/French (Dolby Digital 2.0 stereo)

Subtitles
English (for Portuguese and French dialogue), English (for all dialogue), English Closed Captioning (also translates Portuguese dialogue), Spanish, no
English, none
Features
Release Information:
Studio: LionsGate

Aspect Ratio:
Widescreen anamorphic - 1.66:1

Edition Details:
• none

DVD Release Date: 3 April 2007
Amaray

Chapters 14

Release Information:
Studio: Wellspring

Aspect Ratio:
Widescreen anamorphic - 1.67:1

Edition Details:
• Trailer
• PLACE VENDOME trailer
• POLA X trailer
• UMBRELLAS OF CHERBOURG trailer
• THE LAST METRO trailer
• MY FAVORITE SEASON trailer
• Filmographies


DVD Release Date: 2 July 2002
Amaray

Chapters 16
Comments

While the Wellspring DVD is a PAL-NTSC standards conversion with annoying trailing during movement, LionsGate's release is progressive and runs at the correct speed. Conversion artifacts on the Wellspring disc aside, the transfers look rather similar although they appear to be different masters. The Wellspring disc begins with the late nineties Studio Canal logo and the LionsGate transfer begins with the current cloudscape logo. The Wellspring disc is letterboxed at 1.67:1 possessing a sliver of matte at the bottom of the frame not present in the 1.66:1 LionsGate transfer (which I think better renders the contrast in Mário Barroso's naturalistic photography). The film was originally mixed in stereo and that option is available on both releases but the OOP Wellspring disc adds a 5.1 remix. The Wellspring disc offers English subtitles for the Portuguese and French dialogue while the LionsGate disc has a seperate English subtitle track for just the Portuguese and French dialogue and another English subtitle track for all of the dialogue (Spanish subtitles and English closed captioning are also included). English subtitles on the LionsGate disc are mostly good but carelessly translated in a late conversation ("I am not interesting in such things" or "Do you consider yourself ridicule?"). The subtitles on the Wellspring disc are better although one line is more effectively rendered in the LionsGate disc ("I am not a man" in the Wellspring disc becomes "I am not human" on the LG).



The LionsGate disc offers nothing in the way of extras while the Wellspring disc offers a trailer for the film and trailers for five other Catherine Deneuve films (some video release trailers). I am not sure what extras any other releases offer but for the film itself, the LionsGate disc is in-print and offers a solid transfer for a cheap price.
---

DVD Menus
(LionsGate - Region 1 - NTSC - LEFT vs. Wellspring - Region 0 - NTSC - RIGHT)

| | |
| --- | --- |
| | |
| | |
| | |
| | |
---
Screen Captures
(LionsGate - Region 1 - NTSC - TOP vs. Wellspring - Region 0 - NTSC - BOTTOM)
Subtitle sample
---
(LionsGate - Region 1 - NTSC - TOP vs. Wellspring - Region 0 - NTSC - BOTTOM)
---
(LionsGate - Region 1 - NTSC - TOP vs. Wellspring - Region 0 - NTSC - BOTTOM)
---
(LionsGate - Region 1 - NTSC - TOP vs. Wellspring - Region 0 - NTSC - BOTTOM)
---
(LionsGate - Region 1 - NTSC - TOP vs. Wellspring - Region 0 - NTSC - BOTTOM)
---
(LionsGate - Region 1 - NTSC - TOP vs. Wellspring - Region 0 - NTSC - BOTTOM)