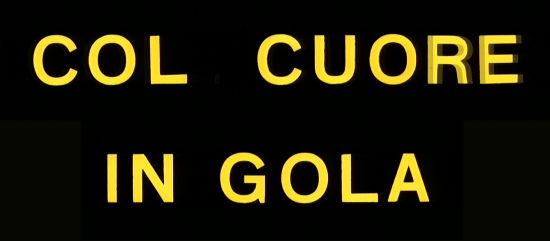 (aka "Col Cuore In Gola" or "Heart in the Mouth" or "I Am What I Am" or "Dead Stop" )
directed by Tinto Brass
Italy 1967
J

ean-Louis Trintignant plays Bernard, a French actor looking for work in London. When he finds his business contact dead at the feet of heiress Jane (Ewa Aulin of CANDY), instead of turning her in, they take to the London underworld in search of the real killers. The plot is slight (it is very loosely adapted from a novel by Sergio Donati published in English as THE PAPER TOMB) but the execution is delirious and eye-catching. Trintignant and Aulin seem to be enjoying themselves being chased throughout London (Aulin even cracks up as she and Trintignant run past the camera during the London Underground pursuit). Storyboarded by famous Italian comic strip artist Guido Crepax (whose did comic adaptations of EMMANUELLE, THE STORY OF O, and JUSTINE and whose most popular character "Valentina" was brought to life in BABA YAGA and a 1980's Italian miniseries), Brass makes use of rapid cuts, whipping pans, double and triple split screen to evoke the compositions and arrangement of comic strips. The film was also Brass' first work with cinematographer Silvano Ippoliti who would collaborate with Brass on all of his films up to ALL LADIES DO IT (including his big budget epics SALON KITTY and the disowned CALIGULA). Originally released with a self-imposed X rating (to capitalize on Aulin's notoriety as the lead in CANDY), the sex and violence is tame by contemporary standards though much is made in the international press materials of Aulin's and Trintignant's artfully-composed clinches (Trintignant and Aulin would go on to star together with Gina Lolabrigida in the Guilio Questi artfilm/giallo DEATH LAID AN EGG/PLUCKED).

Thanks to this really informative site HERE for extensive background info on the film (and several other Tinto Brass films).
Posters
Theatrical Release: 16 November 1967
Reviews More Reviews DVD Reviews
DVD Review: Cult Epics - Region 0 - NTSC
Big thanks to Eric Cotenas for the Review!
DVD Box Cover

CLICK to order from:

Distribution

Cult Epics

Region 0 - NTSC

Runtime
1:39:27 (4% PAL speedup)
Video

1.85:1 Aspect Ratio

16X9 enhanced
Average Bitrate: 6.29 mb/s
NTSC 720x480 29.97 f/s

NOTE: The Vertical axis represents the bits transferred per second. The Horizontal is the time in minutes.

Bitrate

Audio
Italian (Dolby Digital 2.0 mono)
Subtitles
English, none
Features
Release Information:
Studio: Cult Epics

Aspect Ratio:
Widescreen anamorphic - 1.85:1

Edition Details:
• Audio Commentary by Tinto Brass (in English)
• Lobby Card Gallery
• Trailer (3:24)

DVD Release Date: April 28th, 2009
Amaray

Chapters 16
Comments

Cult Epics' transfer utilizes the same master used for the Italian and Spanish DVD releases but with the added bonuses of English subtitles AND an English language commentary by Tinto Brass (his first, although he has provided substantive interviews on previous Cult Epics releases of his films). Brass has a heavy accent but is an eloquent speaker with vivid memories of this film. He goes in depth on the casting, his stylistic choices (the mixing of black and white and color sequences as well as the split screens), and most interestingly his collaboration with comic artist Guido Crepax (Brass also comments on Crepax's work on his film in an Easter Egg feature on Blue Underground's disc of the Crepax-inspired BABA YAGA).

The film had a release in America in its English language version (under the title DEADLY SWEET and processed in IB Technicolor) but this track seems to have been lost save for a Super 8mm UK edit under the title HEART BEAT which is regrettably not included here (the Paramount print was redubbed and, as mentioned below, added additional dialogue.) The anamorphic 1.85:1 image is converted from PAL so there is some ghosting evident but the audio is strong and vivid (particularly when rendering the main vocal theme) but the subs and commentary make it currently the definitive version (especially considering how scarce and scattered the materials for the older Tinto Brass titles have become). The Italian, French, and English versions are all noted to feature alternate takes of certain scenes (not limited to Aulin's scant nudity) and Paramount dubbed in additional dialogue that attempted to explain the plot to the audience in the form of offscreen dialogue or overheard dialogue. A scant lobby card gallery (all black and white) and a trailer lacking text and dialogue round out the extras. The cover and menu graphics are quite striking as well. The back cover says that Brass' other sixties pop-art entries L'URLO (The Howl) and NEROSUBIANCO (Attraction/The Artful Penetration of Barbara) are also available. L'URLO will be available in an upcoming boxed set with DEADLY SWEET. The documentary CA IRA was announced as an exclusive title to the set but has apparently been cancelled. NEROSUBIANCO is set to be released separately (apparently in its English language version going by the ATTRACTION title).
---
DVD Menus

---
Screen Captures
Subtitle Sample
---
DVD Box Cover

CLICK to order from:

Distribution

Cult Epics

Region 0 - NTSC