Review by Gary Tooze
Studio:
Theatrical: Dreamworks
Video: Dreamworks
Disc:
Region: 'A'
Runtime: 1:58:09.540
Disc Size: 36,223,257,992 bytes
Feature Size: 34,451,134,464 bytes
Total Bitrate: 38.880 Mbps
Chapters: 17
Case: Standard Blu-ray case
Release date: March 24th, 2009
Video:
Aspect ratio: 2.35:1
Resolution: 1080p
Video codec: MPEG-4 AVC Video
Bitrate: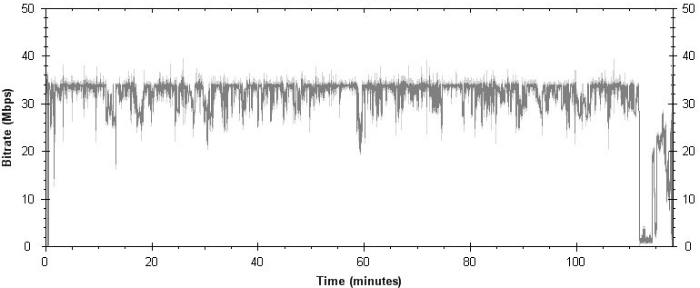 Audio:
Dolby TrueHD Audio English 2940 kbps 5.1 / 48 kHz / 2940 kbps / 24-bit (AC3 Core: 5.1 / 48 kHz / 640 kbps)
DUBs: Dolby Digital Audio French 640 kbps 5.1 / 48 kHz / 640 kbps
Dolby Digital Audio Spanish 640 kbps 5.1 / 48 kHz / 640 kbps
Subtitles:
English, English (SDH), French, Portuguese, Spanish, none
Extras:
• 7 Deleted Scenes
• A Discussion About Things We Lost in the Fire - 20:25
• Trailer in HD (2:27)
Description: Audrey Burke is reeling from the shock of the news that has just been delivered to her door by the local police: her warm and loving husband Brian, the father of their two young children, has been killed in a random act of violence. Once anchored by the love and comforts of their 11-year marriage, Audrey is now adrift. Impulsively, she turns to Jerry Sunborne, a down-and-out addict who has been her husband's close friend since childhood. Desperate to fill the painful void caused by her husband's death, Audrey invites Jerry to move into the room adjacent to their garage in the hope that he can help her and her children cope with their sudden loss. Jerry is facing a daily battle to stay off drugs, but in his unexpected role as surrogate parent and friend to Audrey's son and daughter he finds a core of inner resilience. As Jerry and Audrey navigate grief and denial, their fragile bonds are constantly tested. Working together, however, they discover the strength to move forward.
The Film:
Things We Lost in the Fire represents Danish-born Susanne Bier's first foray into studio-funded American cinema. The transition is seamless - Bier's signature style of simple shots and frequent close-ups remains intact and her choice of material focuses on the interaction between damaged and grieving people. Those who saw Bier's previous feature, After the Wedding, will recognize similar rhythms in this one. (Literal as well as figurative - Bier has "imported" composer Johan Söderqvist with her.) Although the subject matter is serious and the tone is predominantly somber, Bier includes enough moments of subdued levity to keep this movie from falling into the "feel bad" category. Nonetheless, this is not a good choice if you're looking for a lighthearted night at the movies.
Excerpt from James Berardinelli at Reelviews located HERE

Image :
NOTE: The below Blu-ray captures were ripped directly from the
Blu-ray disc.
This came out in HD March of 2008 - but the feature size alone of this Blu-ray takes up more space than the single-disc capacity of that format. The Blu-ray image is fairly thick, a bit saturated and has some texture. It looks exceptionally good although I lean to believing colors are enhanced a bit as they are so vibrant. There is reasonable grain and detail is impressive. The cinematography showcases quite a few close-ups including a few of Halle Berry's eyes and these support the strong rendering to 1080P. The visuals are not unnaturally glossy, and contrast is strong with piercing black levels - bordering on 'crushed'. Colors still look a shade overly brilliant to me but the image here, overall, is a big winner. It can look stunning and jaw-dropping at times. I'm told this surpasses even the theatrical look which was somewhat dull.
CLICK EACH BLU-RAY CAPTURE TO SEE ALL IMAGES IN FULL 1920X1080 RESOLUTION
Audio :
The Blu-ray offers TrueHD in 2940 kbps as well as 2 foreign language DUBs in standard 5.1. The TrueHD surpasses the HD which had a Dolby Digital-Plus 5.1. The film is dialogue heavy with the front speakers getting most of the activity. There is not much in the way of strong effect noises. The original score by Johan Söderqvist seems appropriately supported and there are optional subtitles.
Extras :
Duplicated from the previous SD-DVD with a 20 minute featurette - A Discussion About Things We Lost in the Fire. Director Bier gives input and it frankly made me crave more. This film probably deserved a commentary. There is about 10 minutes worth of seven deleted scenes with nothing worthy of mention. Lastly there is a theatrical trailer in HD for 2.5 minutes.
BOTTOM LINE:

This is a film that really grew on me - and I think it was more to do with the performances which seem crucial to the film's humanistic expression.
This is fabulous casting right down to the children. The
Blu-ray
was quite a surprise - presenting a lush sharp 'Wow'ing image.
Certainly a deserved film for any digital library and the
Blu-ray
transfer is quite exceptional. Highly recommended!
Gary Tooze
March 17th, 2009